When day turns to night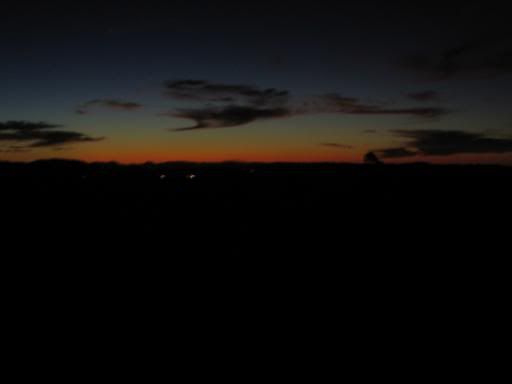 Last night I decided to take a twilight/evening ride up to Binna Burra in the hinterland. It was the first time I'd done this ride at night (although I've done it in daylight enough times to do it blindfolded now). The sunset actually came a little earlier than I'd anticipated, but I wasn't enjoying the heat very much either, so that isn't necessarily a complaint. It was almost a surreal experience climbing the early section to Lower Beechmont in the almost pink light of the evening sky.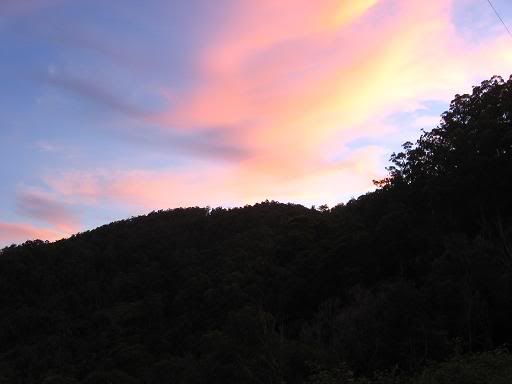 The darkness came quickly after the top of that first section, although the faint light in the western sky (pictured at the top) remained for quite a while. After that it was just me and a billion stars in the night sky. There's something about really clearing away from the city -- totally, and opening up across the plateau at the top among the stars. It's a unique feeling of being totally alive that just can't be achieved anywhere else. This eventually gave way to the lumpy hills and the unique night bird calls of Lamington National Park, and the final assault on Mt Roberts that represents the summit.
After this followed the screaming descent of Mt Roberts, before heading back the way I came to Lower Beechmont and beyond. The lights of the Gold Coast in the distance were a beacon and a threat all at once. On the one hand, it was quite entrancing to look at them from above, but I wasn't looking forward to descending to the rat race again.
As it was, I took a detour to Hinze Dam on the way home, if only to add some extra distance and push the climbing above 1,500 metres. The only mistake here was returning to Nerang via the not-so-old Gilston ride that Martin and I used to do regularly a couple of years ago. Even by Gold Coast standards, the expansion of suburbia into this area is ridiculous. I wouldn't mind so much if the area wasn't so damn sanitised. It seems like they can't leave a single tree standing in their quest to make the urbanites feel at home in "the country". As it turns out, this area has lost all it's character and charm. Even a lot of the ups and downs in the road have been flattened. I have some great memories from when this stretch was a little wilder, but memories they will have to remain now.
Fortunately, the trend is basically downhill, so I'm back in the other suburbia and closer to home a little quicker, and surprisingly tired at the end of it. So Binna Burra now joins Numibah Valley and the Tweed Valley as regular day rides that I have now done at night. Maybe I'll add Springbrook to the list next.