Well, it is the Gold Coast after all
Some nights are just plain weird, or stupid, or both. Tonight was one of, perhaps, all of those categories. It could be my E6 light, which may have a habit of attracting morons, but then, it's only been two rides with it so far, perhaps things will pick up. On the other hand, if there's one place in the world where people will get weird about something like this, it's the Gold Coast.
For some reason tonight I took a ride down to Point Danger. I guess I just felt like a change of pace, and most of the ride was actually quite pleasant. The view from Pt Danger at night is actually quite spectacular, and this picture probably doesn't do it justice.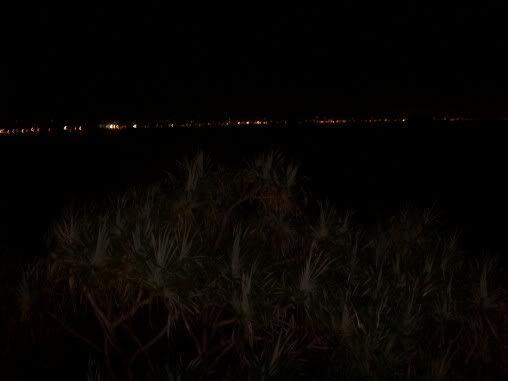 It was on the way back that things started to get weird. In Coolangatta, two car loads of morons decided... well, I'm not sure if decisions are within their mental capabilities. But for some reason I got a slap on the back side from one, and a touch on the arm from the other. (Guys, I'm flattered by your interest, but I'm really not that way inclined, OK?). Now I'm not sure what the point of all this was -- it was pretty harmless, but then, there was just me and about 8-10 of these morons late at night in Coolangatta, it was a little unsettling.
For some reason I didn't bother to call the police. I guess I just felt it's "not so bad" by Gold Coast standards, and I'm probably right there, particularly after some of the things that happened last year. I did, however, tailgate them for a while, not actually doing anything aggressive, just sitting there and watching them squirm in the glow of the E6. Obviously they were waiting for me to react, which is exactly why I did not.
In the end, people like this are more amusing than anything else. They act all big and tough, safe in the knowledge that they outnumber me 8-1, and that they can step on the accelerator and drive away really fast should I threaten them (not that I'd bother). Still, if ever I'm feeling down about anything in the next few days, looking back on those morons and making fun of them should cheer me up pretty quickly.
The E6 did, however, prove it's value in Miami a bit later on, when a drunk wearing dark clothes decided to throw himself on the road -- and a dimly lit one at that. Fortunately, the E6 beam picked him out pretty early on in the piece. Any later and I might have been in trouble. There were a string of expletives that followed me away from that one, not that I was turning back. Frankly, I have better things to do.