Fruit salad and icecream appreciation post
What can I say? It was hot out there today -- too hot. Yesterday I'd had a slight fever, but it appeared to have cleared up this morning, perhaps it had not. I set off regardless, initially through the beautiful gorge country between the Gold Coast and Canungra -- this is one of the most underrated rides in the entire country in my view. Actually, it was quite a pleasant start to the ride, the temperatures weren't even all that oppressive!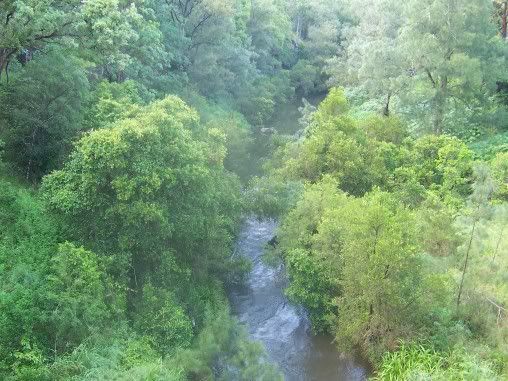 After Canungra the scenery changes dramatically -- I don't know whether it's the mountains of the Beechmont Range and Mt Tamborine, or because it's been cleared, but it always seems drier -- and somehow wilder -- out here. Although, Today it was surprisingly green.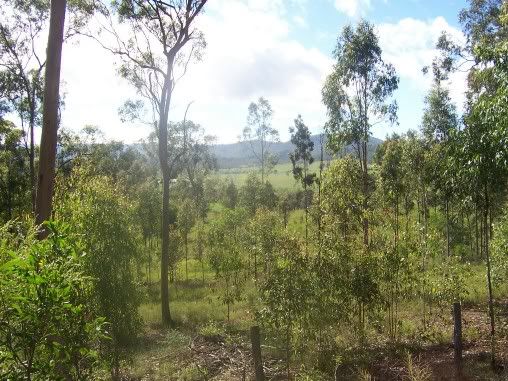 Now it was warming up, through the towns of Beaudesert and Jimboomba in ever increasing temperatures, clearing 30 degrees C quite early on, before doubling back on Camp Cable road and heading for Mt Tamborine -- it was here that the problems started. On the early part of that climb (around an 8% gradient), the heat really got to me -- I had no power, my heart rate was jumping on even the slightest effort. My legs wanted to work, but the heat just wouldn't let the rest of the machinery function. I ate a muesli bar, and had to fight to keep it from coming straight back up. Eventually I reached the rainforest on the higher part of the mountain, and was quite relieved to grab a couple of pictures.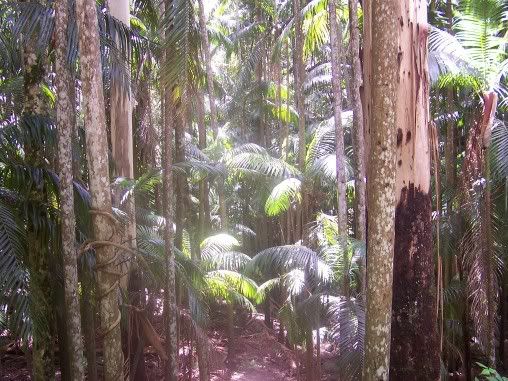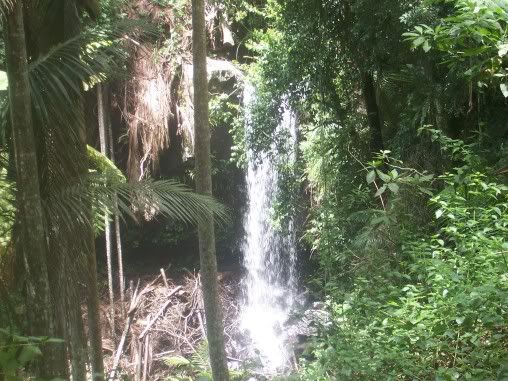 There hasn't been that volume of water coming over Curtis Falls in years -- although I don't venture to Tamborine that often these days. At the top I found a place selling fruit salad -- good, something I knew I'd be able to keep down. I was asked "do you want icecream with that, or are you too healthy?" Icecream is healthy on a day like this! Actually, Tamborine offers some breathtaking views from the top.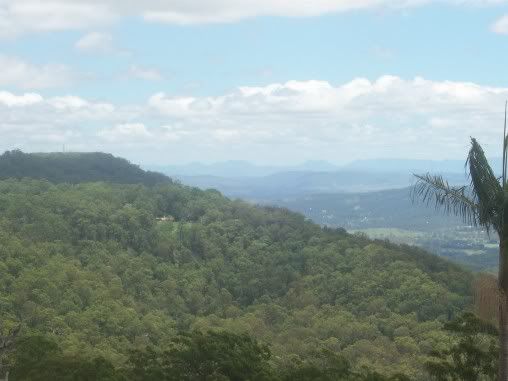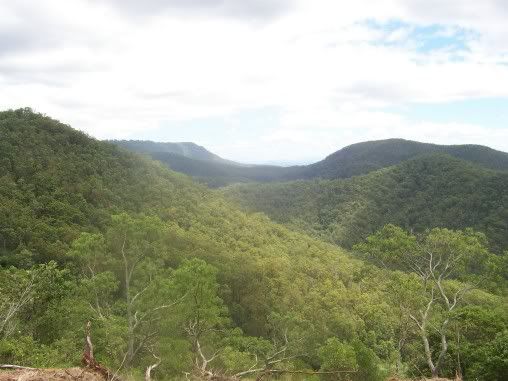 The descent came and passed quickly, and I was back in the lowlands before too much longer. Great, back in the heat again -- only now I had mechanical issues, and the smaller gears on the middle chain-ring were slipping -- meaning I couldn't attack Wongawallan* as I would have liked. I pressed on through the heat, struggling across the relentless hills all the way to Nerang, just concentrating on a high cadence and efficient pedalling in this heat.

At Nerang the temperatures seemed a little cooler momentarily, could it be that it might be cooler on the coast? After negotiating a surprising piece of gridlock, I discovered the answer to that question in the negative. It was 35 degrees C on the Coast, and about 169% humidity. About 3km from home I found a convenience store, and bought some cold water with which to wash down my last muesli bar -- the heat had been that oppressive that I wasn't expecting to make it home without doing so (despite the fact that I'd already covered 165km in those conditions).

Now I'm left wondering what the problem was. I've dealt with hotter before, and the slight fever -- even if it was still there, appeared relatively benign. I'm not sure it was the "bonk" in the conventional sense -- my legs felt fine, and I still had the mental faculties to successfully spot and predict the rat-runners when I got back to the Coast, but for some reason I just didn't cope with the heat at all.

I am sure of one thing -- next time I'm given the option to take a different day off work for a public holiday, I'll check the weather forecast and pick the one with the lower temperatures!

* Wongawallan is a range east of Mt Tamborine. It's not massively high (only 130 metres above sea level), but coming just after Tamborine it can cause a problem. The way to deal with it normally is to just attack it from the outset -- take it as a personal affront that such a range would dare get in your way, and tear it apart. Make the entire Earth tremble in fear at the thought of being hit by shrapnel from your tearing of Wongawallan to pieces. Don't defeat it, own it 169%, why settle for victory when fatal ownage is so much better? Victory is for wet, wishy-washy losers!

Time for bed I think.