Repentence...
There comes a time, every so often, where Martin and I have informal bets about who can ride the furthest in a 24-hour period. There also comes a time when I need to escape to a completely different world for a while. This ride does this. It all began with a nice jaunt through the John Hogan Rainforest. I really love coming down here, especially as it always seems to be a little cooler than the coast.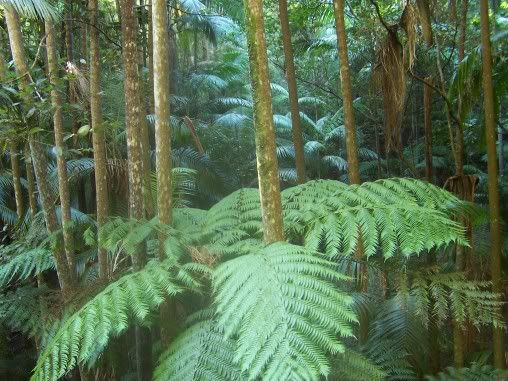 Of course, next came even more climbing. I was, however, surprised to see a warning sign of a 20% gradient on one of the descents, I know from having climbed it that it's simply not the case. The scenery down here is of a consistently high level, rolling and green. The other noteworthy thing was finding 666 metres of climbing after cresting the Burringbar Range south of Murwillumbah.
After this I decided on a short detour to Ocean Shores. This was actually quite pleasant, even if it was a little further than I expected to get to the ocean. There is actually quite a pleasant view at the top of a steep climb on the way out of town. I expect this view will be built out before much longer, so perhaps this picture should be framed for now.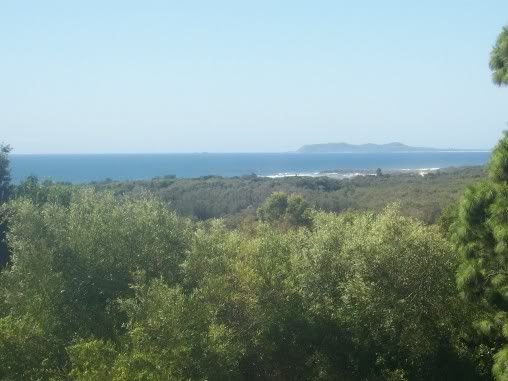 Of course, it wasn't long before the real reason for the ride, onto the Coolamon Road, through Mullumbimby, then entering the different world past the Crystal Castle, through Repentence Creek, Dunoon and The Channon. This area, with it's stunning forests and sweeping views is just magnificent. Of course, the climbing was accumulating, but I didn't really care at this point. It's worth it in this sort of scenery.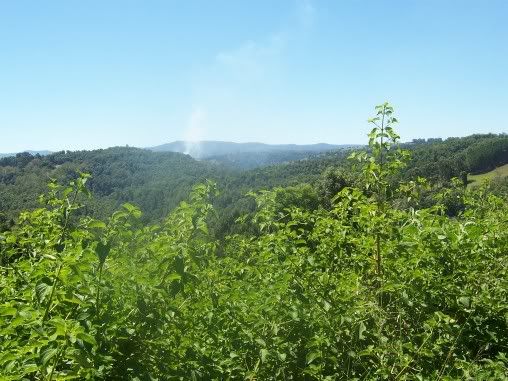 What did bother me a little was the heat, 36 degrees C in The Channon, 38 Degrees C in Nimbin (after yet another climb). Nimbin is often described as "nearly normal". It has quite a history with the hippie culture, as can be seen in the town's centre.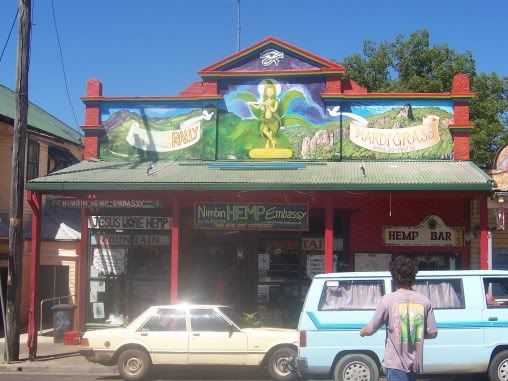 It has, however, been taken over by drug-dealers to a large extent these days, so much so that many of the hippies have moved out of the town into the surrounding hills. As a consequence, I pass straight through, bound for Stony Chute, and perhaps the roughest and most corrugated dirt road in Australia. At this point my speed ranged from 8km/h climbing to 11km/h descending. Not what I'd call fun. Still, the view at the top of the pass was quite rewarding.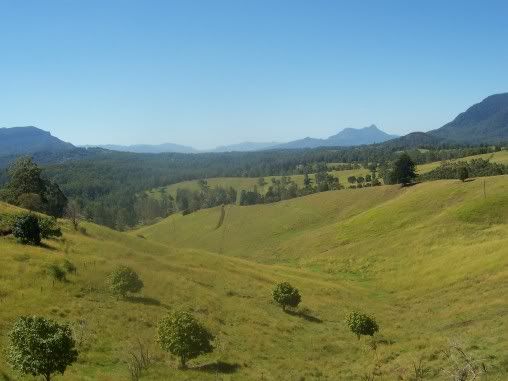 I was taking in a lot of fluids now, I got some more at Wadeville before crossing the range into a steaming hot and gusting north-easterly wind. The descent into the Tweed Valley followed, more views of The Sphinx and Mt Burrell here, and finally some cooler temperatures.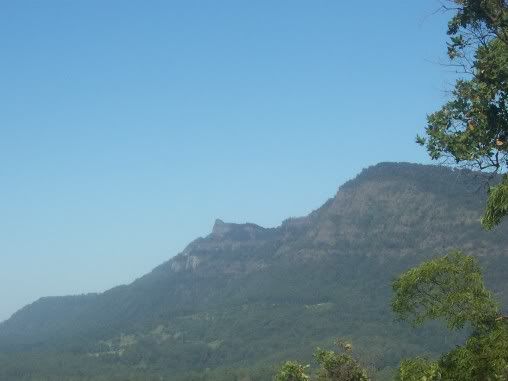 Another food stop at Uki (I'd had one at Dunoon), and then the trek across to Stokers Siding to take the long way back to Murwillumbah. After handling the climb here better than I had expected, I decided to press on and attempt a double-century (322km/200 miles). The wind in the canefields of Murwillumbah blew like crazy, but I handled that, and the climb to Urliup comfortably enough, and with a muesli bar still in my pocket. Urliup was beautiful as usual, but now light was fading, largely as a consequence of the sun disappearing in the west.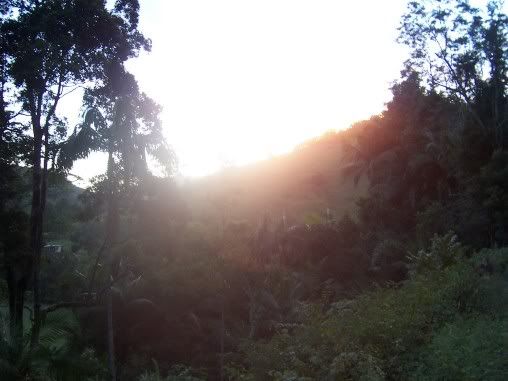 No problem, I'd reach for my E6 headlight and navigate it. Problem: no light came on! I still had a back-up, but that would be useless out here. I sped through was was left of Urliup (a little faster that I perhaps would have liked), then slaughtered the climb of Bilambil. Now I was back in suburbia. Back among the morons, projectiles were thrown from several cars, and one idiot who just threw his ute (good job I still had the reflexes of a cat after 277km). There was also a decent headwind, but that was negotiated eventually. Interesting to note I did all the hilly parts with a tailwind, and all the flat parts with a headwind. I'm sure it would have been easier the other way around.
In the end it was 291km and 3,403 metres of climbing for the day. That's a lot, but such is life.