Almost, but not quite, unnoticed
In the light of other things that have happened, I completely forgot to mention that I picked up a new set of wheels last Friday. It's funny how it came about in some ways. The double-century attempt, apart from the crash, also taught me just how inefficient a MTB really is for riding these sorts of distances. Indeed, already it's hard to believe that I've ridden 13 imperial centuries this year on one. Even before the crash I'd been planning to upgrade to something a little more efficient.
The trouble is, of course, that I still have to deal with Queensland "roads" -- meaning that unless I want to be somewhat limited, a full-on road bike is somewhat out of the question (don't see too many of them down Urliup way). It was then that John at my LBS suggested that a Hybrid. These aren't that common here in Australia, but used more widely in Europe if I understand correctly. I have to admit, it was a pretty good sales job, but not being an impulse buyer, I consulted with Martin, my regular riding partner, who concurred that it would be a good idea.
Then it was a matter of saving some money for the purchase, which I had managed up until blowing it all in an expensive crash. I decided to get the bike anyway, and after a couple of test rides, it seems to be worth every cent. The efficiency here is so much better, that I didn't even realise I had the saddle height totally wrong on the "test" ride last Saturday. An early 97km jaunt into the mountains of the Hinterland.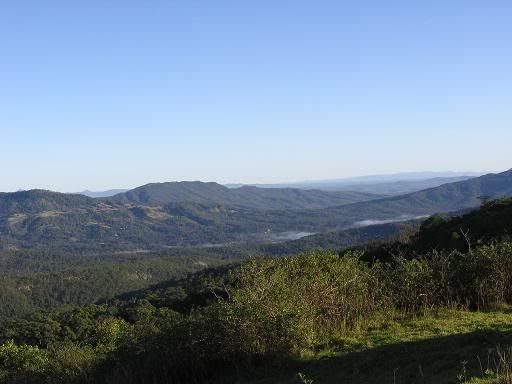 Suffice to say, the saddle height issue has been largely corrected (albeit not quite
perfect
just yet), and now the ride is smoother than ever. I'm looking forward to testing this baby out on a century (or two) this weekend. I have to say that so far I've been surprised by the sheer magnitude of the difference in efficiency, but it does explain why I struggle so much in the heat of summers here. Right now though, I'm still wondering how I managed 291km in 38 degree (Celsius) heat on one blistering February day on that old MTB.