Ballina coast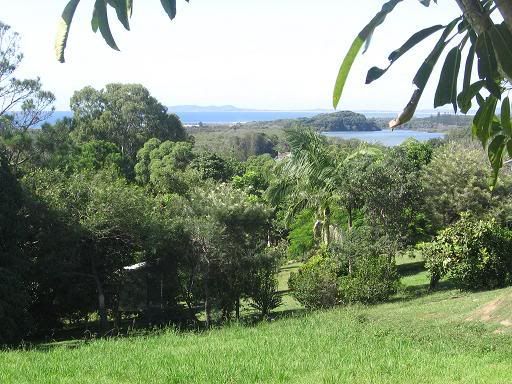 It had taken me a long time to get around to actually completing this ride. The first attempt last year saw a run of flat tyres that basically forced me to turn around and go home before I ran out of patches, the second attempt last month saw a flat tyre followed by a crash on wet cobblestones (isn't it amusing when a subdivision built in 1998 tries to make a grab at "history"?), so Saturday had a feel of "now or never about it".
I took a slight inland route down the Tweed Coast as far as
Cabarita
to avoid the sprawling and somewhat ugly suburban development that's rearing it's ugly head south of
Kingscliff
. It seemed to work because the inland route was much prettier.
Chinderah
, surprisingly seemed like a quiet, relatively low-key place. It would be a theme for much of the day. The ride down the Tweed Coast was relatively uneventful, I've been here many times. There was a headwind building up, but that didn't bother me unduly.
The first place to stop for additional water and so on was Ocean Shores. Probably once a small sea-side village, but now sprawling untidily over the hillsides surrounding it. Parts of it still have the village feel about it, but that's slowly changing. There is currently some massive roadwork going into re-routing the Pacific Highway (again) in this area. It's been going on for two years now. This must now be the most re-designed road in the country. There are still parts of the old highway that can be used, that was a charming place (contrary to what the tabloid press used to say about it), winding through forests and over ridges with coastal views.
The new highway by contrast is a charmless place, useful only for convenience. I was glad to leave it behind at Byron Bay. Byron itself seems to be defying it's reputation for attracting the "alternative" crowd, yet the town centre seems determined to become another Gold Coast. There are resorts springing up everywhere (all of which look the same), but on the edges of town there are some very pretty areas.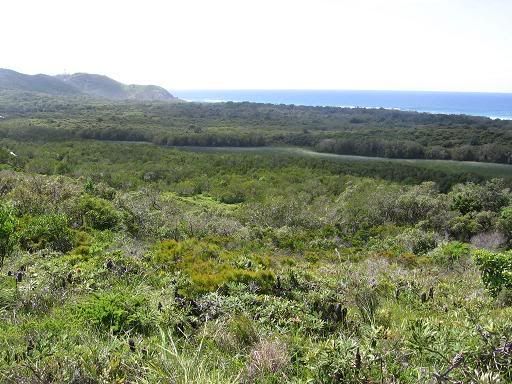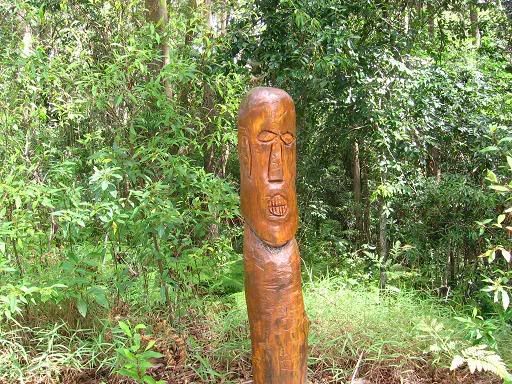 After negotiating the southern exit of Byron, the next town was
Lennox
Head. This place has still managed to obtain some of it's charm. It's always refreshing to visit a quiet, windswept beach that isn't surrounded by "resorts", and just be surrounded by the ocean spray. There is a little tinge of sadness about such places these days, as I don't think this experience will be available in this part of the world in a generation or two. I might spend a little more time here in the next few years to make the most of it.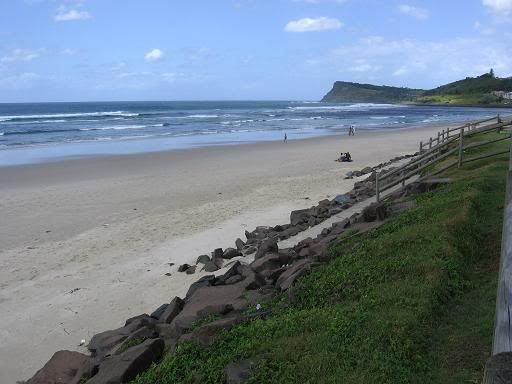 The wind was picking up on the final stretch into
Ballina
. Again, it didn't seem to worry me (although it did slow me down), perhaps it was just the knowledge that I would be changing
direction
soon anyway.
Ballina
was reached soon enough, but while the surrounding areas were pretty, the town itself definitely wasn't. I negotiated another treacherous patch of roadwork and continued on my way, finding the turn off to
Teven
, where the drama would really start.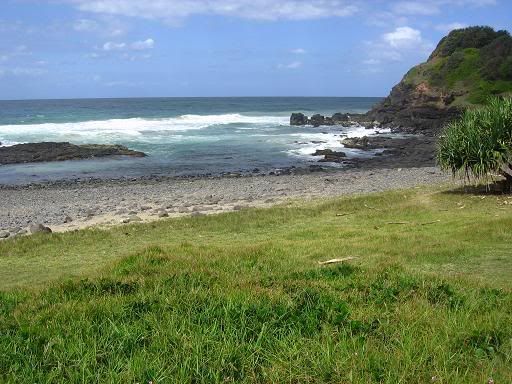 I had passed up opportunities to take on more water in
Lennox
Head and
Ballina
because I expected to refill at
Teven
, and because it wasn't a particularly hot day. The problem arose when there wasn't water (or much else) available in
Teven
, pretty though it was. I struck out for
Eltham
before deciding that Nashua was closer, but there was nothing there either. Fortunately I'd drunk enough water *before* the ride that I had a little in reserve now. Eventually I made it to
Bangalow
and managed to top up the reserves.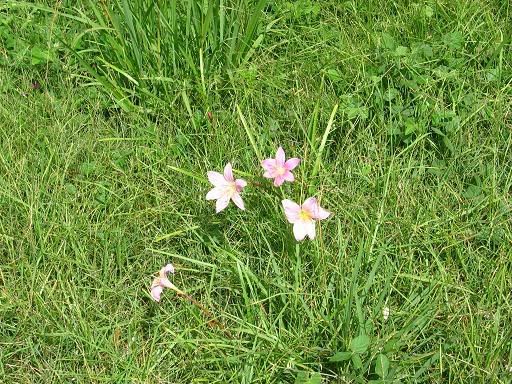 Now it was just a matter of returning to
Mullumbimby
and finishing it off on the familiar
Burringbar
route. There was a decent climb a few kilometres out of
Bangalow
, followed by a screaming descent, then another climb up the ridge. Again there was more "roadwork" but this time it was unsigned (not that I trust signs anyway). Roadwork or not, the views on the ridges definitely make things worthwhile.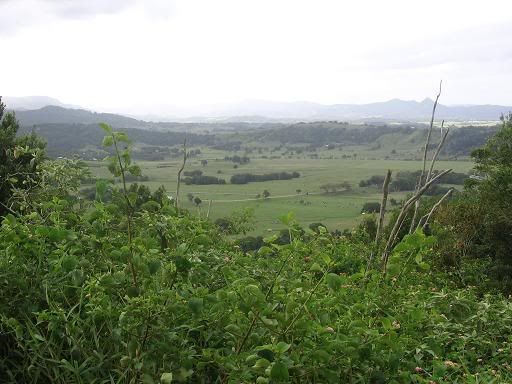 The final ride into
Mullumbimby
was easy enough, except that my usual water station wasn't available. Apparently they've decided the drought is bad enough that
faucets
need to be removed from taps to prevent their use. Oh well,
Burringbar
was only 20km away. There was some climbing to do to get there of course, but again the scenery made it worthwhile.
I detoured down the old Stock Route road to avoid the roadwork. It says a lot when taking a dirt road is easier than negotiating the surface of a highway.
Burringbar
was reached easily enough. The lights went on there as night started to arrive, with the final ups and downs to get to
Murwillumbah
. Often at this stage of a long ride I'm thinking only of getting home, but I was really enjoying the night air this time.
I took my time winding through the
rainforest
of
Urliup
, again a dirt road to savour before "development" takes over in a few years. The final climb of
Bilambil
was basically the only stretch of the entire ride that caused any problems during the entire 291km, but it was negotiated easily enough, as was the final suburban coastal strip. It was surprisingly quite for a Saturday night, but traffic is rarely a major concern for me anyway.
Ultimately I was glad to have finally managed this ride. Despite reputations there are very few coastal cycling experiences around here to compete with what's offered in places like Victoria, Tasmania or New Zealand. I'm glad to have finally discovered one.