Insomnia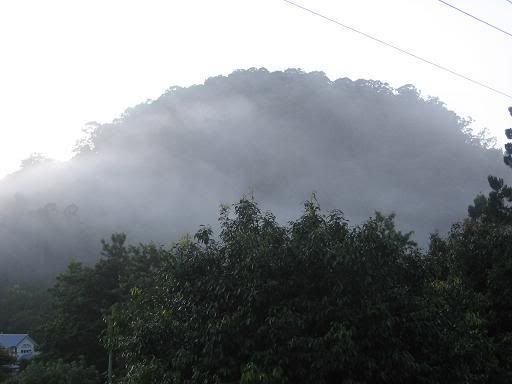 I awoke at 1.45am this morning, and gave up on any attempt to sleep at around 3.20am. Of course, becoming an insomniac is quite normal during a Queensland summer, but this hadn't been a particularly warm night by March standards. I can only assume the cause had something to do with sleeping short hours becoming habit-forming over the course of five months. Perhaps I'll make a slight change to my sleeping arrangements next time that happens in an effort to break the habit.
As it was, I decided to do some cleaning up in my apartment for a while before heading out for a ride. I'm still waiting to hear back from St Kilda cycles on the fate of my primary light, but my back-ups can do a job early in the morning until sunrise. After sunrise I was riding through Tallebudgera Valley before detouring to a short climb (2km at around 7%). I was watching the clouds lift out of the valley after last night's storm (we could use a few more like that incidentally).
The thought that came to mind was that insomnia had revealed the true beauty of cynicism. It was the cynic in me who had realised that trying to go back to sleep was a waste of time, which allowed me to expend that time and energy on other things. One of those other things was productive, and the other was very beautiful. Cynicism gets a lot of bad press for supposedly being a "negative" emotion, but in situations like this, it's benefits should never be forsaken.