Easter escape
As I've mentioned in other posts, I did manage to get away for the long weekend. I gathered my things and set off on the Friday morning -- a little later than I had intended, and headed west through what is just about the sole route by which a person can head west from the Gold Coast for any real distance, the gorge road through Canungra and Beaudesert. This is always a beautiful ride, but unfortunately I delayed my getaway a little longer than I should have (I was waiting for bushfire smoke to clear) -- the idiots were already on the road in large numbers.
This eventually settled down as these things often do, and once I cleared Canungra and got away from the Gold coast a bit, the moron quotient dropped a little, and I was able to start enjoying the ride. There was, however, a slight feeling of frustration that these days I have to travel so far for "the real tour" to begin. Nevertheless, this section of the ride offers it's own rugged beauty among an otherwise desolate landscape.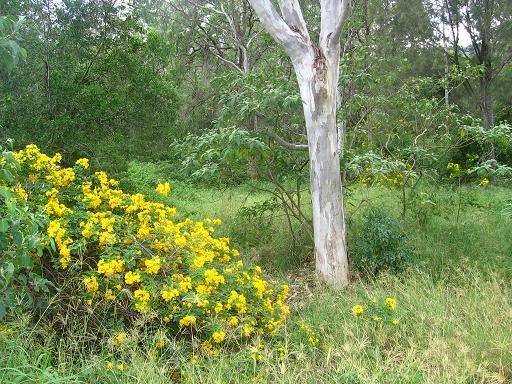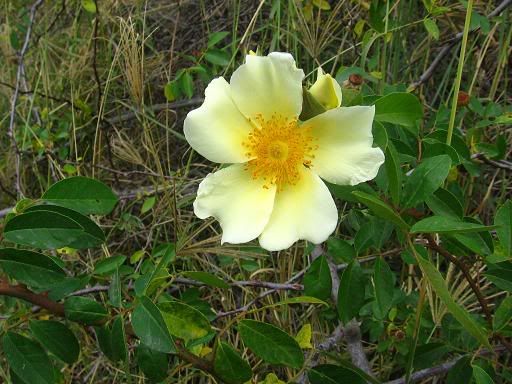 After I reached the unremarkable town of Beaudesert (where my so-called "backstreet shortcut" backfired), I turned and headed south, aiming for Rathdowney and on to my old campsite at Mt Lindesay. That would have to wait, I turned straight into the type of headwind I haven't seen since New Zealand last year. Not only was is blowing a gale, but it sprung up in the timeframe of a split second. With no hills and very few trees in that landscape, I basically just had to cop it. Eventually I was able to grind it out and reach Rathdowney, but by now I was resigned to just taking my time.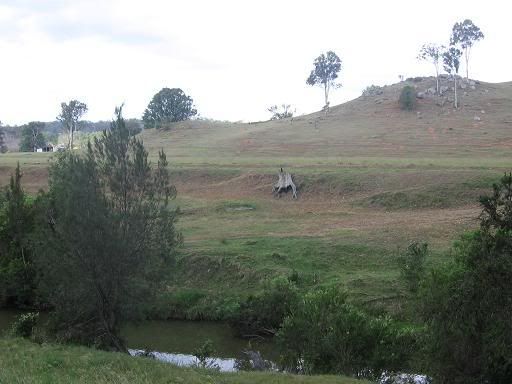 I paused at the "museum" in town, and had a look in the information centre. The staff here work hard to promote the area's relatively few attractions, but beyond Mt Barney, there isn't really a lot that can be said about it. I pressed on into the wind late in the afternoon, and finding that the despondency that once arrived along with winds of this nature wasn't there. I can only guess that I'm used to dealing with it by now. Eventually I pushed my way up the long, but pretty climb of the pass at Mt Lindesay to reach the lovely obscure campsite in the forest.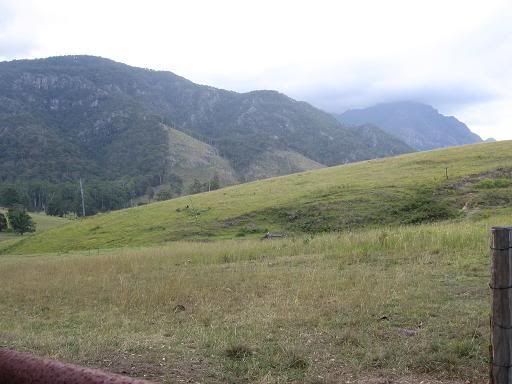 This is truly a beautiful area, but I had almost forgotten just how lovely it was in the time since my last visit. In forestry areas, one can never be truly sure how long something like this will last, but the serenity of this place is just amazing. There is truly nothing like setting up camp in a forested grove and listening to a bellbird song.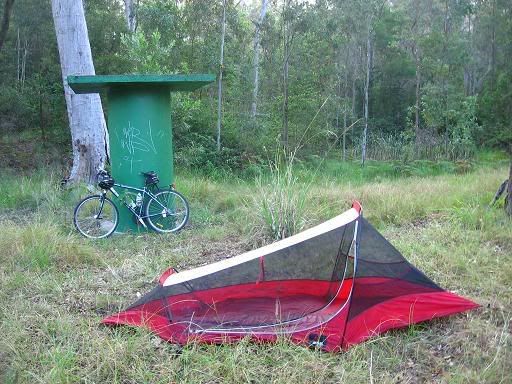 The next morning was the coolest I've experienced this year -- 12 degrees C. There was no complaint about that, but I was less than impressed with the smoke coming from some burning off that was taking place somewhere else in the forest. I headed south past the villages of Woodenbong and Urbenville, noting that this time I appeared to be on the road before the idiots started. It left me free to enjoy the scenic delights of the area.
It was 14km beyond Urbenville that I turned south, on the road linking Upper Tooloom and eventually rejoining the old Bruxner Highway to the south. This would turn out to be the hardest ride I've encountered in 2007 to date. The combination of headwind, hills and a dirt road that hasn't seen a grader in at least a decade made for slow going. Initially I passed a lot of plantation forests, but soon the landscape took on a wilder quality.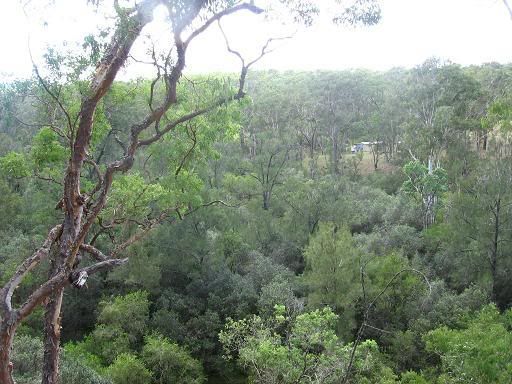 Further south over the first pass, the ride became even more interesting. Shortly after dropping into the Clarence River gorge, I came upon the old "Queensland line". For those who don't know, this was where a line was drawn connecting Brisbane and Adelaide during the second world war, aiming to protect the more densely populated south-east section of the country in the event of an invasion. It was called the Queensland line because much of Queensland was going to be sacrificed to any invaders. There were also old tank traps here (no, I don't know how they were supposed to work).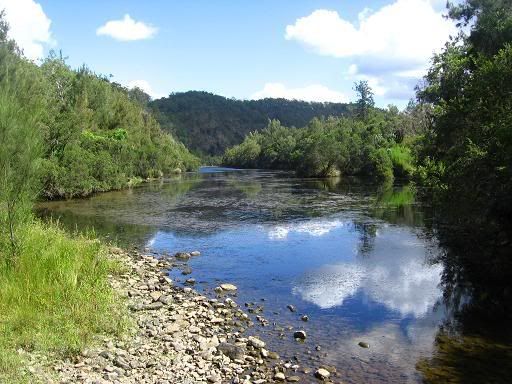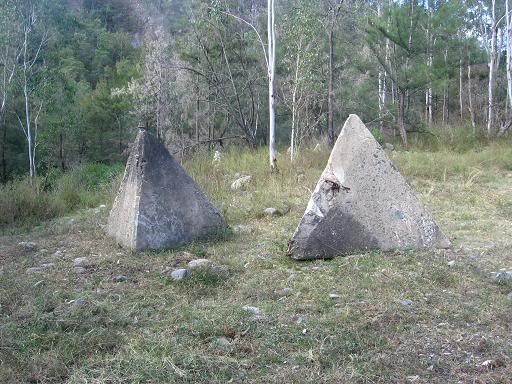 This was followed by the hardest climb of the entire weekend (with over 5,000 metres of climbing to choose from, that's saying something). A steep gradient on a rough dirt road that just went on and on. I'd been told by another traveller there was a shop (meaning a cool drink) at the top, and that thought was about all that kept me going. Oh, that and the fact that the views at the summit were spectacular.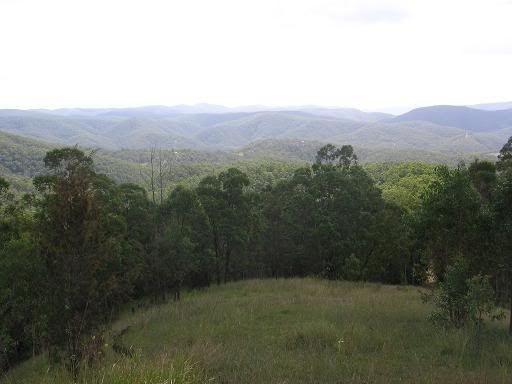 I had a pleasant chat with the woman who ran the store, she was a very friendly person. There was a campsite just 4km down the road should I opt for it -- in hindsight I probably should have, but I wanted to press on for Tabulam. The remainder of this ride was basically a gradual downhill virtually all the way -- just enough to offset the wind, and I soon found myself riding the last few kilometres into Tabulam on a surprisingly deserted Bruxner highway.
Some country towns are welcoming of visitors, but some others get a little weird -- I saw both sides of Tabulam. The local store was next to a cafe that looked like it had been boarded up for years -- even longer than the billboards advertising it had been erected on the edge of town. The people in the shop had suggested a campsite on the banks of the Clarence River, but when I arrived there a bunch of local yobs in a ute (ironically riding illegally in the tray) got a bit weird about the idea that a "stranger" might spend a night in their town.
I decided to move on in fading light, I rode for another 10km or so until I found a roadside rest area. There were a couple in a caravan staying there, and I was able to get a site some distance from the road itself, so I decided to stay there the night. It wasn't perfect, but it would do. The group of German backpackers who arrived a little later in a kombi van made it a little less perfect.