... And here endeth the lesson
The dawn of a new day (even if I don't photograph sunrises very well), and what lessons shall I take from it?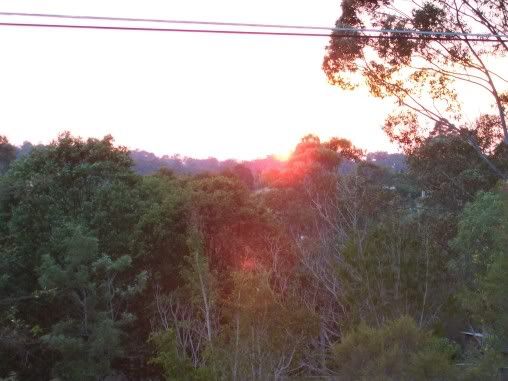 "We learn something new every day" or words to that effect. Sometimes it can be the reinforcement of an old lesson that we should have taken before. Another old saying: "if only..." If only I'd done this or hadn't done that. If only I'd taken a few extra moments when fixing that flat tyre this morning, but I'm getting ahead of myself (will that be tomorrow's lesson?).
I had decided to head for the usual Hinze Dam ride before work this morning, although I expect I'll be moving it to after work as soon as Martin gets the free time to join me. Once again it had been another beautiful morning, with a surprisingly red sunrise (what I was trying to photograph above). It just had to be Robina where the trouble struck. A nail straight into the tyre. Well, I inserted the spare tube hurriedly (now I was running late). A little too hurriedly as it turned out -- there appeared to be a problem with the rear axle (the second time ever, and the second in as many weeks).
Eventually I rigged it up well enough to ride home, now running fully 30 minutes late. There are times when a sligtly untidy apartment is a blessing -- that's if everything I need is on top of the pile. After throwing everything onto the old bike that I keep in the garage as a spare, and making my way to work (incredibly making it on time), I was feeling pretty proud of myself. I'd stared adversity in the face and owned it.
As the day went on, however, some of my delight faded. Another mechanical problem to deal with, and on the weekend where I wanted some serious km, too -- not to mention the financial implications. After work I take a trip to John's (the best bike shop on the Gold Coast), where I get John to have a quick look at it. Didn't I feel like an idiot? No axle problems at all, just a hasty re-assembly that led to a quick release spring going on the wrong way!
If only I'd taken a few moments to do the thing properly in that roadside repair, I wouldn't have had to make up 30 minutes on the way to work this morning. I wouldn't have had the embarrassment simply having something on the wrong way (although I'm told that happens to quite a few racers), and I wouldn't have had the stress of worrying about how much it was all going to cost.
So today's lesson was take a few moments to do things properly -- otherwise the consequences next time could be much worse.