The joys of the commute -- and a new project
Often it's the little things that we miss on the voyage through life. On the Internet I've shared many pictures of places I've ridden, some including spectacular coastlines, tumbling waterfalls, rainforests, mountains, and places far from home. However, there are times when we overlook the things we see everyday. Often we take them for granted, but there are times when we should perhaps pause to explore their beauty a little further.
I speak of none other than my daily ride to and from work. I'm actually very fortunate to have a beach-side commute, to be able to hear the waves crashing, breathe the ocean spray, and just generally chill out (perhaps a contradiction in a Queensland summer, but the sea-breeze is always pleasant) after a long day at the office. Today I brought the camera along, and made a couple of very quick snaps on the evening ride home. Of course, I missed a spectacular sunset simply through being in the wrong place at the wrong time (the best of it was obscured by buildings). However, I did pass alongside the playground of the rich and famous.
For years, the South Pacific has been a regular companion to me. I've bathed in it, cycled and jogged alongside it, baked in the sun next to it, and paused near it for contemplation on many occasions. Again, it's obscured by buildings for large sections of the commute (thanks urban development), but for one, brief, moment every afternoon/evening at Narrowneck, I'm able to transcend all of that and just be there.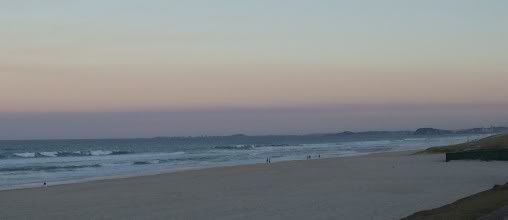 And to think, it wasn't even a particularly photogenic day. Now that I'm carrying my camera on the commute, I'm sure there will be better shots to come. Maybe last week's rainbows might come back again.
Of course, I also mentioned a new project. I've been observing the state of the 2005 wall calendars that are available in shops at the moment, and from what I can see, they all look pretty bland.
I know they have pictures of some very beautiful places, but to me, they just look a little bit too much like the pictures that were used last year.
What I intend to do, is design my own. This project will be themed on Tasmania, as I took a cycling tour there last year and fell in love with the place.
I have around 300 photos, from which to choose 12 that I intend to feature. After this, I take the layout to someone and get it published professionally, and hang it on the wall. If this works, I might make it an annual thing, and possibly have a different theme each year. I have plenty of local photos of the Gold Coast Hinterland to fall back on should I ever fall short.
At this stage, it's very much in the embryonic stage, but I'll post the updates here as the project unfolds. Anyone chasing a sneak preview can check out
http://Tasmania2003.crazyguyonabike.com
, where the photos are currently available. I'll be interested to see how some of these look printed.