Keep telling me what I can't do...
So
meone said I couldn't do this: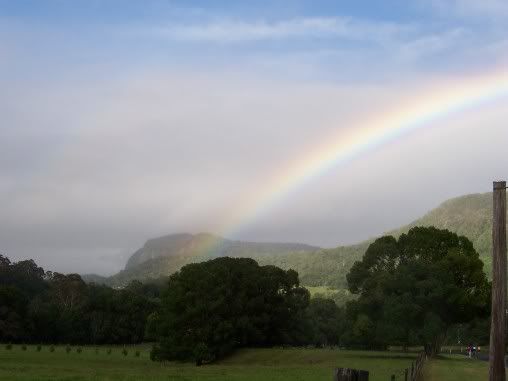 And just to show it wasn't a fluke, here's another: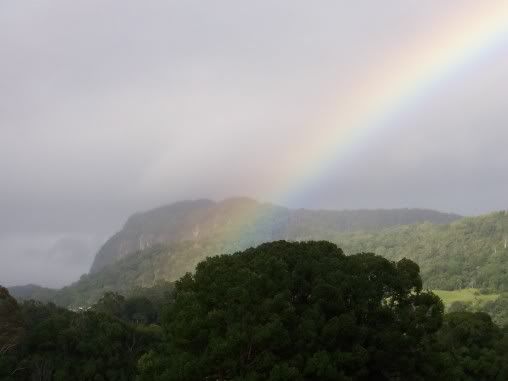 Yep, sometime ago on bikeforums, someone told me that it was impossible to successfully photograph a rainbow -- something about the lighting and camera's shutter I think, I can't quite recall the technical explanation now as it was some months ago. Either way, I've done it. The scene was Currumbin Valley this morning on a very pleasant day, albeit a little more humid than I would like. I actually met up with a group of riders that I did O'Reilly's with back in June. They ride a little faster than I'd perhaps like. It isn't that I can't keep up with them (I dropped all but the fastest of their group on O'Reilly's), it's just that their pace doesn't always allow time to appreciate the scenery. Still, it's nice to have someone to talk to occasionally.
Not all about the ride was perfect. I managed to break a gear cable this morning. I think it's been on the way out for some time, but I was hoping it would last a bit longer (maybe another week or so). Of course, I went down to Johns (my LBS), and they had the replacement, but they didn't have the time to fit it for me. Well, I guess I had to learn sooner or later. I think I did a reasonable job fitting it myself once I figured out what I was doing, and it wasn't as hard as I thought it might be. It's not quite shifting perfectly, but I think that's because some of the cogs on the rear cluster are getting worn (they need to be replaced, but I'm trying to hold off until I'm a bit wealthier to do that). Either way, it's more than adequate.
I'm off to explore some new roads around the Condong Range (Tweed Coast Hinterland) tomorrow. This is a goal I set for 2005 -- to keep discovering new places to ride. New horizons, new sceneries. I'm not sure what to expect tomorrow, but it should be interesting one way or another. With a bit of luck I can shoot for century no.3 as well. I guess now all that remains, is for someone to tell me what this ship was doing off the coast of Surfers Wednesday, Thursday and Friday morning.