Turning up the heat
The first three months of this summer haven't been too bad, but in the last couple of days it seems to have decided to make up for it. So it was yesterday, although a start of just 20 degrees C gave no indication of what was to follow. After sitting out due to sunburn on January 1, I really wanted to get a decent ride in, so I headed South, initially down the Tweed Coast.
The ride was almost over before it begun. On 10km a ute driver indicates one way, then turns the other, I'm forced to pull off a save to avoid a collision. Strangely, I'm more upset with myself than anyone else, upset that I fell for a trick I've seen many, many times in the past. Undeterred, I continue south, a little quicker now. Sadly, suburbia seems to be expanding down here, it now takes 45km to get clear of it, but at least the long drag is still worth it.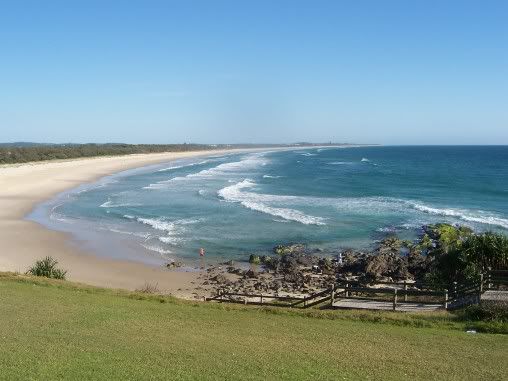 By the time I head inland at the southern end of that stretch of coastline, I can feel the temperature warming up quite quickly, it now hits 32 degrees C climbing the ridge behind Mullumbimby toward The Crystal Castle. This really is a beautiful area, and is the main justification behind heading this way. Here, I remind myself that I really must do the repentence ride through to Nimbin soon. Maybe when it cools down a little.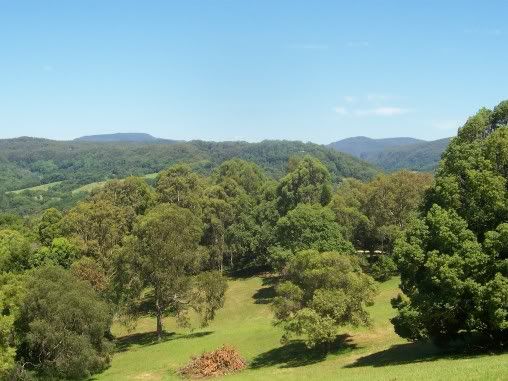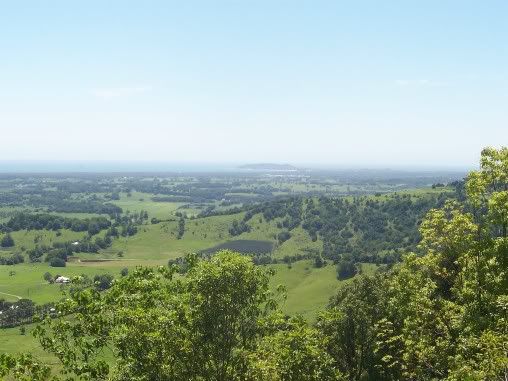 The loop returns to Mullumbimby at the bottom of the valley. I think I finally figured out what the name "urliup" (possibly an aboriginal name) actually means. Picture this: You're on a long ride (225km), it's hot, and you've got a headwind (which does nothing to cool you down, despite it blowing directly onto your perspiration). After lunching at Mullumbimby (where it's 34 degrees C and about 169% humidity), there is a decent climb, not so bad on a cool day, but when lunch is trying to settle on a hot day, it's a little taxing.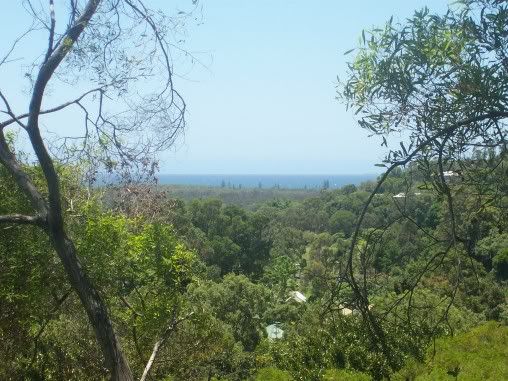 you pass through Mooball (34 degrees), Burringbar (35) and Murwillumbah (34), relentless hills all the way.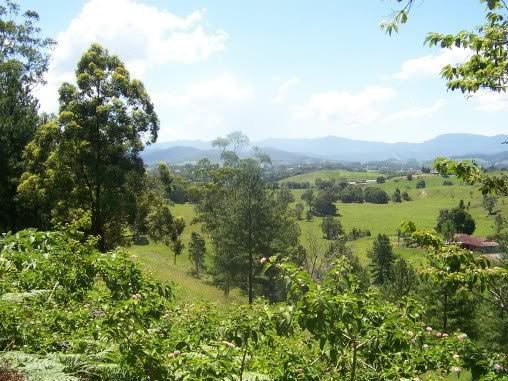 After Murwillumbah for about 4-5km it's flat -- no vegetation apart from sugar cane, totally exposed to that wind which is strengthening (and didn't really start blowing until you turned around to head into it). At this point you have around 175km in your legs.Then you hit a 2km, 135 metre climb toward Urliup. Your pedalling style has suffered a little after the plains, but it's over relatively quickly. Now you're descending through pristine rainforest on a narrow, deserted dirt road. You're already cooling off.
At the bottom, you find a place where two cool, pristine rainforest streams meet. The temperature here is a full 6 degrees cooler than Murwillumbah, despite being only about 7-8km away. Here, you can splash yourself with the water to cool off, heck, it's even so pristine you can drink straight from the streams. I did, and it was at this moment, that I realised, that Urliup must surely be an aboriginal word for "relief". After the inspiration of this place, the headwind and the heat suddenly seemed inconsequential.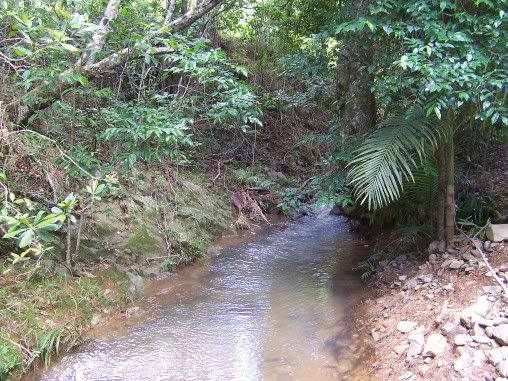 I managed to push home through the headwind up the coast, and maintain an "on the computer" average speed of 24km/h. Not bad under the circumstances. It wouldn't be the Gold Coast without at least one moment of madness. Some silly cow driving straight across the bikelane (even after I've made eye-contact). Fortunately my reactions after 223km are still pretty good, as is my ability to judge others, and my cynicism. The situation is avoided, and I make it home in one piece. Just as well I discarded the text book instructions of "use the bike lane" and "make eye contact with drivers" years ago.