Now the real story...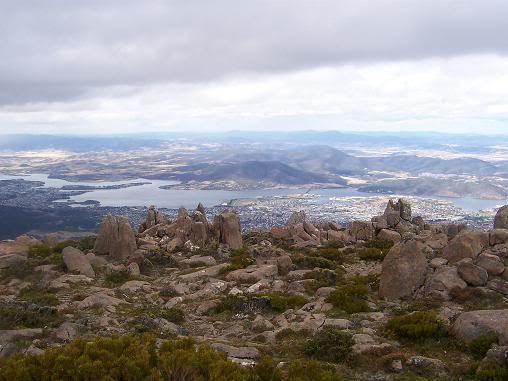 It's fair to say that I've had better weekends. The last two days I've been down with a minor chest infection which have prevented any riding apart from a rather uninteresting commute to work today. Since the "400" ride on Saturday, I've done nothing else. It seems the gear cable problem on my bike isn't as clear cut as I'd thought either. The screws holding it all in place are, basically, screwed. They will have to be drilled out. It's booked into my bike shop to be done on Thursday (meaning I have to do something with the MTB by then).
The practical upshot of all of this is that the long, hard ride I was intending last weekend in preparation for the ASH Dash just didn't happen. For those who aren't familiar with it, the ASH Dash is a 200km Audax ride that I'll be doing on December 3, in the southern vicinity of Hobart (as viewed from Mt Wellington above). It is, of course, brutally hilly. Right now I'm torn between wanting to get on the bike and hammer, or trying to be mindful of my recovery from this stupid illness. The other fact to consider here is that I haven't really had a decent break from suburbia since
Duck Creek Road
a couple weeks ago. Needless to say, I am desperate to do something this Saturday.
One thing that my idle weekend did manage to accomplish was the opportunity to dig out some of the old maps I used last time I was in Tasmania. That, in turn, served to remind me just how badly I want to get back to the place. It's just a shame that I'll only be there for a weekend this time. The tour I rode down there in 2003 was unforgettable. The scenery, uncrowded roads and the clean, cool air... I've even thought once or twice about moving there permanently. It will be good to get back, even if only for a few days. I may end up riding the ASH Dash on nerve alone unless I can get some decent rides in soon. I can live with that. The time limit on Audax rides is generous, and may even allow me another detour up Mt Wellington at the end, if I just hang in there.