Where did this come from?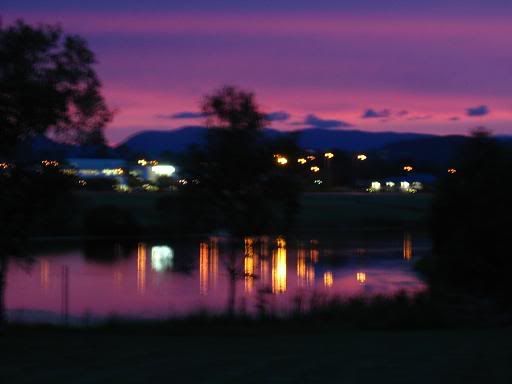 Sometimes it isn't the "main attraction" of the ride that turns it on. Last night was testament to that more than anything else. The plan was another night ride in the glow worm-lined rainforest of Austinville. To do this I would have to pass through the suburb of Robina -- normally about as exciting as watching wine mature. I hadn't expected the glorious sunset that it turned on, but thankfully remembered the camera for something else (which didn't come off at all).
The ride through the rainforest itself was beautiful, but I noted there were fewer glow worms than I'm used to seeing. With the brightness of my headlight it took a while for the reason to dawn on me -- it wasn't quite dark. That seems to be a fact of summer (even if this is probably the mildest summer I've ever seen in these parts), daylight tends to hang around for hours in some form even after the sun itself has gone down. I'm sure someone out there somewhere finds that useful.
On the way home I was treated to one of the "benefits" of living in Queensland and being a little.. umm... "behind" the rest of the country. Christmas lights are being turned on all over the Gold Coast right now. Just why people are waiting until now to do it is beyond me. There are more in my street as I type this. I suppose it's possible that people just like the look of them. That's about the only rational explanation I can think of.