Dashing!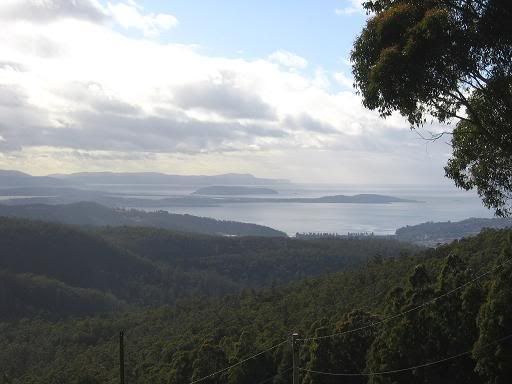 It was a chilly morning when I lined up in Hobart on Sunday for the ASH Dash. I haven't done that many organised rides this year, but the turn out for this one was more than I was expecting on a 210km ride with such a reputation for being brutally hilly. As it was, I decided to remove the leg warmers just before the start -- figuring that at 10 degrees C, they'd probably just slow me down on the first climb.
The first few kilometres out of Hobart to the 510 metre climb of Neika set the tone for the day -- uphill. I remember having a chat with one of the locals before realising that I was breathing a lot more heavily on the climb than he was. I decided to let him go and just ride my own event, which may or may not have been a wise decision. I crested Neika with another group of riders, but it was after the third climb on Vinces Saddle that I started to run into problems.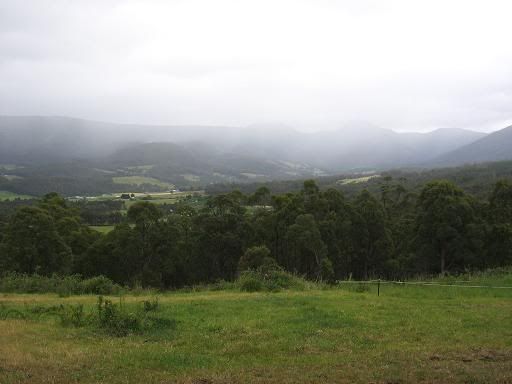 First of all, I got dropped on the descent after stopping for a "pitstop", which wouldn't have been a major problem -- except that at this point there was an error in the route directions. The cumulative distance indicated Huonville was 2.7km away -- when it was, in fact, 12.7. At the bottom of the descent I began to worry that I'd taken a wrong turn. I'd expected to see a roundabout and a bridge after 2.7km, and saw neither.
I turned around and went back up the hill, another 300 metres of climbing, only to find that I'd been on the right track all along. The problem, of course, was that I'd lost valuable time in getting to the first checkpoint, which was still 25km away -- against the wind. The good news, the positive response to the situation, was that if I could make it here, the rest of the ride should be within my grasp. I never really got to grips with the wind on my first visit to Tasmania, but on this occasion I never really had a choice.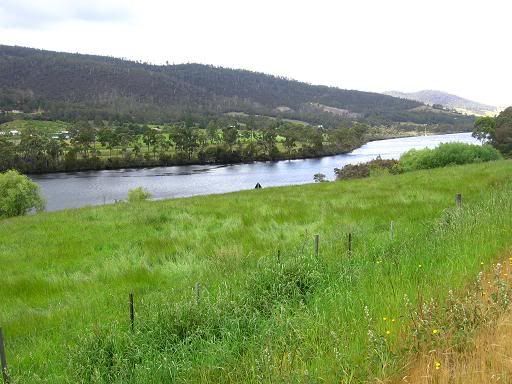 The ride to Port Huon along the river was just beautiful, as was the ride back after I
just
made the checkpoint and composed myself over a drink. Someone at the shop asked about the route -- good. This was a chance to get familiar with it. The next checkpoint was at the top of Silver Hill, and was quite reachable in terms of distance, but the final climb at the end made it tricky. I made it there with 10 minutes to spare.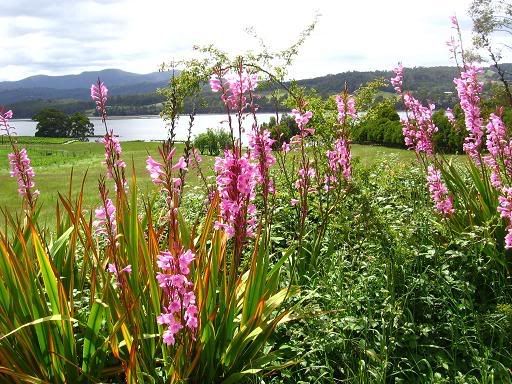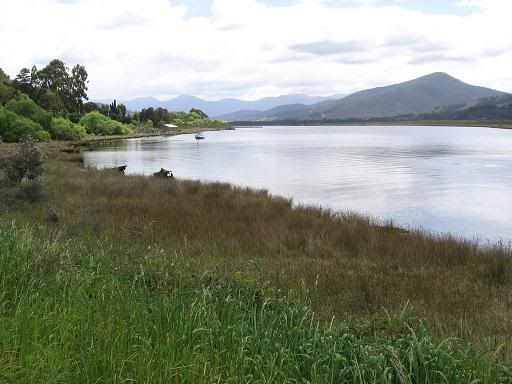 From Silver Hill there was a descent, and another climb to the next checkpoint at the top of Woodbridge Saddle. This was the hardest section of the day. I tried to attack the climb and get some time back, but it was killing me. I then retreated to a "holding pattern", figuring I had 10 minutes from the previous checkpoint to hang onto. Even that seemed remote, and I reached the summit genuinely believing I'd been eliminated on the basis of time. Then I was told that I'd not only done enough to stay alive -- but actually
gained
time on that stretch. I was even told I'd gained as much as 30 minutes on some of the riders who had left me behind when I got lost.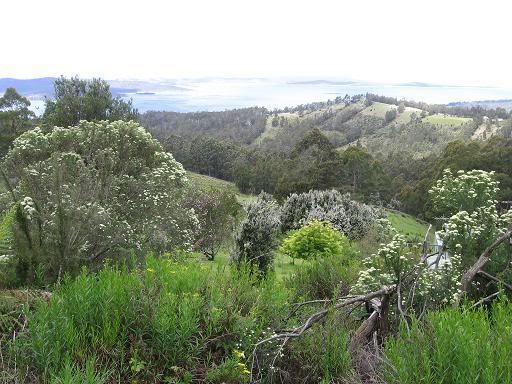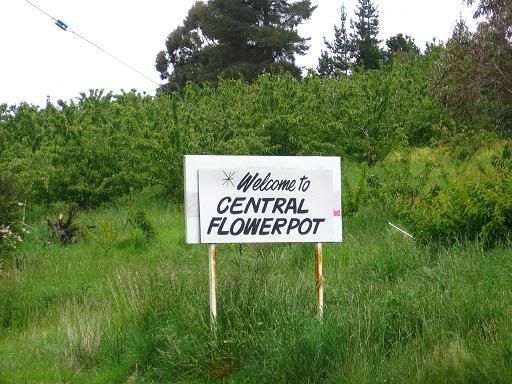 I wanted to celebrate right there, but there was still some work to do. What followed was a windswept coastal stretch, which now turned around and went against the wind for a while. Now I was able to really enjoy the ride. I had figured that I'd probably be the last rider home no matter what I did, but that finishing would be within my capabilities if I just didn't try to rush things. As it turned out, with scenery like this, nobody wants to rush anything.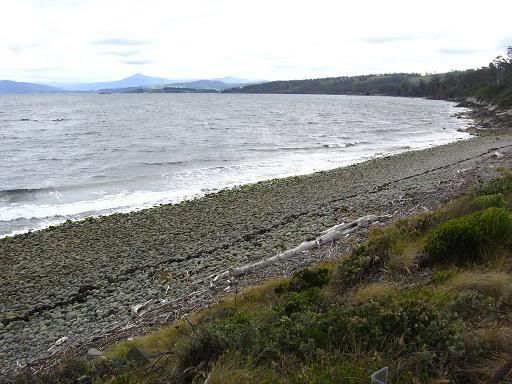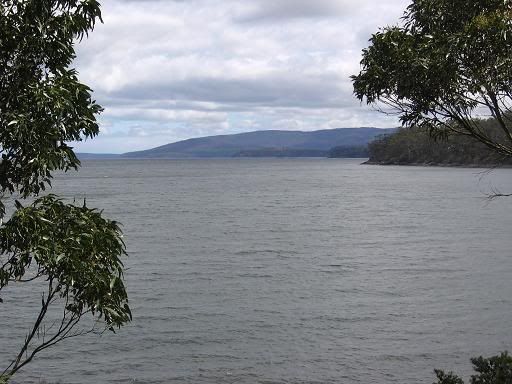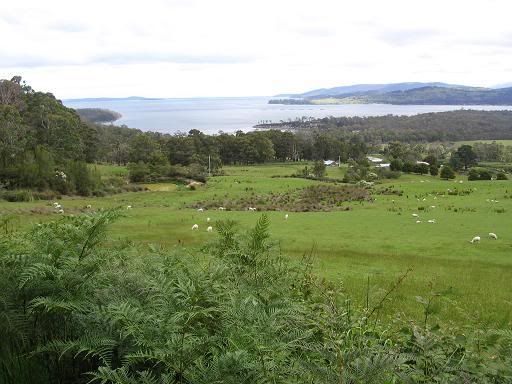 I followed the coast right around to Cygnet, and onto the dirt road toward Pelverata. I hadn't been paying much attention to distances at this point, but here it began to dawn on me that there really wasn't very far to go, and that the wind would be behind me virtually all the way. I have enough experience of dirt roads not to have been at all worried by the gravel, but my mind was on the climb of Kaoota, which had a bit of a reputation.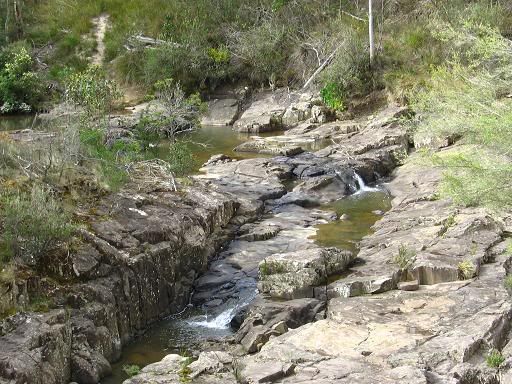 I needn't have worried about Kaoota. Either the climb was considerably easier than Woodbridge Saddle, or I was getting stronger. I was able to spin through most of it in a low gear. There was one steep section, but it wasn't long enough to really trouble me all that much, and I reached that particular summit fairly comfortably for the final checkpoint before the finish back in Hobart.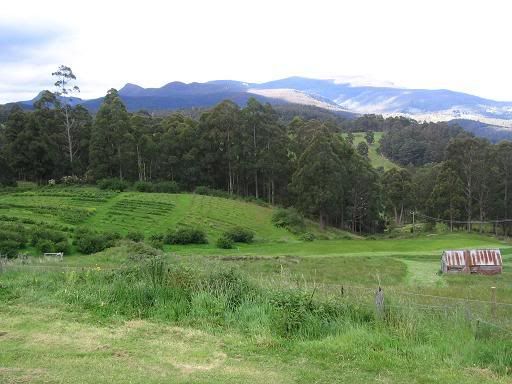 I have to say the support on this ride was excellent. Even though I was a considerable distance behind the other riders, through nobody's fault but my own, Paul was always waiting at
every
checkpoint with more than enough food on hand, and plenty of encouragement. Given the number of other riders he had to attend to that day, I don't know how he did it, but I certainly appreciated his efforts.
I managed to descend Kaoota fairly quickly, and passed through the locality of Sandfly (which would probably be more appropriate in parts of New Zealand than Tasmania). Now I just had to finish it off with a climb that I had done three years ago with a full touring load. I was travelling much lighter today, but this was on the back end of 200km. I ground my way through it, enjoying the scenery before raising a fist at the summit, and not caring if anyone saw me.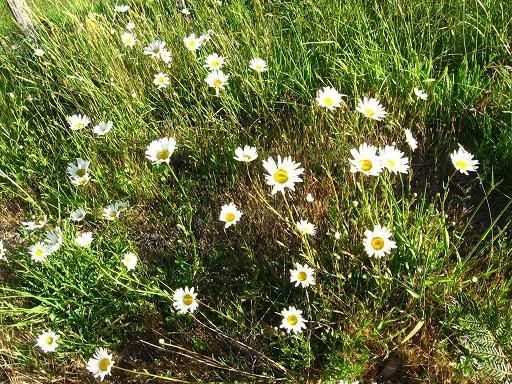 The final analysis after the descent into Hobart was that I'd ridden 230km, with 3,739 metres (12,267 ft) of climbing, and still finished with an hour to spare on the 200km time limit. I was actually more than satisfied with that effort, despite being the Lantern Rouge for the day. This now gives me the full set, having been the first rider home on The Wonders of Glorious Mee in 2005.
Whatever the finishing order, this is a wonderful ride. The weather in Tasmania at this time of year is just about perfect, the scenery is marvellous, and the support is excellent. All in all this was a memorable day which made the airfares and the running around for a last minute bike repair the day before worthwhile.