Thank you QR
A short time after finishing my previous post, I discovered that my planned tour wasn't going to happen. It seems QR had once again made a complete mess of their scheduled timetable, and I didn't really see the benefit if "expected delays" and loading my bike on and off a bus as well as a train for a three day tour. This "track maintenance" between Brisbane and Beenleigh has now being going on sporadically for over 12 months. If the situation with the track is really that dire, perhaps they should just close the whole line down for four weeks or so and just fix it properly, rather than continuing to mess people around indefinitely.
As it was, I was left with the option of heading south for Minyon Falls for the long weekend. I did just that, heading south down the Tweed Coast and onto Mullumbimby. This was all familiar territory, but I hadn't ridden it fully-loaded before. I suddenly realised just how tough that climb can be in temperatures of 34 C when carrying a full touring load.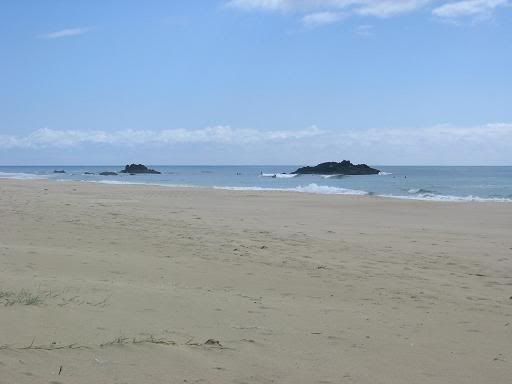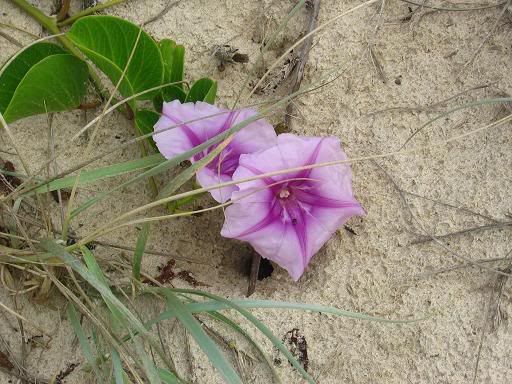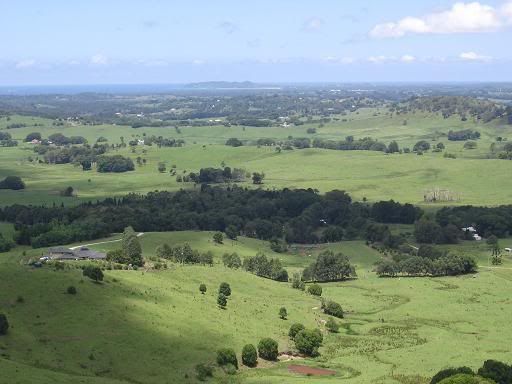 As it was, the temperature dropped substantially on the western side of the ridge. Now I was climbing and descending every couple of kilometres through some spectacular scenery. I am, of course, familiar with this part of the world, but it was a climb into the unknown when I hit the climb to Minyon Falls. The first kilometre was the steepest section, followed by a levelling, a pause at a small cafe for a mango smoothie, and the final assault on the dirt.
Along the way I'd talked with one of the locals in the cafe who informed me that feeding magpies is a useful way of preventing them from attacking. I'll keep that in mind for the next magpie season in a little over six months' time. I reached Minyon Falls to learn that there was no water coming over the cliff. Quite surprising given the greenery of the surrounding area, and the storm that had been through the previous day. It also really highlights the extent of the drought facing Eastern Australia, that a normally massive waterfall would be reduced to nothing in the middle of the wet season.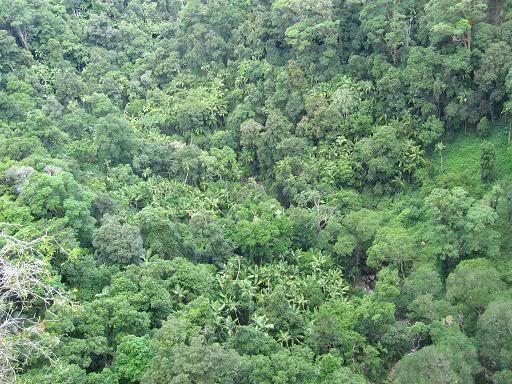 I passed right by the camping ground, and headed straight for the climb of Peates Mountain on the dirt through the rainforest, aiming to see what the views were like. The dirt got rougher and steeper nearer the summit, so I hid my touring gear in the bush down a fire trail and continued on unladen. If the climb could up the stakes, so could I. I crested the summit at around 640 metres to find that there were no views as it was heavily forested. I did, however, take note of another track apparently leading to the Huonbrook Valley near Mullumbimby. That could be an interesting project one day.
Eventually I decided to return to the actual campground rather than try "freecamping" in the forest. The campground here has something that every paid campground in the country should have -- a special area reserved only for "walk-in" campers. What it means is that idiots who come along and play crap music on car stereos can't go there and disturb the people who actually want to enjoy the outdoors. I spent most of the evening chatting with a camper who has done some cycle-touring in Northern Australia (most of mine has been in the south of the country). The idea of cycling Cape York one day is growing on me.
I awoke the next morning to find pretty much everything saturated. It rained for most of the night, quite heavily at times. My tent managed to leak like a sieve, so I need to get that resolved. For a while the creek flowed and gave me some hope of seeing something coming over the falls. Unfortunately most of it had gone by morning.
The rain had managed to keep me awake most of the night, but it's amazing how much more relaxing it is to be kept awake by rain, thunder, lightning and surprisingly loud frogs, rather than screeching tyres, heat and fighting yobbos which seems to be the norm back on the Gold Coast. The ride out was spectacular at times.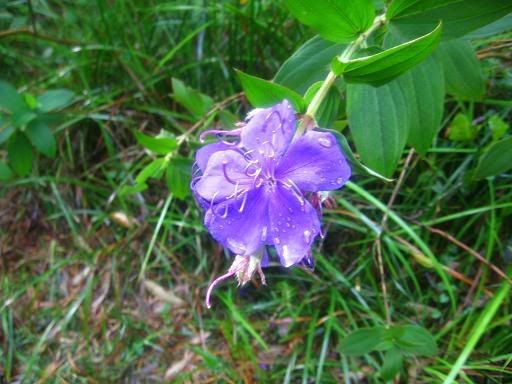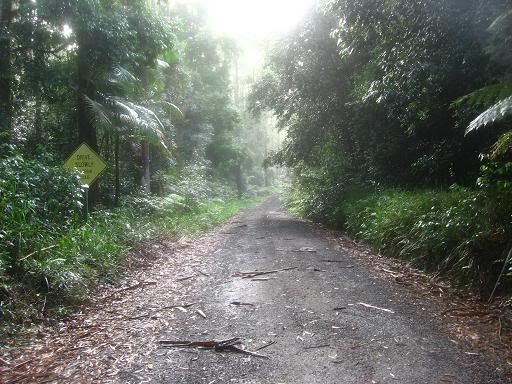 Before long I had descended the mountain, and was detouring through various villages in the northern vicinity of Lismore. Much of the area had sweeping views or exotic forests similar to those around Mullumbimby, but around every corner there seemed to be something different.
The problem for me was that the heat was now rising to ridiculous levels. I figured that once I reached Lismore I might be able to find a way to keep myself occupied until the heat dissipated enough to ride in again. There were two problems with that. Firstly, Lismore wasn't a particularly interesting place, and secondly, the heat was showing no sign of slowing down. When it reached 40 degrees C, I basically gave up on waiting and decided to just ride anyway. I did, however, visit an open-air cathedral in Bexhill, about 10km before Lismore, which was more interesting than anything in Lismore.
One thing that did happen in Lismore was that I encountered someone who was apparently down on his luck, and needed change for bus fare to Ballina to start a new life. I figured I wouldn't miss a few dollars, and decided to help him out. He said all he had to give me in return was the Lord's blessing. A southerly change would have been all the blessing I needed in the heat. I rode out through Rock Valley, and contemplated camping near Rock Valley Hall, before pressing on gingerly. The Hall wasn't really secluded enough from the road, and offered little shade for someone dying in the heat.
20km later I reached Cawongla. There was more disappointment here, nowhere to camp, and a sign misleadingly claiming the local store was open. It was now 14km to Kyogle, over the MacKellar Range. In my favour, however, was the fact that light was fading, and consequently, the temperature had eased slightly. My lights could help me out if it got dark, I could make it. I seemed to feel better climbing the range and descending the other side.
Kyogle wasn't really what I wanted -- the one eatery that was still open in town advertised pasta but didn't sell it. It was, however, a comfortable enough place to spend the night. I didn't bother putting up the fly on my tent. It was far too hot, and I figured if it rained I'd be better off just getting wet in those conditions. Lo and behold, during the night the southerly change
did
arrive, and things cooled down considerably. Was it Karma, or just coincidence?
The next morning was a return to the familiar ride from Kyogle to the Gold Coast over the MacKellar and Nightcap ranges, through the Tweed Valley, Urliup and back to the coast. 119km. Simple really. It was a hazy, overcast morning, which seemed to give the early mountains an eerie quality all of their own (not to mention lower the temperatures considerably on yesterday). I love riding this route, it was in the closing stages of my first "long" tour in 2000, and has concluded many other big rides since then.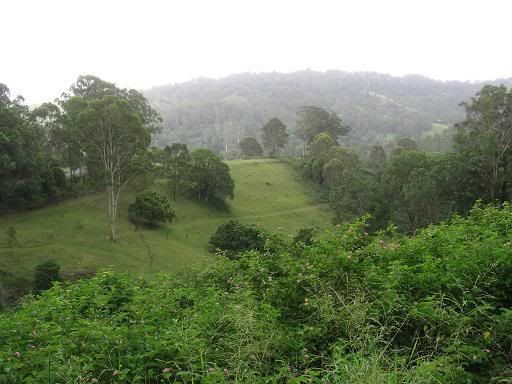 A few instances of abuse after Murwillumbah highlighted what I was coming home to. Fortunately I hadn't really been away long enough to be "softened" this time. As it was, the rainforest and the dirt road of Urliup (look in the archives if you want a picture of that) kept me away from it for a while. I don't know how much longer that will be the case, given that the Tweed Shire Council have some irrational desire to seal/pave Urliup Road, but for now I'm grateful for it once more.
My legs were just about shot when I returned home, but I can live with that. I will, however, need to reconsider whether this particular long weekend is the best time for cycle touring in this area. The summer heat is just brutal, and while I survived this time, the cooler times of the year are much easier to deal with. The volume of water that I've been continuing to drink since returning some seven hours ago is testament to that. I'll write some more concluding thoughts later, right now, I need some sleep.