Rain, mist and leeches!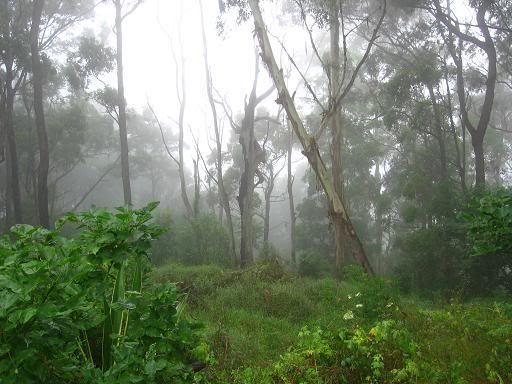 For such a relatively short ride, this was certainly eventful. My friend Martin decided to join me for a relatively short ride to Springbrook this morning. I finished the way with a total of 88km, barely a quarter of the corresponding 324km epic from a week earlier. We commenced in light rain and started by unwittingly riding to the site of a car smash (I'll refrain from using the term "accident" because it's rarely accurate). Apparently a couple of drunken f*ckwits in a 4wd/SUV had smashed into another car and driven away laughing about it. Fortunately in this case, the victim appeared to be only suffering from shock.
Light rain continued to fall as we commenced the long climb in the mist, first the 8km stretch to Salmon's Saddle. Apparently Martin wasn't feeling confident at this point because he didn't have small enough gearing for the near 20% gradients to follow. He wanted to wait for a bus ride home. Of course, knowing what I do about Gold Coast "public transport", it was obvious to me that he would have been better off waiting to hitch a ride on Halley's Comet.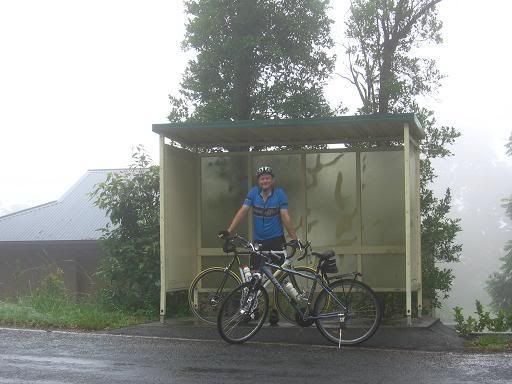 Eventually we continued on the really steep pinches of Lyrebird Ridge, passing "Mibum lookout" (I'm not making that up). Actually, Martin surprised me in the ability to not only push those ridiculous gears, but also deal with the wet roads at the same time. In truth he did really well, but then, perhaps that's why he's placed in the top 5 in 24-hour MTB races in the past.
In those conditions, there was nothing to see from Best of All Lookout. There are, however, 3,000 year old Antarctic Beech trees, which make a spectacular backdrop for a photographic pose.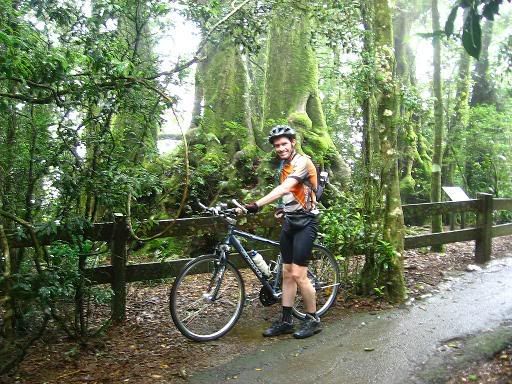 It was somewhere around here that the next piece of drama probably unfolded, but I didn't become aware of it until we stopped at the fudge shop (definitely worth a visit) on the return home. A leech had managed to find it's way into the front of my jersey, and latch onto my chest. It had sucked a decent amount of blood, judging by the mess it made when I squashed it. It probably dropped down from one of the rainforest trees somewhere, but just where I can't be sure.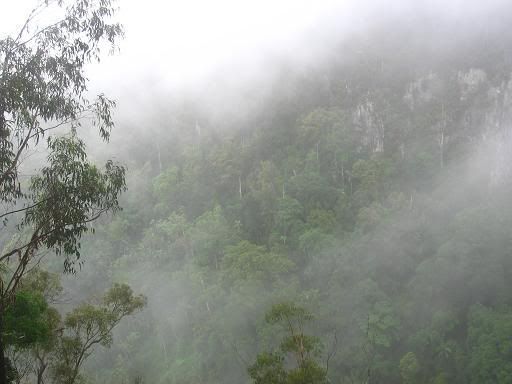 There was even time for a detour to Purlingbrook Falls. There is nothing in the world quite like a gushing waterfall in the mist. There was a decent volume of water coming over it too, I can only guess that Springbrook has managed to get some rain that the 'Coast has not. It was a great way to cap a memorable day.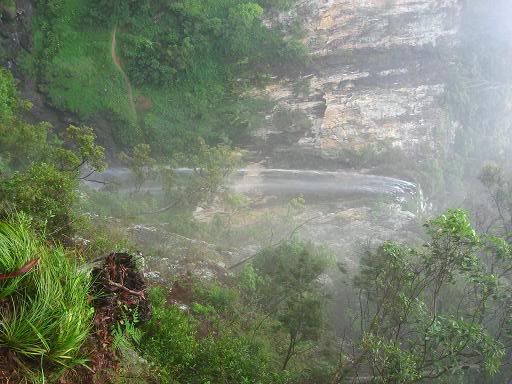 There was even time for me to pick up a flat tyre on the ride home. Not really a problem as I've dealt with a few of these lately, but it was still annoying. The temperature on the coast managed to hit 30 degrees C on the way home -- that was annoying too (it had only been 17 on the mountain). Perhaps I should have taken Martin's advice and ridden back up the mountain and stayed there until nightfall.