Why Solo?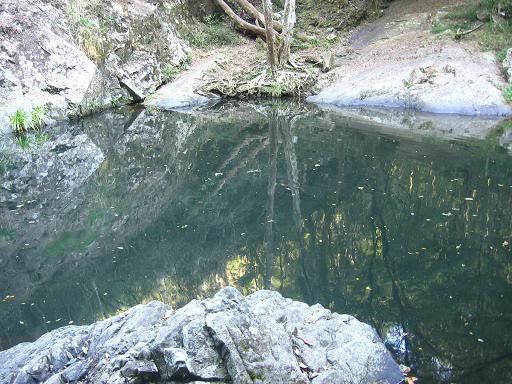 A recent discussion at bikeforums.net poses the question of
what touring is really like
. When replying to the thread, one of the things that really dawned on me was the fact that all of my tours to date have been solo and self-supported. I've always had a preference for the freedom of self-supported touring.
For me, touring is quite simply the best way to see and experience a place that you might otherwise never visit. It lets me travel at a pace that allows me to see just about everything, it lets me experience the weather, the people and all the other things that make a place what it is. However, there's more to it than that. It's also an escape from the rat race, a chance to be alone with my thoughts, a chance to make my own decisions, and a chance to really listen to myself. It's freedom, the freedom to think for myself, and to act upon it, knowing that I live with the consequences of my own actions and nobody else's. That's not to say that every minute is wonderful, but at least I have control over my destiny, and can deal with the bad in whatever way I see fit.
Let's face it, most of us spend the majority of our lives doing what other people tell us to do. We have to follow instructions at work for 8-9 hours a day (sometimes more). We come home and slip into the same rhythm, doing largely the same chores, hearing the same messages in Internet/TV/radio/newspaper advertising, telling us all how we "should" live our lives. They try to tell us what to buy, what to believe, and what to think of anyone who dares to be different. I see touring as a means of escaping all of this. It's a rare opportunity to listen to myself. Life changing? Perhaps not in a really obvious way, but it is an opportunity to think about things that we probably wouldn't find the time to think about otherwise.
For me, an organised tour pretty much eliminates the majority of what I said above. All of my tours have been solo and self-supported for this reason. Sure, it might be nice to have someone else to share the experience with, but on an organised tour there is a lot of baggage that goes with it. I've heard similar complaints about food, accommodation and queues for showers from people who have done organised rides with Bicycle Queensland and Bicycle Victoria in the past, so that doesn't surprise me. There might be other issues here, too.
Always in big groups there are people who don't really get along, there are people who overestimated their fitness before the tour and want to blame everyone else for the fact (or the fact that it rains or whatever). While it's easy to blame the organiser of a supported tour when things go wrong, there are a lot of issues that go with group touring that the organiser can't be held solely responsible for. When an organiser has to feed these people at the end of the day after dealing with these issues, I guess it's possible that the food will be a little unimaginative, and people might feel that they aren't getting the attention they deserve.
In fact, about the only real benefit I see in an organised tour is having a SAG wagon to pick you up at the end of the day if you don't make it. However, the person who has prepared properly for the tour, has a good understanding of their own capabilities and how to ride within them is unlikely to need this -- and even if the solo tourer did need to call out for assistance, the money they've saved on not paying thousands for an organised tour can be used to travel a long way in a taxi if necessary (it never has been for me).
I've always advised people considering touring to start with some short, self-supported tours in your own part of the world just to get a feel for it. A weekend is usually enough. Find a local pleasant campground and ride to it. Then ride back by a different route (if possible) the next day. Personally I think that gives a greater feel for what touring is all about than having it all planned beforehand and being guided along like cattle.