Goading Guanaba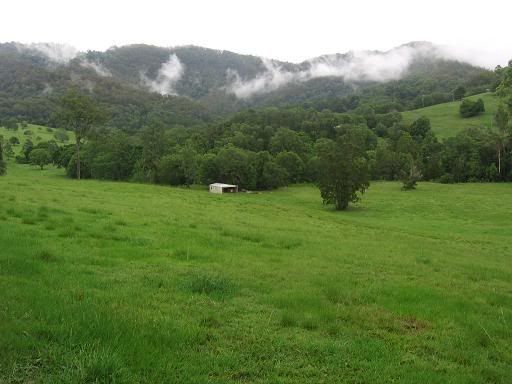 Yesterday morning I decided to finally bite the bullet and take the ride out to Guanaba, a rural locality in the north-western vicinity of the Gold Coast. It was an area that I'd planned to investigate for some time, but various things kept me away. I'd anticipated some views of Guanaba Gorge on nearby Mt Tamborine, and possibly a few other surprises.
Overall it was pleasant enough (a round trip of 67km). There were more clouds clearing the valley after yet another storm the previous evening. Greenery was everywhere. However, the thing that soon became apparent was the way virtually every road I took seemed to dead-end just as it was getting promising. Guanaba Creek road in particular, offered the promise of a lonely dirt road climbing through a green field toward the aforementioned gorge, only to be interrupted by a cattle grid and a "private property" sign. I suppose I could have proceeded regardless, but it didn't really seem worth bothering at that point.
Like another ride in this area that I'd explored last year, it was a pleasant enough ride, but somehow lacking something, that left it just short of the quality that the southern rides possess.