Weekend at Broken Head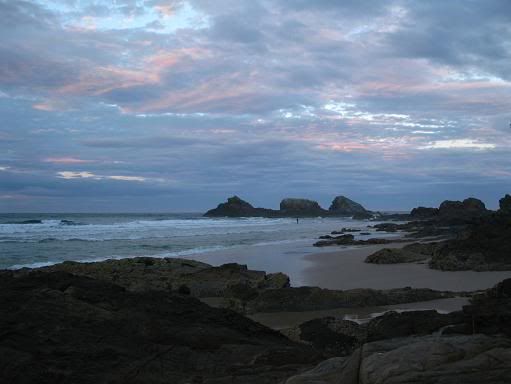 For various reasons I decided I needed a complete change of scenery last weekend. I loaded up the touring gear on my bike and headed south for a weekend, with an intended destination of Broken Head, a few kilometres south of Byron Bay in NSW. In truth I had another ulterior motive in mind -- a tour of Japan that starts in just nine days. I needed to get some rides in with the full touring load, pronto.
I headed south along the Tweed Coast, after clearing the initial 35km of suburbia that one has to do if heading south by that particular route. Thank God for the inland route through Chinderah, otherwise it would be 45km to clear suburbia. Either way, I got through it, marvelling at just how quickly I managed to adapt to handling the bike fully loaded, and decided to pause at Cabarita Beach to climb all over Norrie's head. While the views from the summit here aren't quite as impressive as Cape Byron, it is, nonetheless, very pleasant.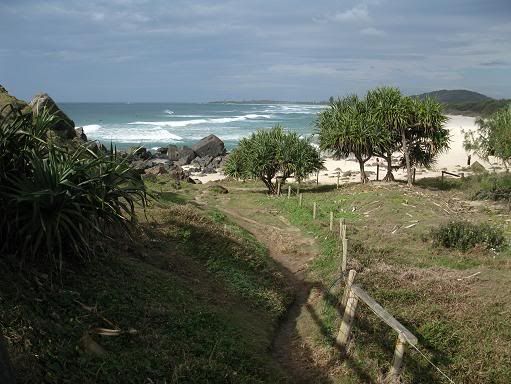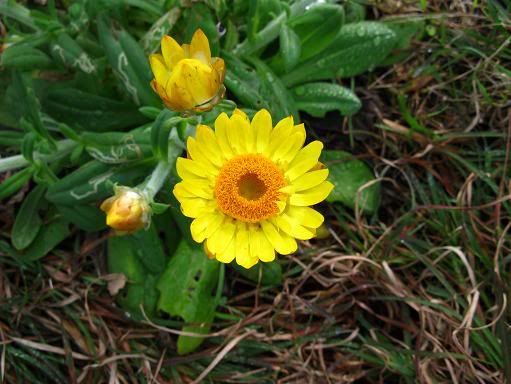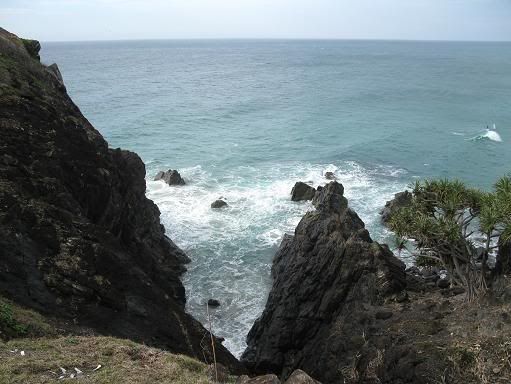 Here there was a local lady conducting a free stretching class, and I was inclined to join, but ultimately decided to press on down the coast. The coastal banksias were blooming along the side of the road, a slightly paler colour than the ones I saw at Lamington National Park a couple of weeks ago. The old coast road that used to link Wooyung with Ocean Shores has been closed for a while, but I had heard talk of an alternative. Of course, today wouldn't be a great day to try it, carrying a full touring load, so I decided to try it anyway.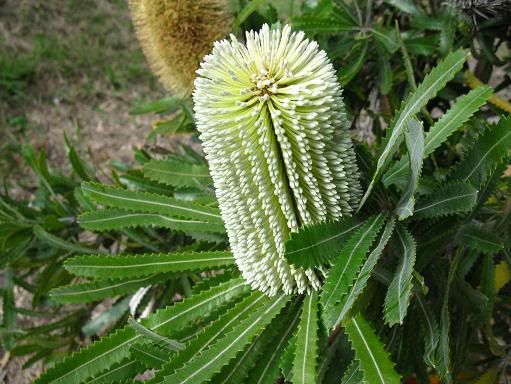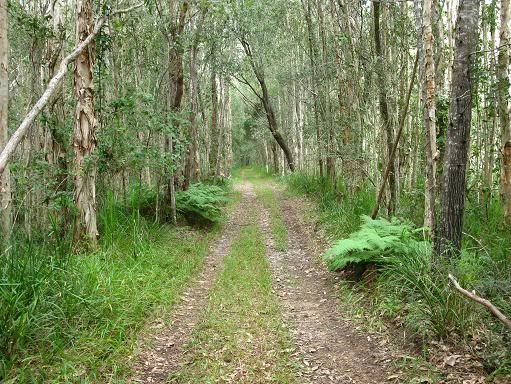 The initial part of the ride was alright, following a reasonable quality dirt track, where I was glad for my recently added "optional suspension" front forks. Shortly after this, my track turned toward the ocean, making me think that perhaps it would link up with the old coastal track and give me a seaside run to Ocean Shores. It didn't occur to me that firstly, the track would be flooded here after the rain earlier in the week, and secondly, it wouldn't link up with the coast at all, but instead change direction again, and head for a 14% incline, complete with tree roots, rock and ruts. Oh well, the steeper the incline, the shorter it must be by nature. I came out rejoining a good quality dirt road, which I quickly identified as Jones Road, which links up with the old Pacific Highway at Yelgun. It wasn't the route I was expecting, but was an interesting trip regardless, particularly the final section in between the giant gum trees.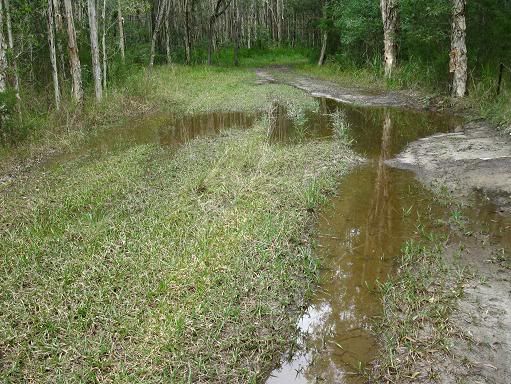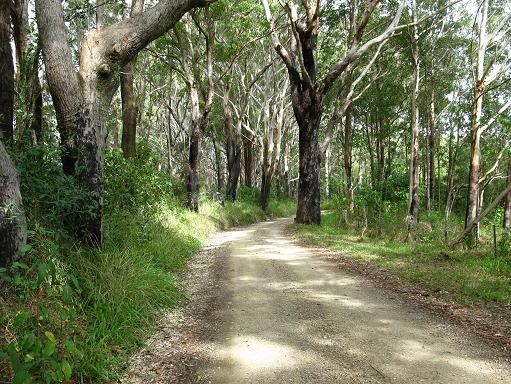 The next stretch south to Byron Bay is relatively uninteresting, passing along coastal flats that aren't quite on the the coast. I got some lunch and other supplies in Byron Bay, and checked out a local camping store for which I had a $100 voucher, but nothing to spend it on, given the limited range the store had. I pondered climbing Cape Byron again, but decided against it as I did it last year, and opted instead for a ride along a track near Tallow's Beach to the south of the town. Ultimately, I wanted to get to Broken Head, where there is a stunningly beautiful (if slightly expensive) campground.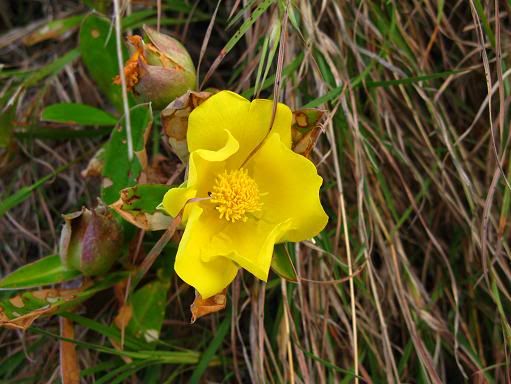 Once I'd set up at Broken Head, I decided to take a walk over... Broken Head, with it's views in both directions, including The Three Sisters, a rock formation which, according to Aboriginal Legend marks the point where three sisters drowned off the coast many thousands of years ago. I went to look for the rock paintings at the bottom of the headland that I had discovered last year, but they look to have been wiped away with a landslide since. Maybe it's just as well I found them when I did.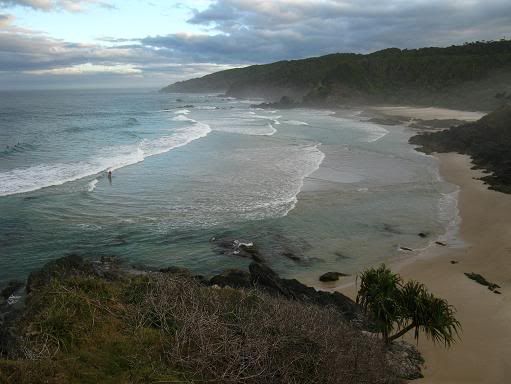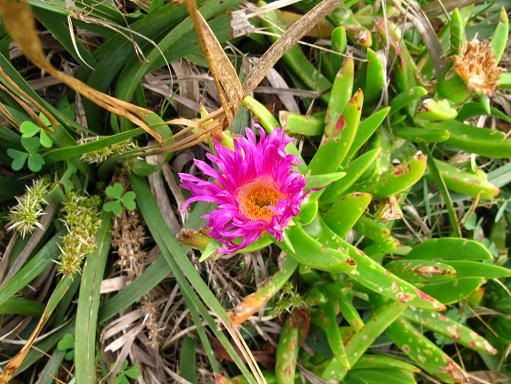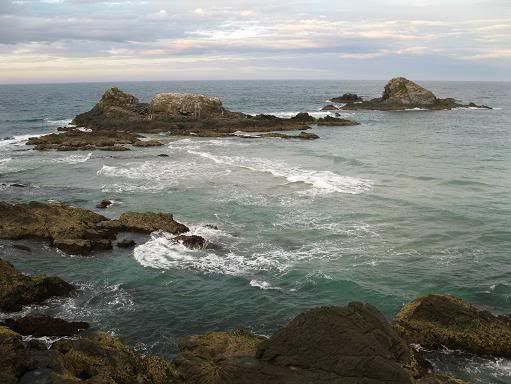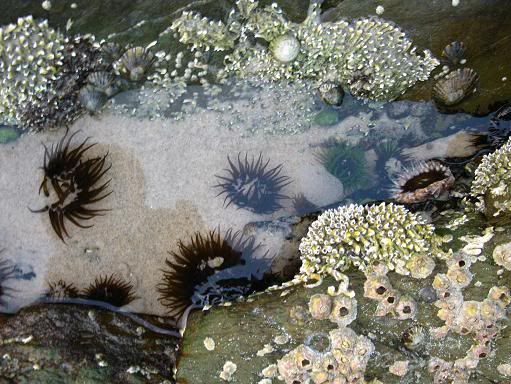 * * * * * * * * * * * * *
Another warm "winter's" morning greeted me on Sunday. It had been 27 degrees C the previous day, and if the 6am temperature was anything to go by, it wasn't going to be far short of that today. Having to backtrack can be unexciting sometimes, but fortunately today wasn't one of those times. I had a spectacular inland route lined up, one that passed through Mt Jerusalem National Park, with a couple of other climbs to make things interesting. I started off by heading back to Byron Bay to take Bangalow road out of town. It's only 12km between Byron and Bangalow, but the road is a spectacular one, climbing onto a plateau with sweeping views on every direction, and plenty of switchbacks through the rolling green hills.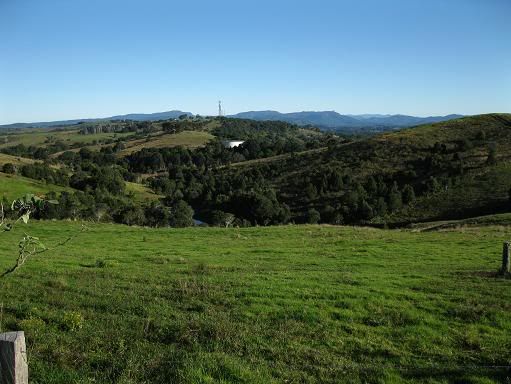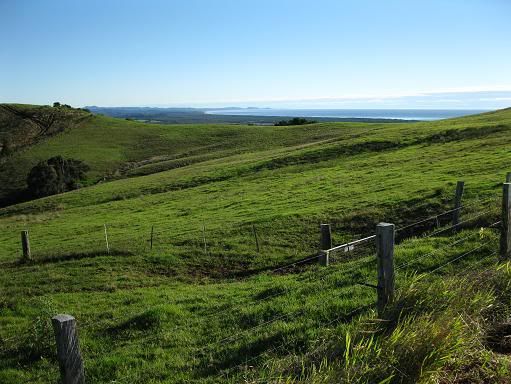 After leaving Bangalow, there was another climb to be had, onto the Coolomon Scenic Drive, behind Mullumbimby, with more sweeping coastal views. There are also some enchanted forests in this part of the world, where the gnarled limbs on some of the trees indicate that things may have been very different up here at one time in the past. Today I also couldn't ignore the fact that the seemingly obligatory northerly wind was now picking up rapidly. I was glad to have chosen the hilly route home to break it up.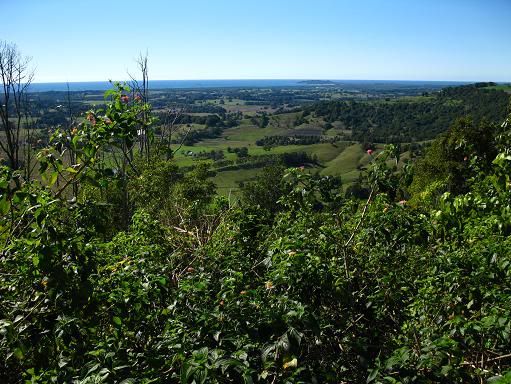 After descending into the Brunswick Valley and passing through Mullumbimby it was time for the next phase of the ride home, along the exotic stretch toward Main Arm, and the climb over the fake Mt Jerusalem. One of my favourite things about this stretch is that you can never be sure what will be flowering in this part of the world. Today it was a spectacular strand of cherry blossom trees lighting up the side of the road near Main Arm. Next time I pass through it will be something completely different.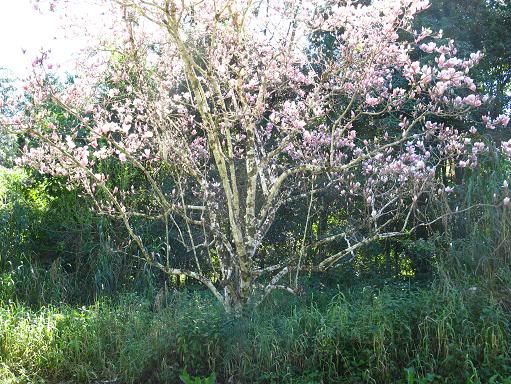 Now it was time for the climb over Mt J, and it's a climb that is definitely easier from the southern side (I think the gradient on this side only reaches 13%). The dirt road and the rainforest trees always make it a very pretty climb, but today I had to wait for it, as a tiny piece of wire had found it's way into a tyre and given me a rather annoying flat. The trouble with tiny pieces of wire is that they are extremely problematic to remove, and this one was no exception. 45 minutes later, I was on my way again. The climb didn't pose any real problems after this, and nor, surprisingly, did the descent, with it's steep gradients, sharp corners and loose dirt surface. This was followed by a lunch at the Uki Cafe, and the freshest salads in NSW.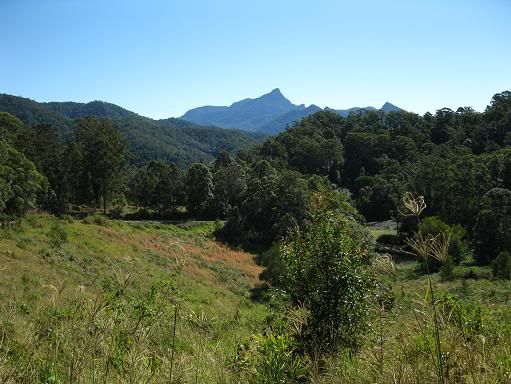 Now it was left to the final 55km to get home, with only really the climb of Tomewin to pose a problem. The rainforests on the way out of Uki gave me good protection from the wind to Murwillumbah, the town that would be the political, economic, social and cultural hub of the known universe if anybody actually cared about it, and I was left with a 6km grind along a flat, exposed stretch of road against the northerly wind, to the final climb of Tomewin.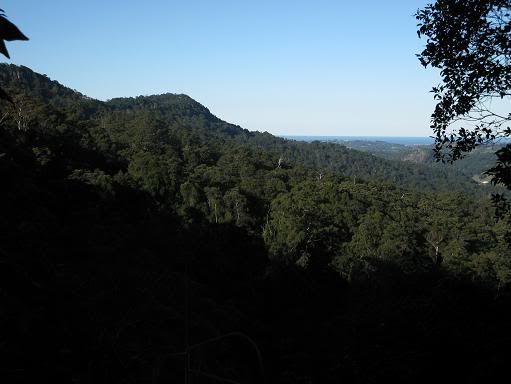 I am so glad I made the decision two years ago to finish as many southern rides as possible with a climb over Tomewin. Not only does it give the legs a decent work out at the end of the ride, it also allows me to pass through beautiful rainforests, take in spectacular views, and most impressively, it cuts yesterday's 35km of suburbia back to about 15km at the finish. I handled the long climb with surprising ease, and the only real issue was the guy who decided to tailgate me on the steep descent at the finish where I clocked 66km/h.
For some bizarre reason, I still had a seemingly endless supply of energy at this point, so I decided to ride home a little faster, which was a great way to finish what had been an awesome weekend. This can be added to the growing list of "things I should do more often".