Eden's garden - without a warning!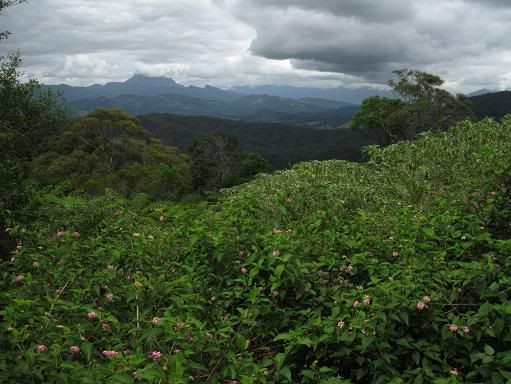 Who hid Mt Warning on Saturday? I could have sworn it was there last time I passed this way. Either way, as the Rajnishi wasn't on the road due to it's 1,000km service (which, just quietly, came a few hundred kilometres too late), it was time to drag
Kevin 007
out of the stable for some dirt. I was joined my Martin for the early part of the ride, which basically involved the old trek through Bilambil and Urliup, before looping back to attack the climb over Tomewin. It was on this climb that I started to realise I might have been on a good day.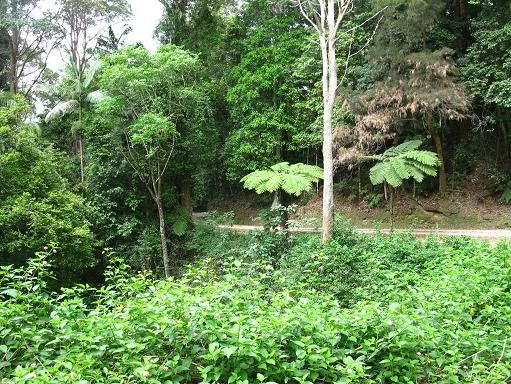 I headed off on my own in search of dirt, first along Garden of Eden road, which is more famous as the starting point of the climb to Mt Cougal. On the way back I scared the crap out of a roadie, by rejoining Tomewin road just as he completed the climb (I descended out of Garden of Eden road), and letting him think I had just completed the climb in super-fast time. However, I had more important things to think about.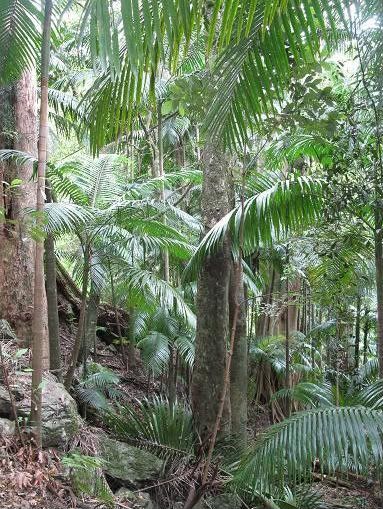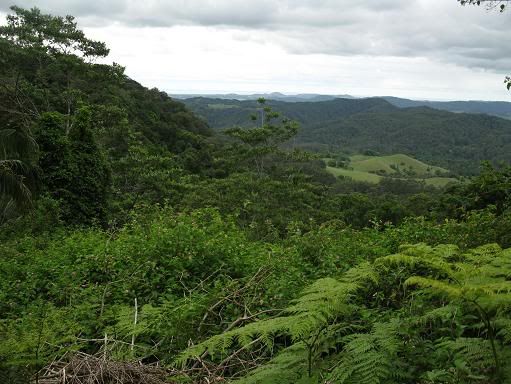 It was now time for the ridgetop journey along Glengarrie "road". I always seem to be nervous at the start of this one, probably with the knowledge of what is to come. The track hugs the ridge for a while, with a steep rocky climb at the end, and it is here that I've had difficulty in the past. This day was also the first time I've attempted it since the infamous crash on July 28.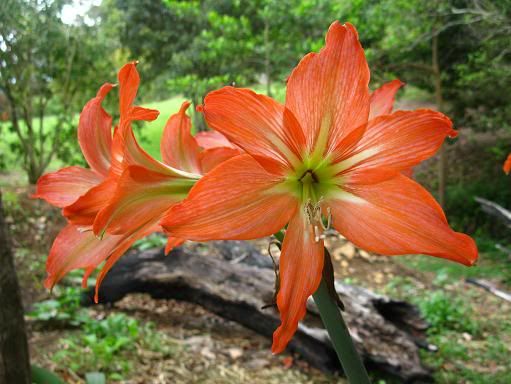 As it happened, the climb over the rocky section proved easier than I thought. Maybe I'm just stronger than I thought it was, or maybe it really was just easier. Either way, it felt like a bit of an anti-climax at the end. The descent wasn't too difficult either. There has been some work done on the road there, and it seemed to make a difference. They even look to have graded the Zig-Zag road, but frankly I couldn't be bothered checking it out.
The one mistake I made all day was passing over the food stop at the Bilambil bakery -- riding home against that hot northerly wind probably deserved more energy than I was prepared to expend on it. As it was, I navigated it at a relatively conservative pace. I did manage to pick up the Rajnishi later in the day, and a phone call from Martin that evening hatched another plan -- the climb to Best of All Lookout at Springbrook the following morning -- complete with it's 19% sections. This is what living is all about.


Some of you might have noticed a lack of posts recently. Simply put, I've been too busy to write any. I will catch it up over the weekend, with a big announcement on the way.