It's the little things...
Often it's the little things we notice along the way that make life memorable. Often they are things we don't notice, because we see them so often, but I wonder whether life would be what it is without them. I say this as I contemplate the moon setting over the canal earlier this morning.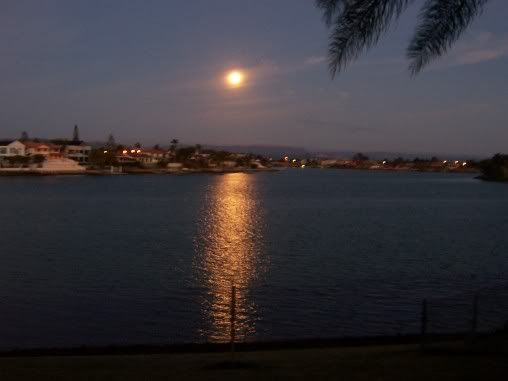 Yes, something I have seen many times in the past, but something that still captures my attention. Often in the past I've stared at it for a few moments in wonderment at it's sheer beauty -- however, writing this blog has given me new incentive to share it with the world, and an appreciation of just how fortunate we all are to have things like this. To steal a quote from Queen: "We have a miracle on Earth, Mother Nature does it all for us..."
Today is apparently Ride to Work day for Bicycle Gold Coast. This year I'm giving it a miss, not as a "boycott" as such, but simply because I'm feeling a bit jaded of the whole thing. Sure, I'll miss out on the politicians' speeches, but I saw those last year. We have a different mayor on the Gold Coast now, but I suspect the speech will be the same. In fact, if previous years are any indication, they'll probably be talking up facilities that actively make riding to work harder, such as useless bike paths that go nowhere -- as if that's the only place cyclists are able to ride. No mention at all of training cyclists to use the road (which isn't really all that difficult) so they can actually go somewhere.
The ongoing "Would you really like it if cycling was more popular" thread over on bikeforums, plus the phone calls I took about the ride last week have made me question some of my own long-held views on this issue, and some of the policies of the group that I'm involved with. The dumbing down of facilities to suit the beginner cyclist who doesn't intend to ride more than 100 metres is something they seem to support, given that they've published numerous views from that group in their weekly Coastal Rider publication, yet none have even asked me for my views on anything. I did write an article for them last year, but even that was chopped up (and I didn't even criticise the holy bikepaths!), and the extract they told me they wanted to run from my tour of Tasmania journal didn't get an airing in the end.
Again, I'm not terribly concerned about "being published" but the recurring issue seems to be that they don't want any input from an experienced, transportational cyclist -- and rest assured that's the input I'm going to offer, because that's the perspective from which I view things. Cynical as this may sound, I'm really beginning to think that perhaps the whole Ride to Work day and Car-free Week (or whatever it was) seems to be something that's done by people just to draw attention to themselves, or give themselves something to talk about in the coffee shop later.
Either way, it seems there are one or two in the group who set their own agenda, and that's the end of it. I doubt my absence will even be noticed. I think I'll just concentrate on enjoying the little things from now on as I pedal along my journey, and those who want to ride around in circles in paths can do so.