A new disease on the Gold Coast
Yes, that's right, a new one. It apparently started in Surfers Paradise, but by this evening it looks to have well and truly spread to Southport, Bundall and Broadbeach. It's apparently been nicnamed "Indy Fever*" by scientists who are using sticky labels to distinguish the metal cages in which the sufferers are sitting idle. The symptoms involve the suffer being stuck in a stationary metal box on a six-lane road clogged with other sufferers -- none of whom are moving.
The good news is that apparently a cure has been discovered. It involves removing the engine and at least two wheels (i.e. all the redundant parts) from those stationary metal boxes, which should allow for relatively free movement. Of course, some of us have already discovered this!
Actually I had a pretty ordinary day myself. On the dawn ride this morning I managed to run off the road by virtue of the fact that I was a little too focussed on enjoying the scenery. Fortunately I saw the situation in time and didn't panic, but it was a rough ride on that dirt shoulder for those moments, considering it was in the middle of a 50km/h descent! Work is piling up like crazy. I hate it when a sh*tload of clients decide to send in all their crap at once. Can't they try to space it a little bit!
Still, the day had it's good points. This view from Hinze Dam being one of them.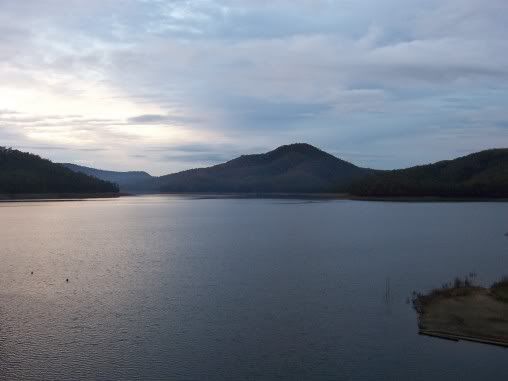 Being immune to the traffic is a real boost to one's confidence at times, too.
*"Indy fever" is apparently derived from a native American word - "indy". The official meaning of this has been lost, but academics have suggested it could mean either "Owned hard", "169% Owned", "fatally Owned" or another variation thereof.