Weekend in the big city?
Well, Brisbane at least. That's where I've been this weekend. I rode up first thing Saturday morning for the Matthew Coley ride. For those who haven't heard, Matthew Coley was a cyclist who was injured by a "hit and run" driver in Brisbane a little while back. There was a big group ride organised from the Seagull Toilet (a.k.a Wally Lewis statue) outside Lang Park to the side street in the suburb of Kelvin Grove where the incident took place.
Of course, I rode up from the Gold Coast in a "show of defiance" that probably achieved nothing at all -- apart from a very pleasant early section of the ride alongside the Broadwater.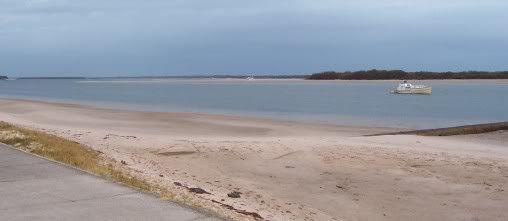 The funny thing was, the wind, which had been blowing strongly from the North all week, did a sudden about-face. This, combined with a dream run of traffic lights into Brisbane meant that I had an hour to kill, which I duly did at the Botanic Gardens prior to the ride. You don't expect to see this in the centre of the city.
A nice spot alongside the river, looking toward the bridge I rode across to get here.
On the ride itself, a couple of comments. Firstly, I didn't like the fact that the whole thing was paced at 14km/h by police cars. Yes, I know the organisers were trying to keep riders of varying ability levels together, but in a ride as short as that one was, I doubt the gaps would develop to great levels anyway -- given the "peloton" was already five minutes long at the start.
Something else that bugged me -- the constant reference to hit and run "accidents" in the speeches given at the even itself. Firstly, this was no "accident". An accident only occurs where both parties have done all they possibly could to prevent the incident from occurring, but it happens anyway due to a quirk of fate, or adverse conditions. This was (at best) a clear case of driver not caring who he collides with, providing that he (or she) himself doesn't get hurt. Hardly an "accident". It may well have been deliberate.
Secondly, even if they nab the guy responsible for this incident, if that speech made it onto TV (Channel 7 were there), any defence lawyer with half a brain will seize on the "accident" speeches in 30 seconds. Pleading accident, in this "accident" culture that we live in, means driver gets a slap on the wrist at best, and probably sent to a counselling session which comprises of being told "oh, you must feel terrible, but don't worry because we're going to ban cyclists from the roads for their own safety soon anyway".
Gee, I didn't intend this entry to be so negative. I guess I'll finish on a positive note, and say that at least the turnout on the day was encouraging -- as was some of the support we received. It seems there might be a few people who are as sick of this sort of behaviour as I am. Perhaps that's the first step to something being done about it.