Burring-barred?
Well, there goes my attempt for the worst, most lame pun of 2005. I reckon I'm in with a chance with that effort. It's a play on words from yesterday's ride with Martin, and another couple of new routes discovered. We met up at North Burleigh and headed south over Bilambil (and a view over a patch of land soon to be developed one suggests)
... and through the John Hogan rainforest toward Murwillumbah.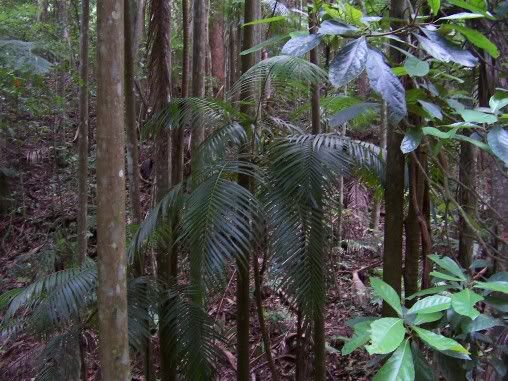 We skipped around the town on Cane Road (just how does it get this name?)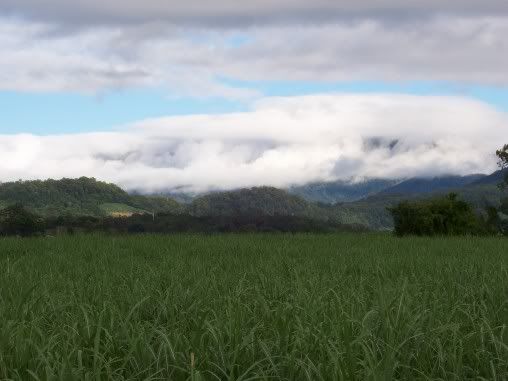 ... and it was here the ride began. The climb over the Condong range on Reserve Creek Road toward Pottsville, then doubling back across the Burringbar range on Cudgera Creek Road, then into the town of Burringbar for some much needed fluids (it was HOT out there!). These were beautiful climbs, winding through green hills and the occasional patch of forest, sometimes over banana plantations in the higher areas.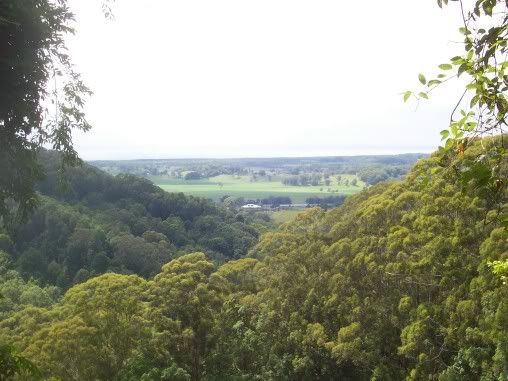 After this it was a short flat, then the climb of the Burringbar Range on the old Highway, then at the top, it was time to deviate once more, on a rough dirt road through Mooball National Park. This area has only recently been declared National Park (having been State Forest prior), and hence there are any number of fire trails through (now) protected forest to be explored. A lot of ups and downs and some great views to be had up here. I may be spending more time here in the future.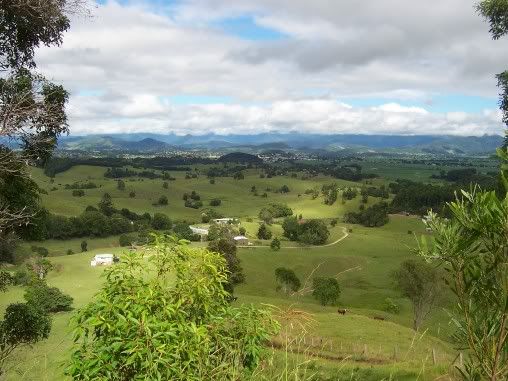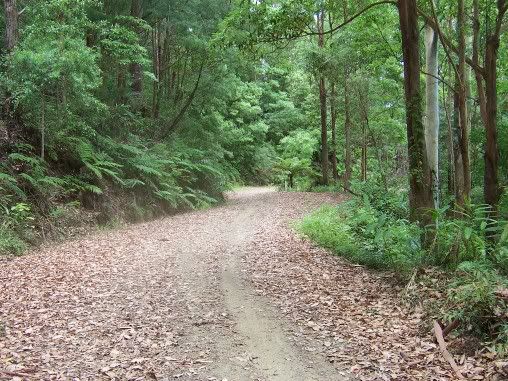 Not sure if Martin will appreciate this picture, but in fairness, I did have to take it in a hurry.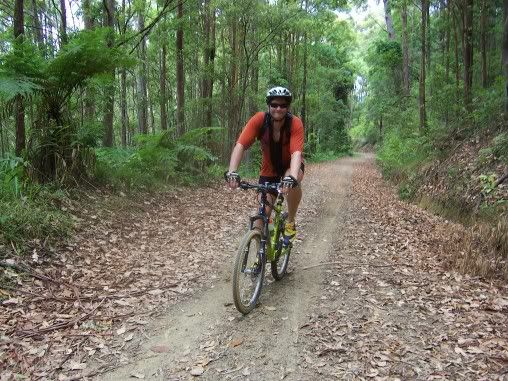 After descending a steep, rough road, we eventually made our way back to Murwillumbah in the heat (now 34 degrees C), again skirting the town on Cane Road, and again returning via Urliup for a bit more dirt, and another chance to cool off by the stream. The water didn't seem quite as clean today as last time, but it was still quite drinkable.
Today was a bit of a role reversal in a certain sense -- it was Martin who was determined to ride a century -- not that I was exactly arguing with the notion. I finished with 166km at day's end, so that goal was fulfilled. That's no. 3 on the road to 25 this year -- and they've all been challenging with plenty of climbing (at 1600 metres, this was the "flattest" so far).
It seems like a sin to dwell on the negatives here, but I actually came up with a couple. The first was losing a pump from my frame on the Hogan's Road descent (and a good pump at that). Sadly, I now also owe Martin a ham and cheese roll, because I got owned in the altitude guessing competition. Actually, I misunderstood that one -- I thought he was trying to guess air-pressure induced error at the current altitide on the reading at that moment, and was going to confirm it with a topographic map later. Still, that might even make me even more dense. Perhaps I'll just stick with the "it was to guess the highest point of the ride" theory (which was just over 240 metres incidentally).