Taking the low road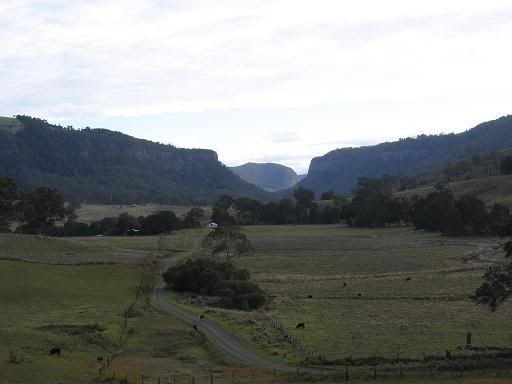 This weekend I'm heading off for a tour in the vicinity of Killarney. I was in the same area at the same time last year, but this time I'm taking a different route -- the dirt road through the Condamine River Gorge. Apparently there are something like 18 unbridged river crossings in the space of 20km, although at this end of the river, they're unlikely to present any major problems. Incidentally, the Condamine River is actually the start of the Murray-Darling system, which is the largest river system in Australia. It ends near Adelaide -- virtually at the other end of the country.
Last year, of course, I took the high road over the Head, which includes what is probably the most brutal climb in the entire country.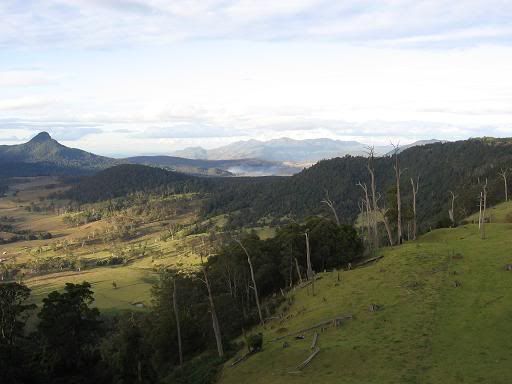 This time I'll be climbing the range on the little-known White Swamp Road, which will pass through country I haven't visited before (although I've certainly wondered about it).
The weather forecast seems to suggest it's going to rain -- unlikely as that may seem in the dry season with the SOI sitting at -11 currently. If it does look like rain I may set up camp slightly earlier on the Saturday. I still have a couple of route-related decisions to make. The first is whether I head through Boonah or Rathdowney on the way out to the ride. The Boonah option gives me terrain I haven't passed for a while, a slightly shorter distance, and a later supermarket (meaning less time carrying loads of groceries with me). The Rathdowney option offers a hearty feed at the local pub, and a possible stretch near Lake Maroon. I may wait and see what sort of day tomorrow is.
There's another decision to make on Sunday, as to whether I head north or south from Killarney. Again, I'll wait and see how I feel at the time. In a sense I don't mind the respect of rain -- as it means the nights are likely to be warmer in that area.
I'll also have some new gearing on my bike which should cope better with the fully loaded climbs. Now it's just a matter of trying to find a way to concentrate on work for the rest of the day!