Hobart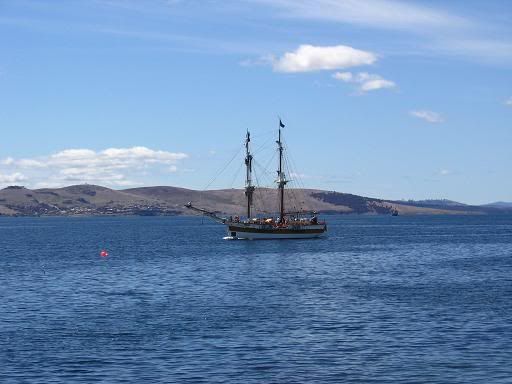 I suppose it's about time I posted something from the weekend. In case anybody wasn't aware, I spent the weekend in Hobart to ride the Audax ASH Dash on Sunday. The full ride report will follow in another post. The remainder of the weekend was basically spent looking around Hobart, which is easily Australia's most beautiful city.
Right from the time I got off the plane at the airport the place charmed me with it's cool, clean air -- even if I was going to ride against the wind into the city. There have been some changes since I was last here, the airport now has a baggage carousel. Three years ago there wasn't one. Someone would just drive the luggage into the terminal on the back of a truck, and you would have to lift it down yourself. I think I preferred it the way it was before.
While I have fond memories of this place from 2003, it would seem that my bikes do not. Of the four chains I've ever broken in my life, three were in Tasmania during that month-long tour. In the Queens Domain on Friday afternoon, my rear derailleur fell to pieces for no readily apparent reason. I've never suffered from that before. Fortunately, I was staying in nearby Battery Point, so walking wasn't a problem. The fact that the ride was on Sunday meant that I had all Saturday to get the bike fixed (thanks to Ray Appleby Cycles).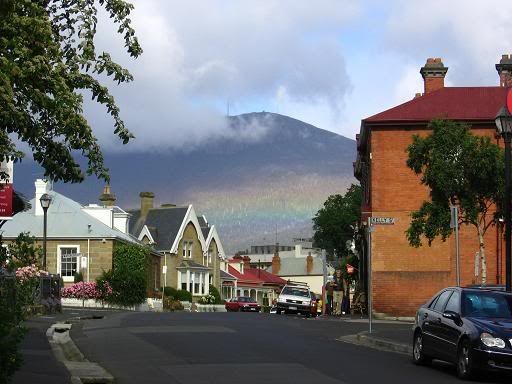 Hobart is the only city in Australia that has managed to combine old world charm and a total and complete lack of urban sprawl, meaning that the natural scenery is visible even from the centre of the city. The above shot from Battery Point on Saturday morning is testament to that. Yet a quick glance in the other direction reveals a harbour as undeveloped as Sydney's might have been 100 years ago.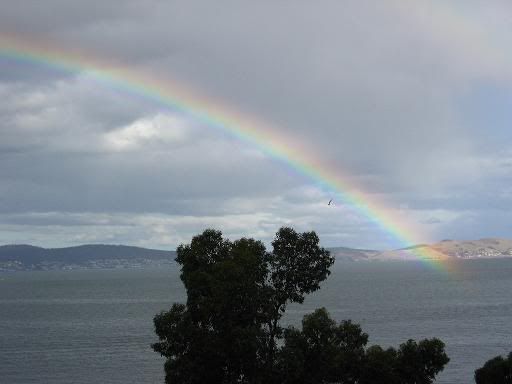 The historic charm comes in abundance. The sandstone warehouses at Salamanca Place can almost make one feel like a convict walking down some of the alley ways. And if that isn't enough, I was able to have a drink in Australia's oldest pub (even if I was sticking strictly to orange juice).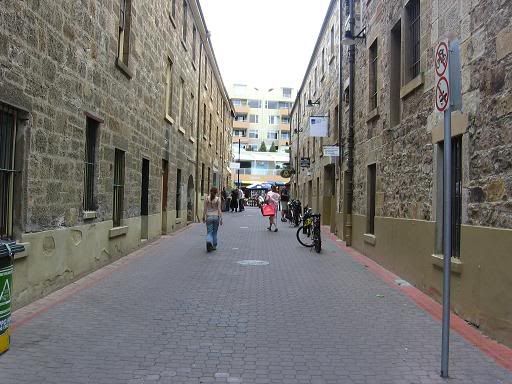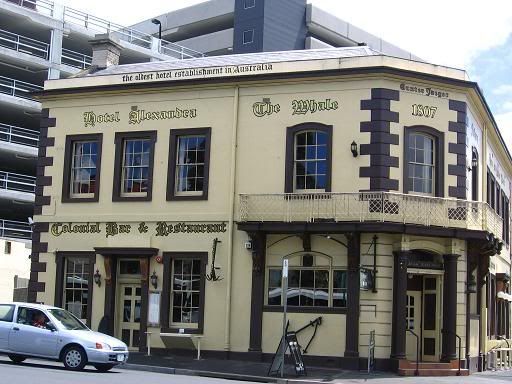 Another interesting thing happened. One of the locals (Hobart also has Australia's friendliest people) told me late Friday afternoon that sailor Tony Bullimore was due to sail into Hobart a little later. He was half right -- Tony Bullimore
arrived
in Hobart after being towed into the harbour. Granted, it was windy as it always is in Tasmania, but this isn't the first time, and this guy wants to sail around the world solo? I'm not sure I even need to answer that one.