Another view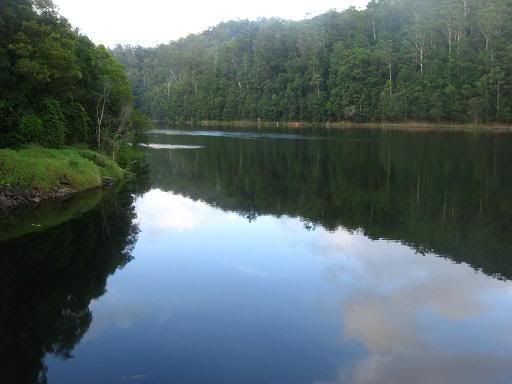 Some time ago I made a relatively lengthy post on this blog detailing some of the reasons
why cycling is such an integral part of my life
. Yesterday I was reading an excellent post from
Jill in Alaska
on a similar theme. Her post mentions
something
that I had overlooked -- the fact that I find myself relatively reluctant to talk about my riding to people who don't ride.
The simple fact is, I've come to the realisation that people who don't ride on a regular basis just won't understand. That's not intended as a vitriolic or condescending comment, it's just a fact of life. If I try to explain to someone that I'm planning to ride over 300km on Saturday night, or that I rode hundreds of kilometres last weekend in temperatures up to 40 degrees C, or that I crossed about five mountains in the process, it's fairly obvious what sort of reaction I'm going to get. Indeed, I've even noticed this from a lot of other cyclists here on the Gold Coast where the overriding cycling philosophy seems to be "only in certain designated areas".
So I just ride, and don't bother explaining it to anyone, save the two or three regular readers I have here. For me riding is also an escape, an escape from an increasingly plastic world in which everyone is masquerading as whatever they feel as though "should be" in order to be popular (and expects me to do the same). A world in which so many things are over rated just so that they can be sold. When I ride I can just be myself for a while, without having to worry about everyone
else's
vain pretences.
It also provides stability in a world in which everything seems to be in a state of flux. People coming into your life and leaving all the time -- often I don't even bother trying to stay in touch anymore as it just seems like delaying the inevitable. The very world around me is constantly changing. Even on my rides this is noticeable -- dirt roads are being paved everywhere, suburbia is expanding, the hippie
mudbrick
cottages in the hinterland being replaced by charmless
Mcmansions
.
In such a world, it's the basic act of riding that never changes, the feeling is as great as it always was, and this provides some stability, some certainty in a time when everything else seems fleeting. The combination of elation and exhaustion at completing a century that crossed three mountain passes, or reaching that campsite on a tour after being belted with 90km/h winds and driving rain. It's this that keeps me going, and this that I can only get through riding a lot. It's this, or the promise of this, that keeps me going through everything else. It's this that makes me look forward to my next ride, my next escape.