Owned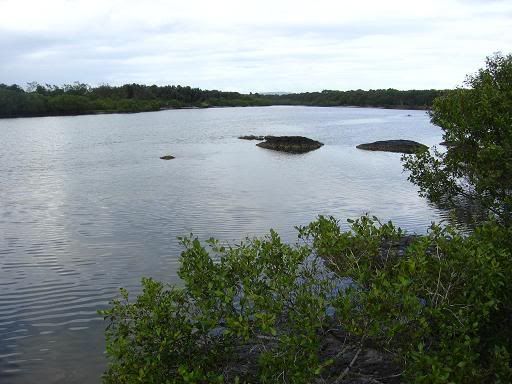 I can't think of too many nice things to say about this weekend. Basically the only thing I've managed to conclude is that someone somewhere with an over-inflated sense of self-importance has decided they don't want me to ride from the Gold Coast to
Ballina
and back in a day. Last year I had to bail on an attempt at that ride after a run of flat tyres caused me to turn around and head for home before I ran out of patches and spares -- but at least I still managed 177km that day.
Today seemed to start promisingly enough. My legs felt good, I got into a good rhythm early. Then a flat tyre hit just 5km into the ride -- yet another piece of broken glass (I won't go into
that
rant again). I fixed it a little angrily, then went on my way. I hadn't lost too much time, and once I hit Sexton's "hill" near
Banora
Point I started feeling good once again. A heavy rain shower followed, which drenched me enough not to have to worry about getting too hot for the next couple of hours. Things were looking good.
Between
Kingscliff
and
Cabarita
is a rather ugly subdivision known as
Casuarina
Beach. This was built in 1998 (and even now all the lots aren't sold), so there is no conceivable way that anyone can have any pretence of this place having any "history" at all. Yet for some unknown reason, some idiot came up with the idea of paving all the roundabouts (of which there are a surprising amount for the place that really is the arse-end of the world) with cobblestones! The thing about cobblestones is that they become frighteningly slippery when they get a little wet -- which is exactly what happened this morning.
Fortunately I managed to anticipate my crash, get the speed down and sustained only bruising and a mild loss of skin. Nevertheless, some of that bruising was on my back, which would have made carrying a
camelbak
for the next 230km a little painful, so after a minor adjustment to my brakes to repair some minor damage, I turned and went home. It's astonishing what a fall does to one's confidence. It took some time for me to get that back. Fortunately I ran into some old friends in
Kingscliff
, and we all rode home together. I perhaps could have pressed on, and might have done so had it been a long
audax
ride or something, but I really needed to get back and check over the bike (and myself).
What irks me about this is that I was able to anticipate the fall, but not prevent it. I don't know whether it was the sudden loss of confidence on that particular surface that prevented me from approaching it in the correct fashion, but really I shouldn't have leaned into the turn at all. In the end, that mistake cost me what was promising to be a very nice ride, and my blood is still boiling 12 hours later.
Mark my words, I WILL complete this ride.