Going west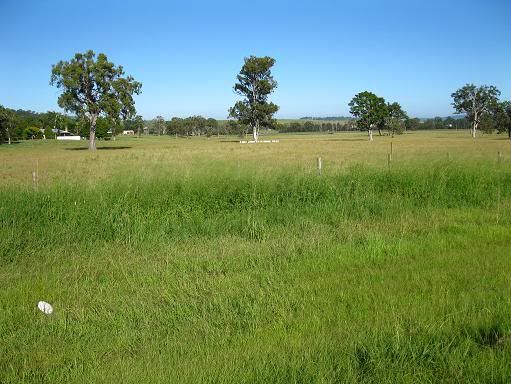 This post is actually two weeks old, but at the time I was getting desperate. I'd had mechanical failures on four consecutive weekends, and I REALLY wanted to finish a long ride, ANY long ride. Consequently, I decided on a change of scenery, and headed west through Canungra, bypassing Beaudesert on the Mundoolun road (new territory) to end up at Jimboomba. I picked a reasonably pleasant day, and spent most of the day riding through rolling hills in surprising greenery (surprising, because that isn't always the case west of Canungra). There were even a couple of unseasonal flowers out on the Mundoolun road.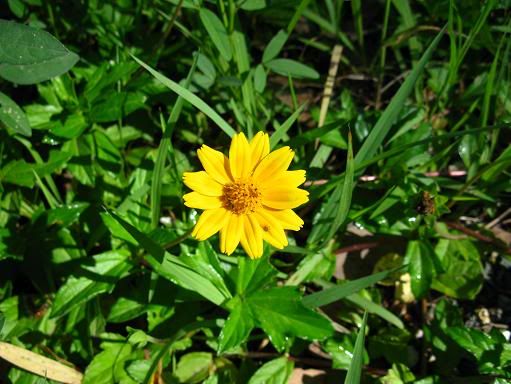 The arrival at Jimboomba on 72km turned into a mess, as there was nowhere in town to refill water bottles as all the faucets have been removed from the taps in the park, perhaps a relic of the drought of the mid 2000's. I then realised I'd left my money at home, so buying bottled water was going to be a problem. Fortunately I had enough change lying around in my rack bag to get something -- who said cleaning out these things was a good suggestion? Now I had to be careful. I knew there would be water available at the top of Mt Tamborine, but I had to get there without running out.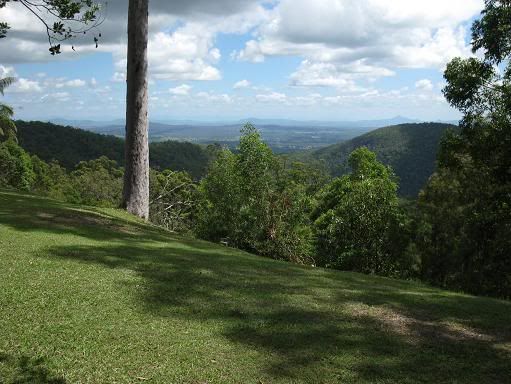 I was somewhat fortunate in that the temperature only reached 30 degrees C, an unusually cool day for this summer. I rode out of town on to the Mt Lindesay highway for a short distance (this was the busiest I've ever seen it), before turning off to Camp Cable Road, then on to Tamborine Road, again pushing up and down over rolling hills, before starting the 7km climb to the top of Mt Tamborine. The first 2-3km of this climb are pretty tough, before it levels out into a very pleasant switchback road. The higher parts of this road in the rainforest used to offer a great view of Curtis falls, but this is now pretty overgrown, so there is no waterfall shot in this post.
Tamborine itself was busy as usual for a Sunday, but fortunately there was only one moron who decided to stop dead in the middle of the road for no readily apparent reason, so all was well. Astonishingly, the water tank where I normally refill had run dry, so I ended up swiping some water from a tap at the Eagle Heights pub. I suppose all's well that ends well. I then set off on the steep descent, pausing at Welches Road at the bottom for another layer of sunscreen. I saw a couple of mountain bikers coming back from a rendezvous toward the end of that road, but didn't think to ask them where they'd been. Looks like I'll be forced to explore that one for myself later on.
After this it was a fairly straight forward ride home, with one more climb of note at Wongawallan. Wongawallan is an interesting climb in that it MUST be attacked. Riding defensively will not suffice (as a friend of mine found out when he snapped a chain there). If you just try to survive that climb, you won't. With this in mind, I found enough for an attack, and enjoyed the screaming descent into Oxenford. You learn something new everyday, and on this day I learned that Kevin Rudd will be calling an early election in Australia in the near future. How do I know this? Because the people responsible for the perpetual road construction at Hope Island (road work for six consecutive years and counting) have actually moved all their junk
off
the road.
Someone has obviously received orders from above on this matter, which suggests an election is not far off. After this is was simply a matter of cruising home with a tailwind, a result of yet another unseasonal northerly wind on a day I chose to ride a century, but this time I outsmarted it by taking a different route. The final tally was around 164km, but I can't give an exact measure because my computer stopped working somewhere around Oxenford. I am REALLY running out of patience with wireless cycle computers, but that's a rant for another post.