Evading the flood (again)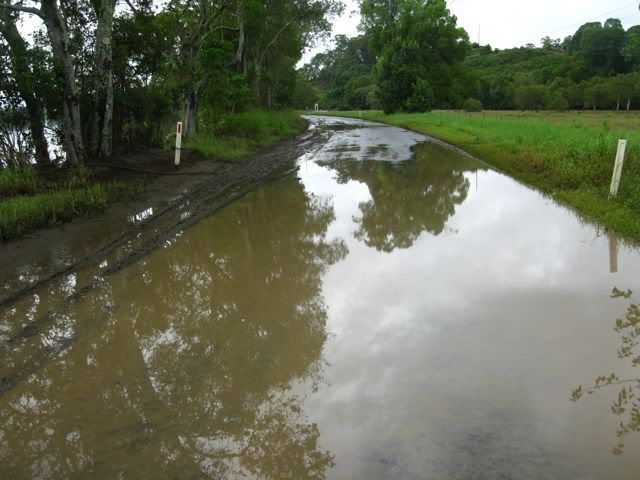 Was that
Tumbulgum
Road or
Tumbulgum
Canal? I'm not even sure they can decide, how is a visitor like me supposed to figure it out? Last week the wet season finally arrived, with something of a vengeance. My riding plans for last weekend were pretty much shot, largely due to the number of road closures due to flooding and/or landslides (I know of at least six roads that were closed, without even doing a great deal of research). I still managed to salvage a couple of nice outings, however, and the weather did make them a little more interesting.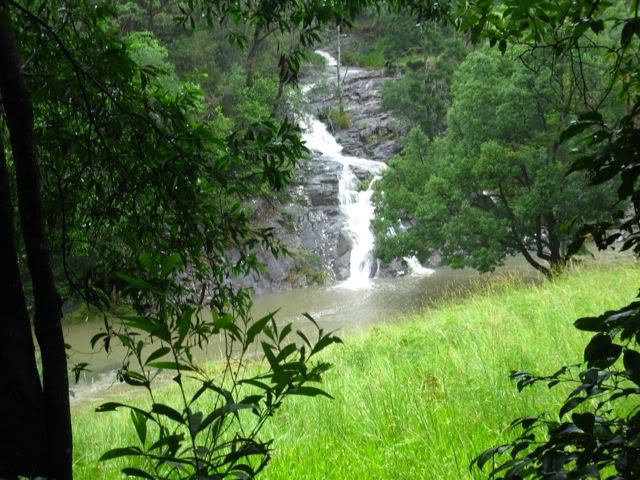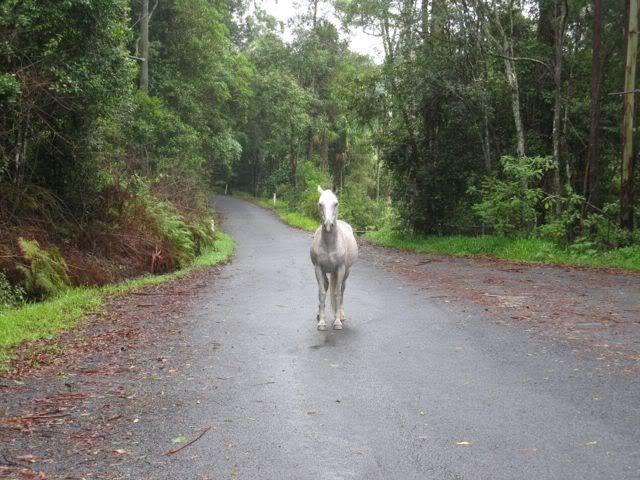 It just happened that on Saturday I had a heap of menial chores that had built up, so being limited to a quick 60km jaunt by the road closures may not have been a bad thing. In the event, I opted for a quick ride through
Austinville
and Little
Nerang
Dam, figuring that after the rain, this should at least be pretty scenic. It didn't disappoint. A couple of new waterfalls always make the ride worth the trip, as does the flow of the newly refilled creek (even if it did block the road toward the end of the valley). Someone just had to help that horse find it's way back to high ground.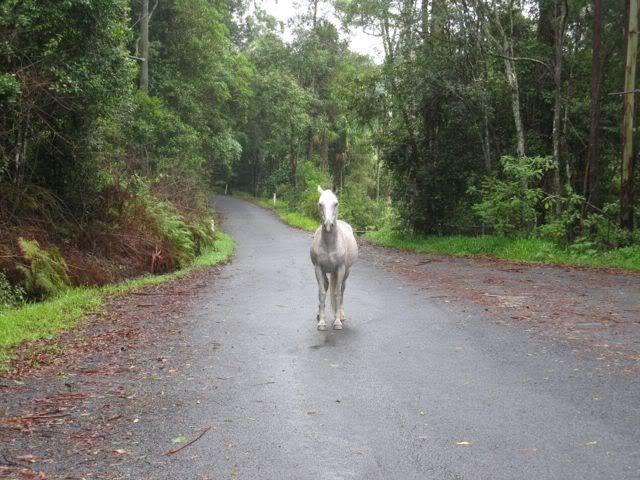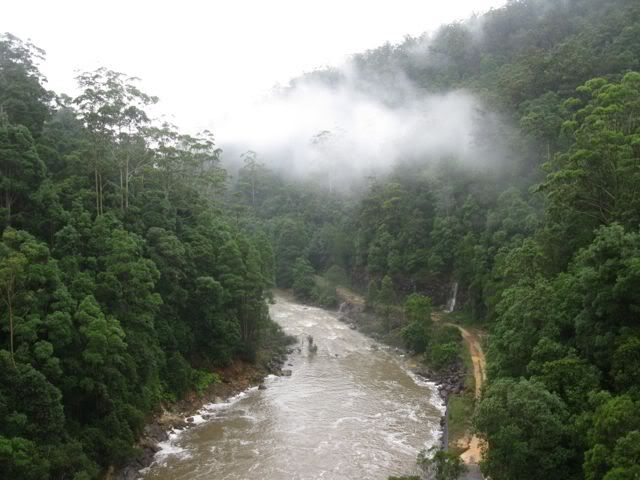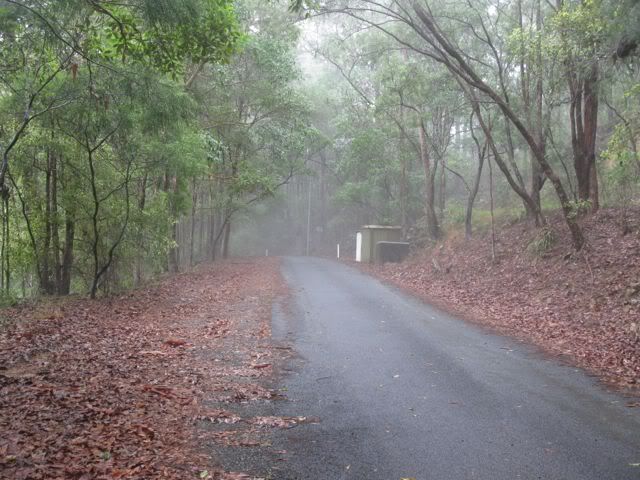 I added the extra kilometres of a quick jaunt out to Little
Nerang
Dam, with the mist through the gorge probably being the high point of the day. This is one of those rides that I never seem to get sick of, whether I'm doing it early before work, at night after work, or using it as a weekend fill-in. The only downside is that the section through the gorge is so short. I was tempted here to deviate even further and take a quick shot at
Springbrook
, but figured that I had already crossed one causeway that was perilously close to flooding to get here, and decided not to push my luck any further. It may have been just as well, the flat tyre I had to fix on the way home suggested my luck was out anyway.
* * * * * * * * * *
On Sunday I wanted to head South, but where to go, with
Tomewin
and
Urliup
roads both closed, and having only done the Tweed Coast last weekend? The logical answer was a quick 90km jaunt around
Terranora
and the John Hogan
rainforest
. My progress was hindered by another flat tyre -- the result of riding over a bolt -- but as I hadn't been specifically along this road for a while, it seemed like it was worth the effort. After crossing
Terranora
and heading for the bottom on
McAuley's
Road, I encountered an unusual sensation. It was clear from the surrounding vegetation that this stretch of road had been well and truly under water very recently -- I wondered how some of the surrounding houses survived.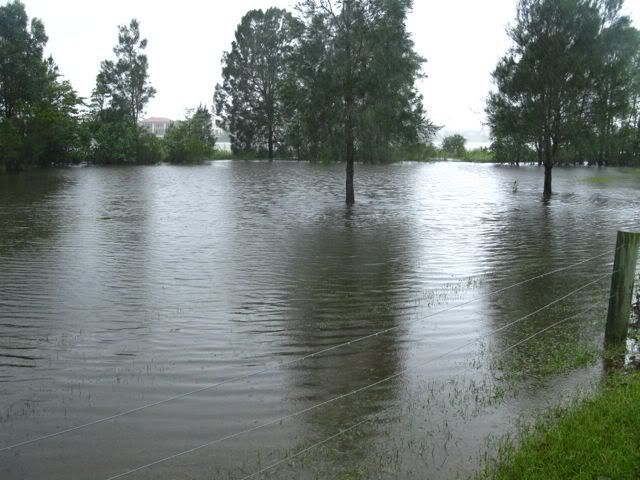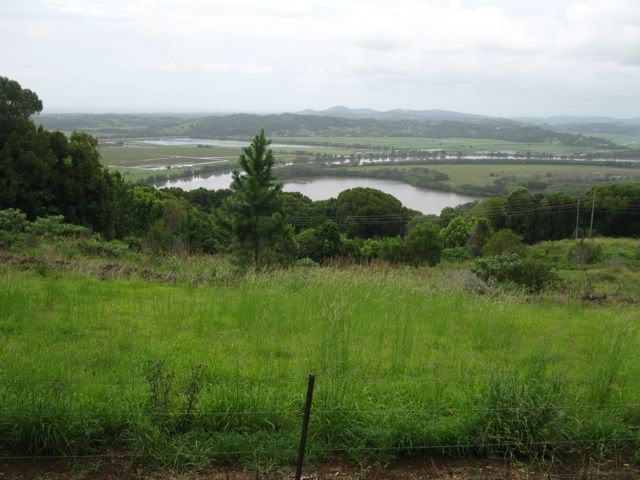 The final ride home was the pleasant jaunt through Hogan's
Rainforest
. I don't come this way nearly as often as I should -- especially when I climb through the
rainforest
on the
Tumbulgum
side. The good thing was that the climb didn't seem to be nearly as steep as I remembered it, which can only mean one thing. I did have one moment of alarm when I realised the causeway on the other side might be flooded and out of action, but the depth of water when I arrived there was pretty insignificant.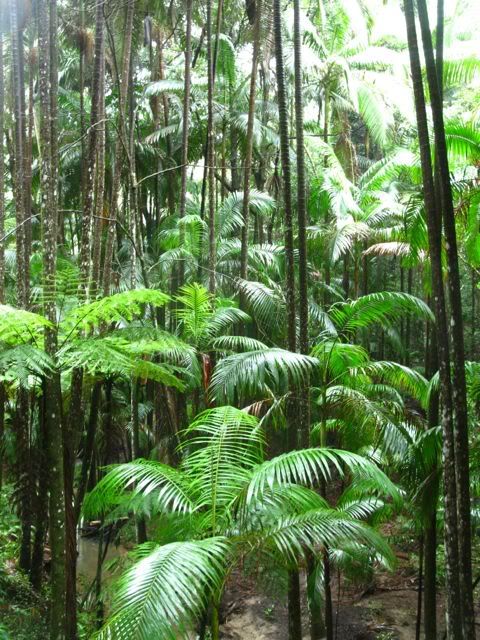 In the end I was left to ponder a weekend that had been unplanned, a lot less involved than I would have liked, but strangely rewarding. Long may the rain continue.