A new arrival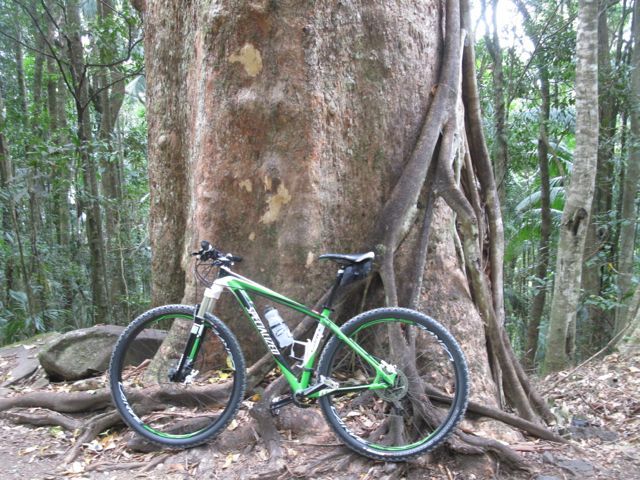 This post is a couple of weeks old, but I did manage to go and buy that MTB that I was talking about. I still haven't given this machine a name yet, nor have I taken it out on any epic rides -- hopefully I'll take care of that this weekend. I did manage to take it for an 80km spin around Tomewin in the Macpherson Ranges on the New South Wales border. It wasn't the full "Garden of Eden" circuit, but that would have been pointless after the Tweed Shire Council's "upgrade" of Urliup road anyway.
It always takes a few kilometres to get used to a new bike, and somehow I managed to pick a semi-rainy day. Actually, at this time of year, the rain is more of a help than a hindrance -- heat exhaustion is the last thing I want to deal with. It was, however, a good 30km before I hit any dirt. Like any good MTB, the dirt is where you really start to see the advantage, especially over the rock on the ridge-top route on Glengarrie "Road". It's also amazing how light this thing is compared to "Kevin", the MTB that I was using previously. Before, it was difficult to get the height of a decent "bunnyhop" when trying to clear corrugations, tree roots or whatever else. That doesn't seem to be a problem here.
I'm still weighing up just how I'll convert this one into an off-road tourer later on, but right now, I'm content to simply enjoy what I have. Could another crack at the infamous Duck Creek Road be on the agenda?