Dreary
Friday morning at Currumbin beach.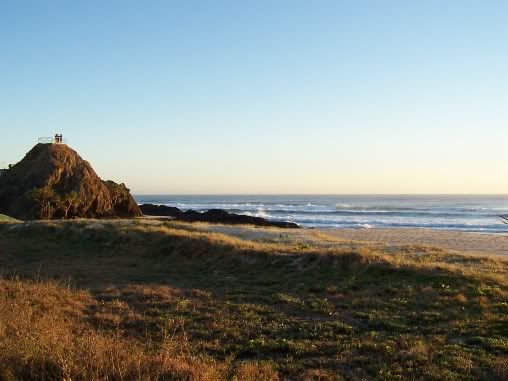 Haven't updated for a few days, but there's a perfectly good reason for it -- not a lot has been happening. Right at the moment here it's HOT, and in Queensland that's generally bad. The humidity here is totally oppressive. In short, conditions like this stifle brain activity and just about any other form of physical activity. Still, I noted there were a few more cyclists around on my rides of the last couple of days, surprising that they should come out now that summer has well and truly arrived.

Still, they don't appear to be all that fit. The ride up Currumbin Valley yesterday was hardly a gruelling one, but nevertheless, many of the cyclists I saw were wheezing like mad from the "effort". Hope they don't try Mt Wellington anytime soon! However, I suppose yesterday there was something of an excuse for it, the smoke from bushfires -- that's right, bushfires. Seems the 200mm of rain we supposedly got on Monday was the next best thing to useless. We need a lot more. A close look at Cougal's Cascades in the second picture indicates just how little water is coming through the creek inspite of Monday's alleged downpour.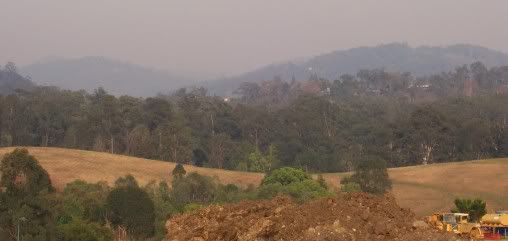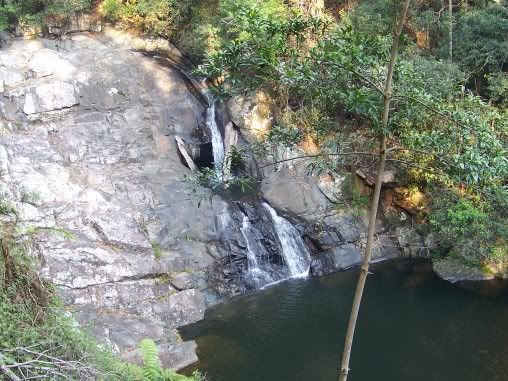 Tonight I'm heading off for another ride down the coast through Tumbulgum and Urliup. Should be a pleasant night after the sun goes down, although I'm a little worried about all the hoons staggering around after hours in the sun watching cars go around in circles really really fast. Still, I am heading away from Surfers, so it should be OK.
Now if I can stop taking photos for a while, I just found something moderately interesting. In the Bicycling for Ladies blog linked on the left of this text, there was an entry today about a thing called Global Footprint. It's a test which determines just how one's lifestyle affects the world in which we all live by asking a few questions. The results of the test I took are listed below:
CATEGORY GLOBAL HECTARES
FOOD 3.1
MOBILITY 0.2
SHELTER 0.6
GOODS/SERVICES 0.6
TOTAL FOOTPRINT 4.5
IN COMPARISON, THE AVERAGE ECOLOGICAL FOOTPRINT IN YOUR COUNTRY IS 7.6 GLOBAL HECTARES PER PERSON. WORLDWIDE, THERE EXIST 1.8 BIOLOGICALLY PRODUCTIVE GLOBAL HECTARES PER PERSON.
IF EVERYONE LIVED LIKE YOU, WE WOULD NEED 2.5 PLANETS.
Actually, tests like this one can often be difficult to answer, as labelling (or lack thereof) prevents me from accurately assessing just how far the food I eat needs to be transported, although my "high" score in that area probably has more to do with my meat eating habits than anything else (something I probably should cut back on).
Try it for yourself at:
http://www.myfootprint.org/