Return of the greenery
Leaving Bilambil, on the way to Urliup.
I ended up heading for a "Tweed Mystery Ride" today, regardless of the fact that nobody else seemed interested. Just lately I seem to be riding Urliup Road every week, although today there were a surprising number of wildflowers out. Surprising, because this isn't really the time of year for them.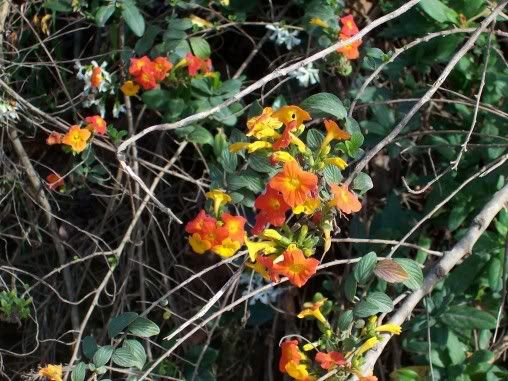 After coming out near Murwillumbah, I climbed Tomewin, then followed the dirt road across the ridge back toward Bilambil. This section of the ride has some really great views. One day I'll get a picture of Mt Warning when it's not shrouded in mist.
There's something about a ridgetop dirt road through a rainforest. It has a character all of it's own, especially the solitude, where one can be alone with their thoughts, and with nature in it's most pristine form. This is good for the soul. Eventually I descended to Bilambil, then found another climb through the John Hogan Rainforest, over the ridge, and down onto the Pilgrims' Road. This was actually the first time I've done this section during the day for quite a while, and it felt almost unusual. The last few times I've ridden Hogan's Road, it's been in the darkness.
The rest of the ride was basically a cruise along the Tweed River for a bit, before climbing Terranora, and heading home with my cranks making some noises that will need to be looked at in greater detail. I think I'll just replace them only two weeks out from a tour. This seems the logical thing to do.
For those still reading, yes, that means I did not end up going to O'Reillys as planned. I'm currently at a bit of a strange, almost fearful, place with that ride. The issue seems to be that last time I did it, I basically blew it apart. I got up there a full ten minutes faster than I ever have before. I know that I'm buckley's chance of repeating that performance (at least while the weather's warm), and that seems to be deterring me from riding up there again. With Mt Jerusalem next weekend, and Victoria after that, it will be at least a month before I can put that to bed. I'm just not sure how to go about it. I guess I'll work it out. Right now, I'll just have to enjoy the rides I have!