No reaction
Haven't been on much the last couple of days. I figure it's about time for an update. In my last entry I referred to a punch-throwing/car-throwing yobbo that I encountered on Sunday evening. However, the surprising thing has been the total lack of reaction to this incident from the cycling advocates whom I've contacted (Bicycle Queensland, Bicycle Gold Coast, and anyone who read the thread over at bikeforums). Especially when compared with other "hit and run" incidents which weren't quite as blatantly deliberate (albeit quite suspicious).
Granted, I wasn't hit, however, a less experienced, less cynical and less judgemental cyclist would have been. And while such incidents (fortunately) are relatively rare, this is proof that they still happen. Admittedly, the muted reaction may be partially my own fault. After all, I didn't have a pen and paper with me to record the details of the vehicle (a registration # would have been all I needed), but it does still raise one or two questions about why there is so much more focus on the supposedly "accidental" incidents than the blatantly deliberate ones. Have we just accepted ths sort of behaviour as something that can (and will) never be changed? Are advocates so wrapped up in the "building things" ideal that they pay more attention to the incidents they expect to give more credence to this mantra?
In something more positive, it hasn't stopped me from riding (why would it after Sunday night?). Yesterday morning was particularly pleasant with the low-lying cloud near Hinze Dam. That place seems different everytime I go out there, and it does serve a purpose for quick hills when I need them (and right now, I need them as much as ever!).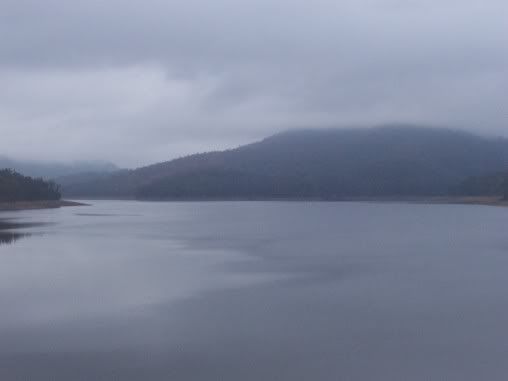 I'm still a little undecided about where to go this weekend. "Officially" I'm supposed to be leading the Tweed Mystery Ride to cover for Martin, but I'm not expecting anyone to get in touch now that I've taken over. If they don't, it leaves me with options. I could head for O'Reilly's (I usually do when I've had it with the world). Alternatively, I could say sod it all and jump on a train to the Glasshouse Mountains. I just don't know at this point.