Back on the borderline
Day one.
Saturday morning began as the usual mess that most of my tours seem to start with. First of all I spent too long watching the world cup match between Ecuador and Poland in the morning. If that didn't hold me up enough, I left without remembering my spare tyre, which meant an extra 10km of riding after backtracking to fetch it. Consequently, I was later getting away than I'd planned. The ride through the Canungra gorge to start with turned on a stunning display of mist-shrouded mountains, this gladdened my heart a little.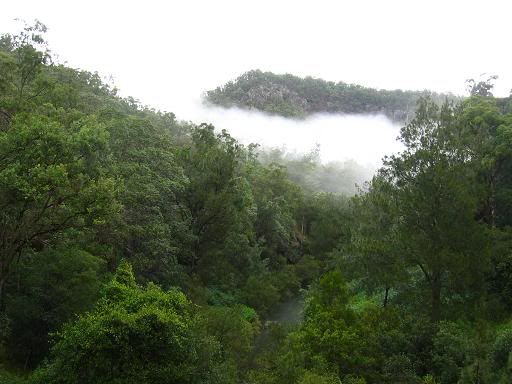 After this it was a relatively uneventful stretch through to Beaudesert. That is, uneventful apart from one particular bogan who decided to shout a string of expletives from their house in the middle of nowhere. It may have been directed at me, as there wasn't anyone else around. Alternatively, they may have been hallucinating. After a snack at Beaudesert bakery I continued westward for Boonah. The rain was coming in long, steady showers now, but it was warm enough not to bother me particularly.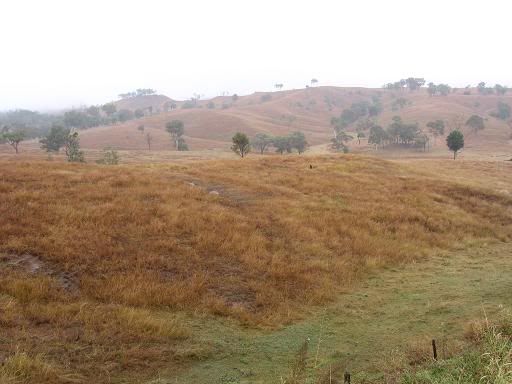 The stretch between Beadesert and Boonah offered some different emotions. On the one hand I felt quite at home in the yellows and browns of the much drier landscape here -- it seemed strangely reminiscent of where I grew up. It was also over six years since I last rode this stretch -- it dated back to the first day of my first ever bike tour. I was astonished how naive I'd been about so many things back then -- it's almost a wonder I survived that particular trip.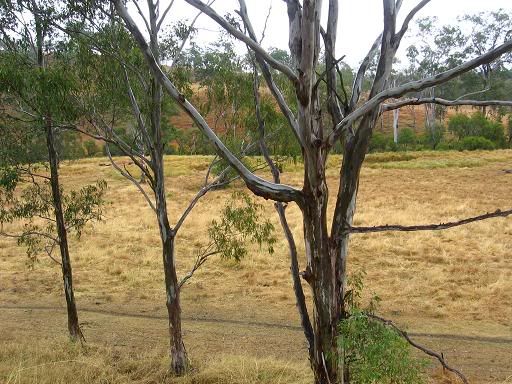 Boonah was reached soon enough, and it was here I realised that I felt like staying in slightly more formal accommodation this evening. The problem was that there wasn't any. The town was virtually booked out due to an endurance-based horse race that had attracted interest from all around the world. Apparently competitors were riding 100 miles or 161km through the countryside. The winners completed the event in around 12 hours, but others would be streaming in for a couple of days. There's also a monument to it in the town itself.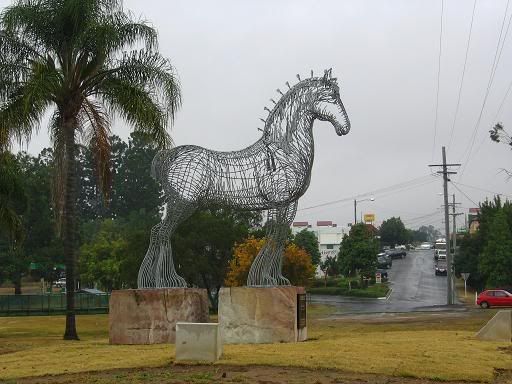 With some help from the local information centre, I found a place to stay out at Mt Alford. It turned out to be a lovely spot at the top of a ridge -- even if the clouds obscured some of the views and made any thought of climbing the mountain a waste of time. I only got into the lodge because there was a last-minute cancellation from somebody else. Nevertheless, it made for a relaxing evening.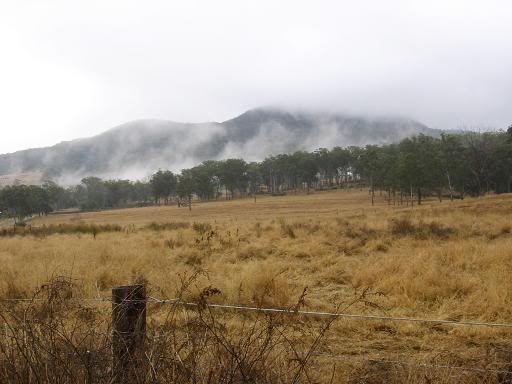 Day two.
It was a surprisingly warm opening to Sunday -- 14 degrees C (surprising because ultimately the day never cleared 16). Leaving Mt Alford was a screaming descent, before having to crunch a couple of hills en route to the locality of Croftby. Here I made the detour toward White Swamp Road, which would ultimately lead me to the top of a pass in the Macpherson ranges on the NSW border. The climb on the dirt was a stiff enough challenge, but it did offer some sensational views, and with my low gearing the gradient was also quite manageable.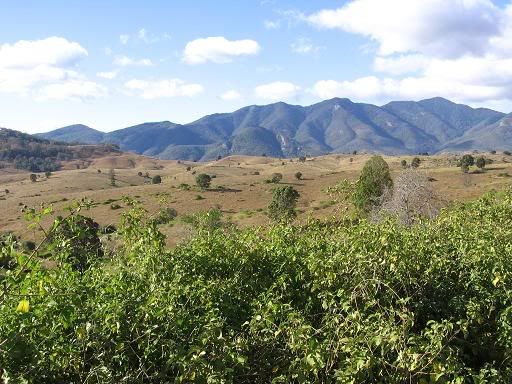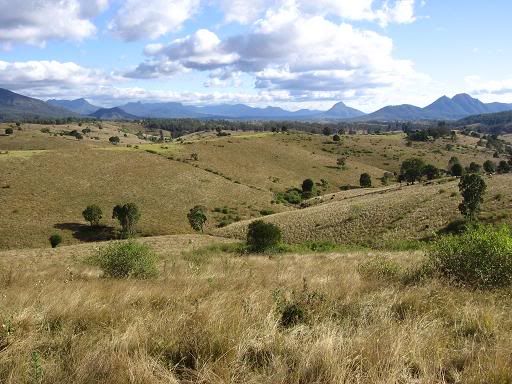 At some point I paused for a lengthy chat with one of the locals. He told me about all of the mountains in the area he'd explored on foot or on horseback. According to him, the nearby Mt Clunie may actually be an active volcano. He claimed that the fences on the lower slopes of that mountain indicate it's growing at a rate of one inch per annum, and that earth tremors in the area are quite common. Make of that what you will.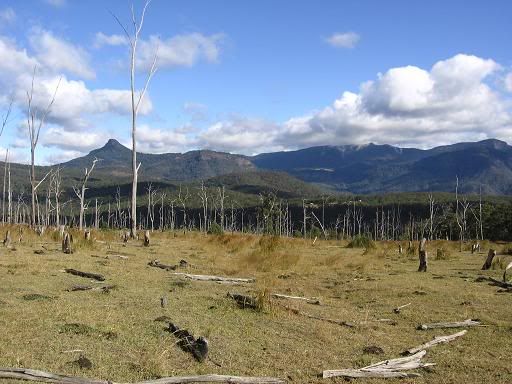 After cresting the pass at White Swamp (which is actually a volcanic crater), there was a gentle descent on the dirt, before turning north-west, and back up to the pass known as The Head. This is the start of the Condamine River. The pass was dealt with reasonably comfortably, I was feeling pretty good with myself, having iced The head in such clinical fashion. However, on reaching the plateau I was confronted with a new enemy -- a brutal headwind. Fortunately I didn't have to deal with it for long, as a muddy dirt road began to snake it's way into the Condamine River gorge.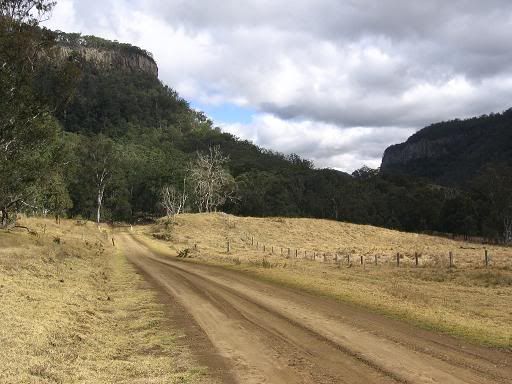 The gorge itself offered some beautiful scenery, but it also offered 14 unbridged river crossings. The water here was anything but warm, and my feet were numb after the first crossing. They would stay that way for another seven hours. I quickly abandoned plans to be through the gorge inside one hour. There was also a surprising amount of traffic passing through that road -- perhaps even more than would have been on the high road past Queen Mary Falls. This was more of an annoyance than a major problem, as I'm quite comfortable in dealing with traffic.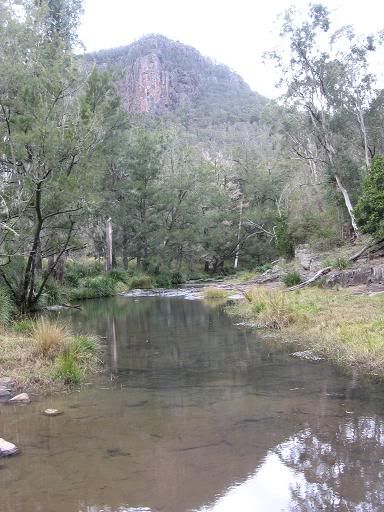 After negotiating the river crossings, it was onto the final stretch into Killarney against the brutal westerly wind. I had a quick snack and chatted with a couple of other tourists, before deciding to make a run for Woodenbong with the wind at my back. The stretch from Killarney to Legume and onto Woodenbong is beautiful, if quite hilly. I eventually reached Woodenbong with darkness closing in. The problem was that the campground offered no shelter from the wind, and someone had some crap music blaring from a car stereo.
My basic desire for sleep convinced me to press on. I followed the climb out of Woodenbong and into the forest toward the old "rest area" that I camped at last year. Darkness was closing in, and the temperature was dropping, but I no longer cared. The track leading to the campsite shone out like a beacon after about 8km or so, and I eventually found a reasonable spot and erected my tent by torchlight. There was something surreal about this place tonight, perhaps it's just the unusual bird calls that I never hear at home.
Day Three.
An almost freezing morning greeted me, 1 degree at the time I woke up. A kangaroo paid me a visit while I was packing away my tent. In one sense I didn't particularly want to ride home just yet. It's normally about the third day of a tour when I start really finding form, although my legs still had some complaints after the previous days' climbs. The ride back from this campsite starts with a long, winding climb through a rainforest.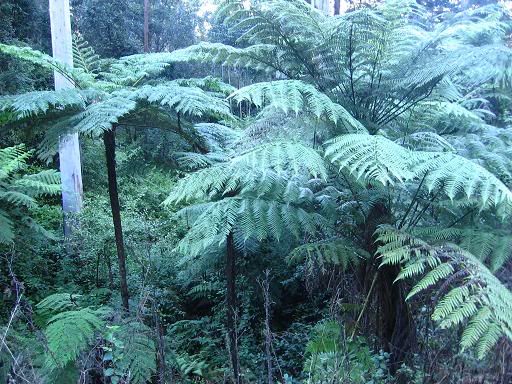 After cresting the Mt Lindesay pass, it was a lazy, winding, gentle descent virtually all the way to Rathdowney. This really is the last of the scenic excitement in this ride, but it's definitely worth the effort.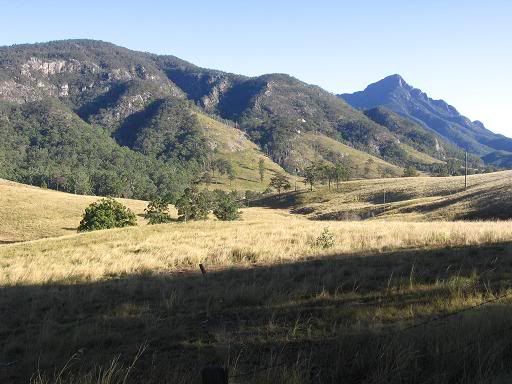 A piece of controversy in Rathdowney surrounds a proposal from the state government to build a dam on the Logan River near the town. There were a lot of "no dams" signs around this morning. Nearer to the town itself there were some rather sharp jibes.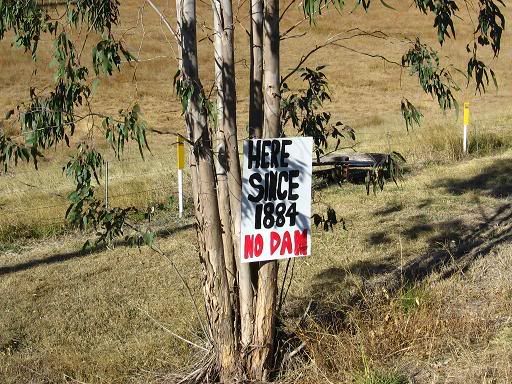 I have to say that I'm not sure building a dam here, or anywhere else is going to solve the water problems. Australians on the whole waste far too much water, and don't recycle nearly enough of it. Then you have the storage issues in cities, where water tanks are almost non-existent these days. Personally I think building another dam on the Logan River will be like trying to cure traffic problems by simply building more roads, or trying to cure obesity with a bigger belt -- it's a great way to hide the symptoms in the short term (usually until just after the next election), but does little to solve the problem in the longer term.
For my ride, I made a slight change to the route after returning to Beaudesert. I opted to ride through Beenleigh and get a train from there, just for the sake of riding on some different roads on the way back. It was pleasant enough, if not matching the excitement of day 2. Beenleigh is a place that needs to learn a thing or two about signage. There are literally
no
signs in the town directing anyone to the local train station. I eventually found it instinctively, but it's very easy to get lost here. Thankfully I avoided that fate, and made it home uneventfully.
Overall it was a very rewarding (if a little tiring) weekend. The next step would be to explore some of the area north of Killarney around Emu Vale or Yangan. Just when that will happen I'm not entirely sure, but I still have one more long weekend this year to play with.