Revisiting an old friend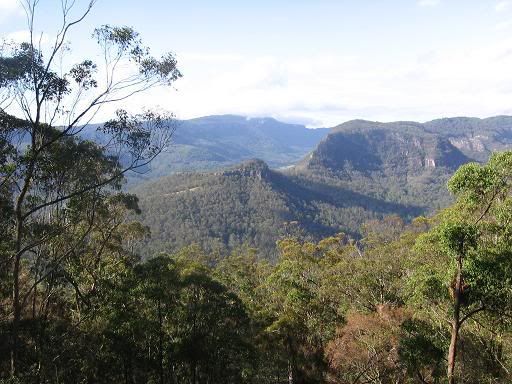 On reflection it's hard to believe that today was the first time I've ridden this particular route this year, but until today, the only time I've ridden to
Binna
Burra
, at the summit of Mt Roberts on the
Beechmont
Range, this year was a night ride back in March. After withdrawing from a 400k
audax
event because of the illness I've had all week (which is still lingering, albeit severely diminished), I effectively had a free day. This has long been a favourite ride of mine, but has perhaps been forgotten a little in recent times as I've looked for longer distances.
The choice of ride was motivated by wanting a ride that would present a decent challenge, lovely scenery, but one which would not over-extend me in view of the last week. Also, because this ride is virtually all uphill on the way out, and virtually all downhill (one or two pinches on the
Beechmont
Range excepted) on the way back, I could get out of trouble quite easily should I find myself not up to the level I thought I was.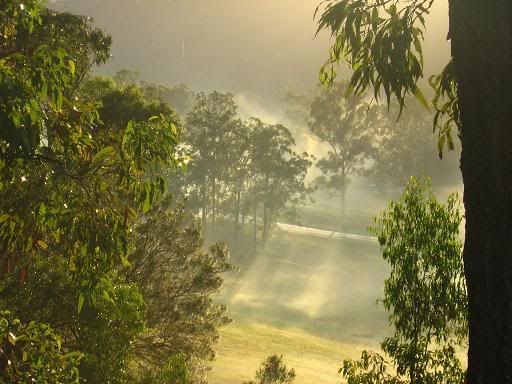 The morning was a beautiful one as I took the hillier way out through
Gilston
, before settling into the long climb up the range. At first I didn't feel as though I had the strength to make it, but these rides always revolve around form and technique rather than power. I could still make it with diminished power, just not as quickly.
This was how it proved, indeed, one of the locals at Lower
Beechmont
remarked about my "good cadence". I think he's a former cyclist from way back -- I've seen him shouting encouragement up there before. I wanted to reply with "not bad for a bloke who's been sick all week", but wasn't sure I had the breath. I just gave the thumbs-up and said "thanks". Once on the range everything else seemed to take care of itself. Flat tyre number 13 was an annoyance, but didn't really worry me unduly. I'm getting proficient at changing these things now.
The final ascent of Mt Roberts is always tough, I almost lost my rhythm here as the gradient hovered around the 8% mark, kicking up to 13% at one point. I made it up there reasonably comfortably (against the expectations of one particular know-it-all that I passed) after I managed to settle down the initial panic. That climb did, however, take a bit out of me, as I would discover on the way back.
There are three noteworthy hills to climb on the way back, despite the general downward trend, and I could sense each sapping what was suddenly a rather limited supply of energy. Evidently I expended a little more than expected fighting the illness. For all that, however, I made it back to the coastal strip, despite the best efforts of one idiot in a cement truck on the long, winding descent (I console myself with the fact that anyone who drives like that probably won't be around to bother me for much longer).
The hardest part of the ride home was being confronted with a headwind on the way home. By now the energy levels were just about sapped, although I still had another muesli bar if I got into any real trouble. I spent most of the last 15km or so just pacing along at 22-23km/h. I barely had enough energy to do any stretches when I got home, but I did feel a lot better after completing the ride.
All in all it was quite a satisfactory result under the circumstances. The route selection worked a treat, the
Beechmont
Range was pretty as always and the weather was near perfect. With a bit of luck I'll get another decent ride in tomorrow, and then can start looking to get back into the conditioning I had a month or so back.