So this is how my season has gone
This was supposed to be the year I got serious about this whole
randonneuring
thing. I was planning to complete a super-series this year. To say things haven't worked out as I had hoped is a bit of an understatement, here's how it unfolded:
1. By some scheduling quirk, the season in Australia actually starts on December 1, meaning the opening 200 was the ASH Dash in Hobart on the first weekend. The simple ride from Hobart airport to the accommodation in Battery Point leads to the rear-derailleur decided to spontaneously fall to pieces in the Queen's Domain. Fortunately, the ride was scheduled on the Sunday, and I found a bike shop on the Saturday to help me out with it. I then managed to complete the ride despite an error in the route slip sending me off course and making me actually ride 230-odd km, with over 12,000 feet of climbing.
2. The first ride back in Queensland was a night ride in early January. Two flat tyres that night slowed me down, but it was completed without too many problems, and after riding to and from the start of the ride, I even managed to set a new personal distance record.
3. I then rode 2x300km rides without any problems -- even setting yet another personal distance record getting to and from one of the rides.
4. A plan was hatched to ride a 400k up in
Toowoomba
. A crash on wet cobblestones that severed a wire in my primary headlight just before the big ride put paid to that one.
5. I lined up for a 600k anyway, but got fatally owned in the unseasonal heat. May is supposed to be one of our cooler months, yet it managed to hit 34 degrees C (a May record), and I wasn't prepared for it at all. I abandoned at 200km after spending time sitting by the side of the road in whatever scarce shade I could find (I'd rather ride through a hail storm than a heatwave).
6. I'm supposed to be doing a 400k this weekend, but right now I'm sitting here nursing a chest infection that, presumably, came from assisting a family member who had been sick to move house last weekend. Just walking to the shops seems like hard work today, and while I'll probably be recovered by Saturday, I'm not sure I'll have the strength to do a 400k. I'm thinking I'll scale my ambitions for this weekend down to a couple of more modest local rides.
I think it's fair to just write this off for the year and focus on my touring plans now. Six weeks until I fly out for a tour of Scotland. Hopefully I've used up all the bad luck and things will start to improve. At least it was a nice sunrise here this morning.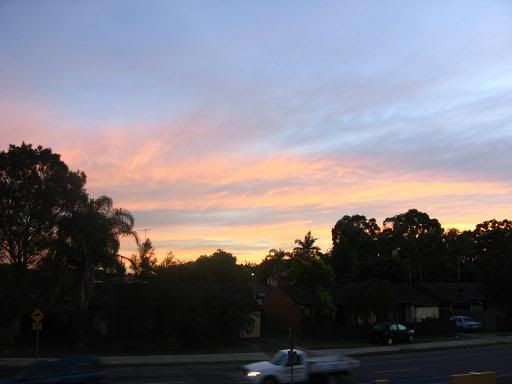 Quote of the day: "Debt is people spending money they didn't earn to buy things they don't need to impress people they don't like."