Washed away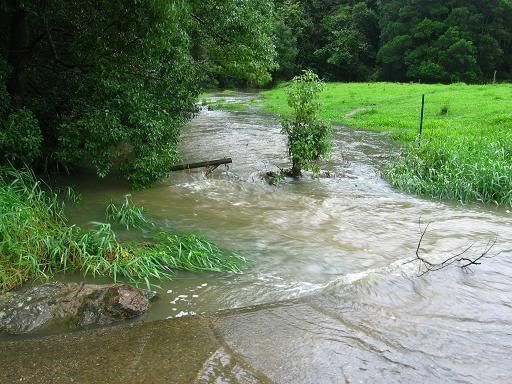 Those who have clicked on this post expecting a heap of spectacular photos are going to be out of luck. My camera stopped working at some point during the day's ride. Presumably inside the last 10km as that was when I took a picture of the floodwaters engulfing Elanora this morning. I have a store of previously unseen pictures from recent rides that I can use to "decorate" the page until I have other arrangements in place.
I have a feeling that the amount of moisture around this place offers at least a partial explanation for the demise of the camera. It certainly had an impact in Tallebudgera Valley overnight. According to the "official" figures, parts of the Gold Coast Hinterland received as much as 600mm (24 inches) of rain over the last 48 hours, much of it falling last night. This morning's ride proved to be as much about evading giant pot-holes and fallen trees as it was about racking up kilometres.
A landslide prevented me from riding the last few kilometres right to the end of the valley, but I was astonished to have made it as far as I had. By that stage I had negotiated three fallen trees, a barbed-wire fence that had "moved" across the road at some point, a "crater" in the road surface that was as wide as the road itself and several metres long, and had observed telegraph poles that were lying horizontally across farms some 40-50 metres from where they should have been standing.
Astonishingly enough, the sights that I had expected (impromptu waterfalls and mist-covered mountains) didn't seem to appear for most of the ride. I can only assume the downpour had cleared from the valley a little earlier, and left behind the mammoth clean-up job. For my part, I managed a reasonably pleasant 60km in conditions that were reasonable, if a little more humid and muggy than I would have liked. Somedays you have to take what you can get.