Potential?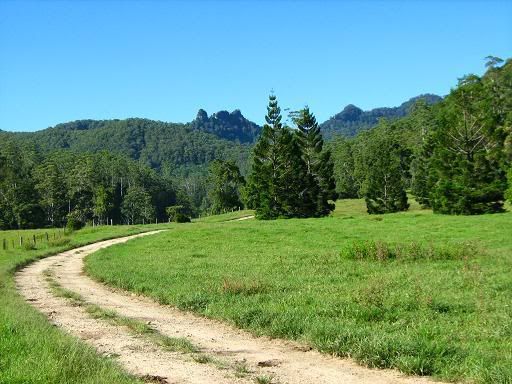 When does potential become another excuse for failure? Harsh words perhaps, but yesterday's 80km was an ultimately frustrating experience.
The plan was to explore a few detours in
Tallebudgera
Valley.
Specifically
, I wanted to first explore a link to
Bonogin
that had been flagged on
Google
maps, then to check Mt
Cougal
road, which more maps suggested might have been worth a look. The first link was a total failure, which offered about 3km of
glorified
suburbia, before dead-ending. The first failure of the day.
Toward the far end of the valley I found the turn-off for Mt
Cougal
"road". This one started promisingly, through pretty scenery and a gradual gain of height. For a while I thought it might go somewhere. This too died after about 3km, ending in a "private property" sign. It's entirely possible that this land was actually crown land that had been signed off quite illegally, but I wasn't in the mood for an argument at the time -- especially as the temperature was already approaching 35 degrees C at the time (it would hit 40 by the end of the ride).
I did find another detour virtually at the end of the valley, but this one ended even quicker than the others did. Accordingly, I hammered the climb of
Petch
Creek road before going home. I am now left back at the drawing board when it comes from finding detours out of this valley. There is still one possibility left, but it's not one for which I hold much hope. Perhaps it's time I found somewhere else to explore.