April animation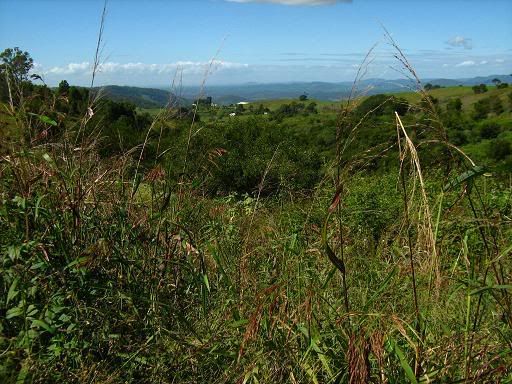 It's probably about time I wrote this thing up. It was my first 300k for the year. In fact, I only had two rides over 200km this year, and the most recent of those came in February. However, I did have a couple of tours, and last weekend's "boot camp" rides through the mountains. I had enough condition. The rain that had been promised seemed to stay away on the day itself, with a southerly wind to keep temperatures down. That southerly would cause problems later.
Alan and I were the only two riders who actually made the start on time. There were more riders coming later (as it turned out, they wouldn't be far behind by the first checkpoint), so we set off, negotiating our way out of the northern suburbs of Brisbane, and eventually making our way toward the greenery of Dayboro, over the rolling hills.
The climb of Mt Mee stood out as the next objective. Personally I enjoy this climb from the southern side. The gradient is very manageable, the scenery opens up new vistas around every corner, and early in the morning, the temperature is invariably pleasant. Alan had left the checkpoint a little earlier than I had, but I caught him on the climb, and we rode across the plateau and into Woodford and Kilcoy together. On the descent I got held up by a car, and didn't know the road well enough to risk overtaking them between corners. As it was they moved over and let me pass through, a rare piece of politeness on Queensland roads.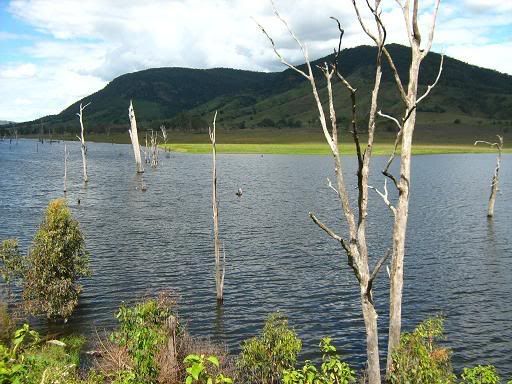 The Neurum road between Woodford and Kilcoy is one of the most underrated places to ride in Southern Queensland. Today it would have to be covered twice, as the ride heads out to Kilcoy and back. The ride back gave me plenty of time to look at the scenery, I was really struggling here, barely able to maintain 24km/h. In retrospect, nobody passed me, so I must have been doing better than I thought. However as far as I was concerned, I died on that section and would have to ride the remaining 160km or so from beyond the grave. A flat tyre at Kilcoy didn't help things.
The climb of the Peachester Range is almost as pretty as that of Mt Mee. It was also the last noteworthy climb of the day. It enabled me to recover from the earlier exertions and move forward. I started to feel better on that climb, the steeper sections weren't overly taxing, and there were enough false flats to recover from them regardless. I reached the summit and the "secret control" feeling much better.
It's a long, gradual descent of the Peachester Range from the eastern side. I'd dropped of the back of the group as I'd stopped to adjust my brakes. We were all "reunited" shortly after Beerwah, and rode on to the checkpoint at the edge of the Sunshine Coast 31km down the road. We probably lingered here longer than we should have done, but riding off with a group of five for the last 120km or so was going to be easier than doing it solo against that southerly wind. We set off and headed down through the Glasshouse Mountains in rapidly fading light. It was too dark for the normally obligatory photo from this section, so we pressed on.
Further south, we returned to Suburbia at Caboolture, after negotiating some patches of roadwork that seemed to upset everyone else more than it upset me. After the riding I'd had over the last couple of weekends, it was all pretty familiar to me. I seemed to be spending a lot more time on the front than I should have, but by this stage I was feeling pretty good, and didn't have any problems. To me, virtually all suburbs seem to blend in together, broken only by a checkpoint at Morayfield.
We detoured out through Redcliffe, Shorncliffe and Sandgate (not necessarily in that order). It was a waterfront ride that might have been pleasant in the daylight. It wasn't too bad in the evening, but it offered no protection against that southerly wind. There seemed to be a lot of yobbos around, more than last year. I was wearing a red jersey (which seems to set off Queenslanders but nobody else), but it was covered by a jacket that I'd put on earlier to deal with a rain shower. As it was, we negotiated the yobbos, the headwind and everything else to make our way back to Banyo much later than I'd anticipated, but at least the second part of the super series was completed, and no, it's not my slowest 300k.
Overall I had reason to be satisfied with the ride. It did take longer than I'd planned, but under the circumstances that prevailed, it was a decent effort. About the only thing I would do differently next year is have a few more rides exceeding 200km. My longest ride to date this year has been 208km, and I struggled on the finish of that one. I really should have found time to do a 250+km "repentence" ride in the Byron hinterland, but that's just a lesson to learn.