Stradbroken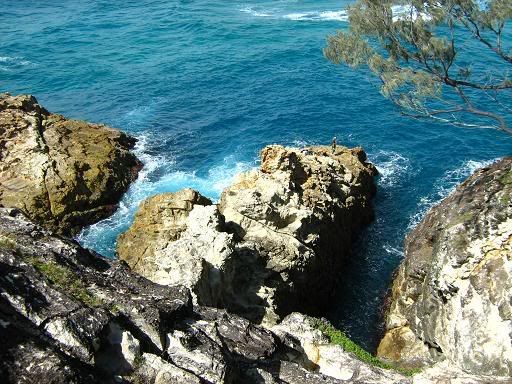 Last weekend (yes, it's taken me that long to getting around to an update) I spent the weekend with friends on North Stradbroke Island, off the coast of Brisbane. There were probably enough photos taken to fill an entire journal over at crazyguyonabike.com, but for now I'll just do the best with what I have here. After getting the ferry across from Cleveland, I was due to meet up with the group for a bushwalk at the Blue Lake. Some of the hills that had to be crossed on the way were horrendous, as the island is surprisingly hilly, but the scenery made it all worthwhile, as it generally does.
After a swim in the refreshingly cold waters, I decided to ride to Point Lookout via the "alternative route", following a dirt track along the east coast of the island. Dirt turned to sand in many places, and at times it became quite a struggle, I had to walk much of it. Fortunately I had a picnic lunch with me, so I could afford to take my time here. The ride/walk was extremely pleasant, passing wildflowers and a couple of lagoons along the way. After finishing with the sandy section, I encountered a couple of suicidal truck drivers. I'm just glad my genes won't now be exiting when theirs invariably leave the human gene pool.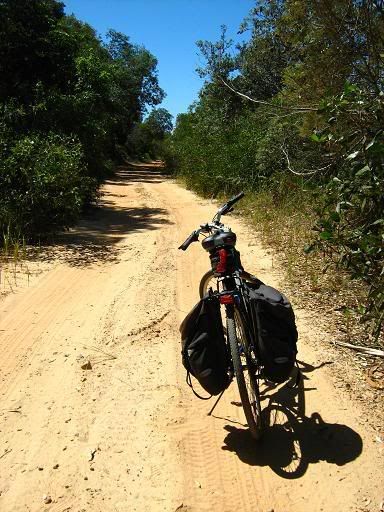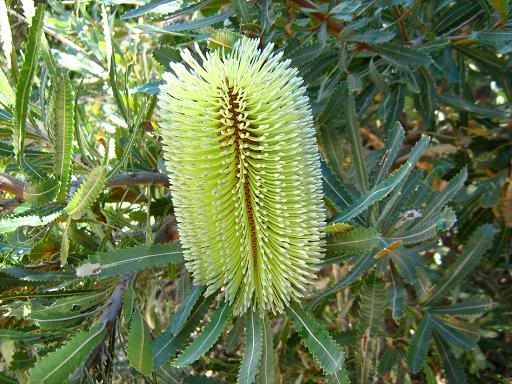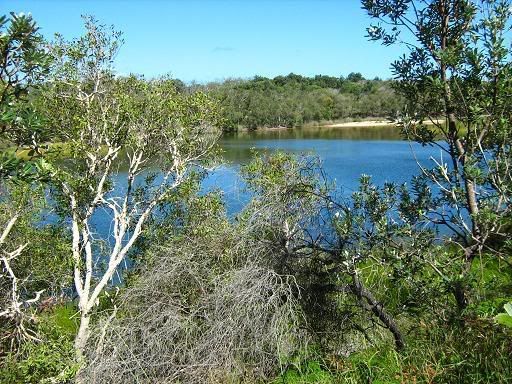 Point Lookout, on the east coast of the island was eventually reached, and there was still time for me to totally screw up the location of the accommodation, and ride an extra 6km or so just for the fun of it. For what it's worth, the 6km or so were very pleasant in and of themselves, which made it a worthwhile exercise. It had seemed like an epic day, but the adventure was really just beginning.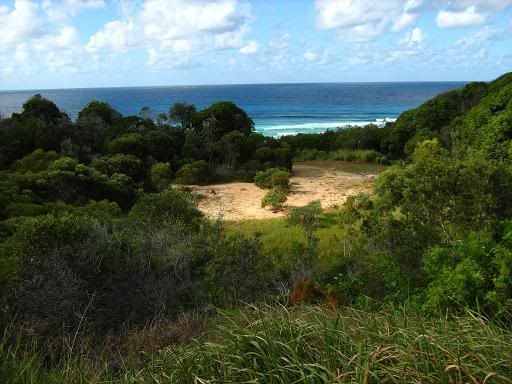 Eventually I caught up with the others in the group for dinner at the local pub, which had a nice location and a relatively low yobbo quotient by Queensland standards. The night that followed, however, did everything exactly by Queensland standards with regard to the temperature -- i.e. hot. It was so hot that nobody in the group got any sleep that evening (despite the almost total lack of any noise). It was so hot that even the islands notorious mosquitoes took the evening off. I might have just slept on the beach had I thought it would have been any better.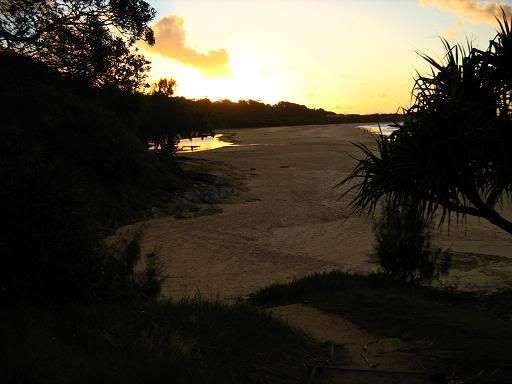 * * * * * *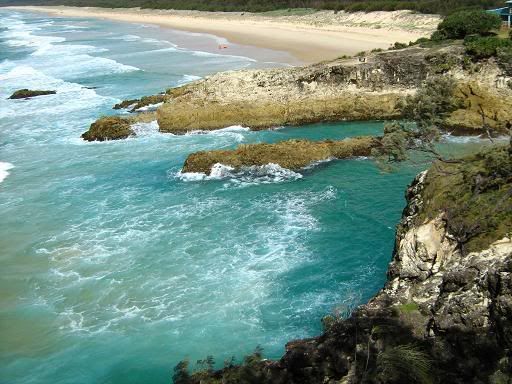 Kayaking was on the agenda for Sunday, but I was a late scratching because of the rib problems I still had from the previous weekend. Instead I opted for a day of exploring the parts of the Island that I hadn't seen on my bike, or on foot. The first step was a walk around The "Gorge" at Point Lookout. This was a stunning display of coastal scenery, reminiscent of the Great Ocean Road some years ago. The blue water on the limestone cliffs was worth celebrating in and of itself.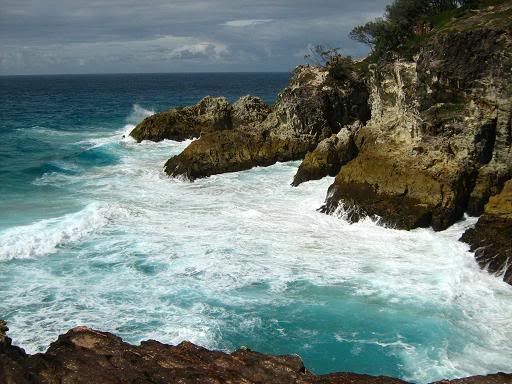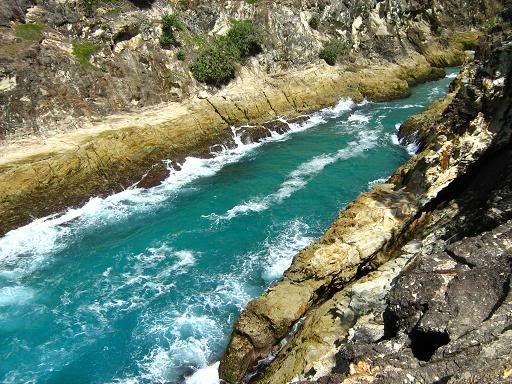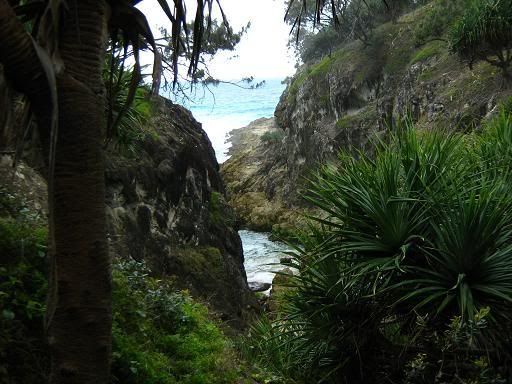 A few hardy souls were fishing in some really stupid positions, and some of them were drunk quite early. It won't bother me, but we'll all be expected to mourn when they turn up as "people missing from the coast" on the news one night this week. Well, all except me anyway. As it was, I completed the walk feeling rather satisfied, then set off at a leisurely pace, first for Amity Point, then back to Dunwich for the ferry ride home.
It was on the way back that my love of cycle touring really came to the fore, the feeling of simply getting on the bike and exploring without any deadlines is a special one. It's something that I just never tire of. Amity Point was pretty, but ultimately uninspiring. I did take on some fluids as the previous evening had left me with a mild case of heatstroke, that five litres of fluids in one morning hadn't yet cured. Then I set off for Dunwich.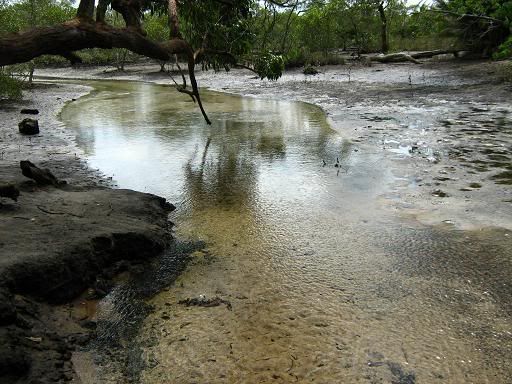 Dunwich doesn't get the acclaim of Point Lookout, but it's an interesting little place. I occupied myself first by detouring out to the Brown Lake, which wasn't as pretty as the Blue Lake but had twice as many tourists, so I left. The next stop was to visit a rather interesting little cemetary which commemorates a ship sailing from Tasmania to Queensland on which there had been an outbreak of Typhus.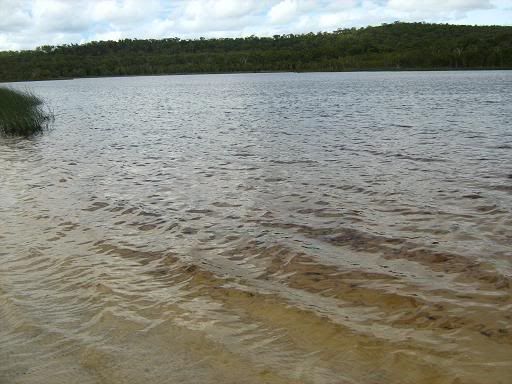 Finally, I took in a visit to the local art gallery. The gallery has a lot of traditional aboriginal works presented, some of which are quite beautiful, and all of which hold some special significance to their authors. The woman who operated the gallery told me about quite a few of the local tales, which I'll relate in another post later on. She's also hoping to expand their operations, and told me of a streetscape planned for Dunwich which will give the local painters a chance to show their wares.
By now it was closing in on the end of the day, so I made my way to the ferry terminal, got reacquainted with the group I was supposed to be travelling with (but had seen very little of) for the ferry ride home. More QR incompetence led to the train home taking a whopping four hours -- I should have just ridden home from Cleveland. I did, however, have an interesting chat with a couple of local cycletourists at Robina train station. They had just returned from Rainbow bay near Gympie, and consequently, another potential weekend tour has been "noted".
I finished the weekend tired and a little sunburned, but ultimately fulfilled. The next trip away starts Friday. Bring it on.