Mullum wanderings part 1
Clearly, it's going to take two posts to fully account for what I did last weekend. It started in the way most of my tours do -- i.e. wondering what I'd forgotten (as it turned out I hadn't forgotten
anything
) as I get away around 30 minutes later than what I'd intended. Once the ride itself started, all these things were soon forgotten. There was some mild frustration at copping just about every red light possible as I tried to exit the southern end of the Gold Coast, but that was a minor irritation.
The Tweed Coast these days seems to be a combination of pretty scenery and mild irritation these days. I had forgotten just how stunning the view from Hastings Point really could be on the right day. Further south, a few idiots tried to get into a slanging match without stepping out of their cars just beyond
Pottsville
, I guess it takes all kinds. None of this really bothered me unduly, but there was a feeling of "this has all been done" as I proceeded south on what are now very familiar roads.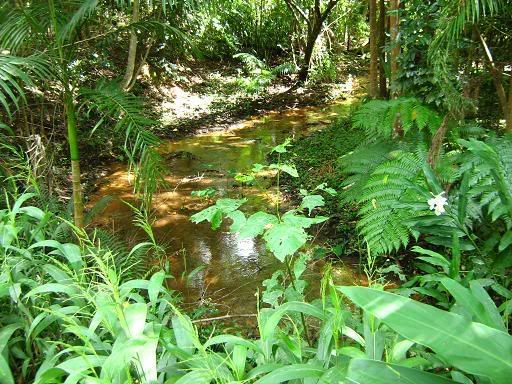 It's only after leaving
Billinudgel
that this ride really begins. I headed inland, gradually climbing a ridge, and passing a particularly notorious strip of chip-seal along the way. The ultimate destination was a place called
Maca's
Camp Ground at Main Arm, around 12km north of
Mullumbimby
. I'd ridden past it a few times en route to other places, and decided that it wouldn't be a bad place to use as a "base", given that it's a little out of the way, and less likely to be affected by tourist traffic.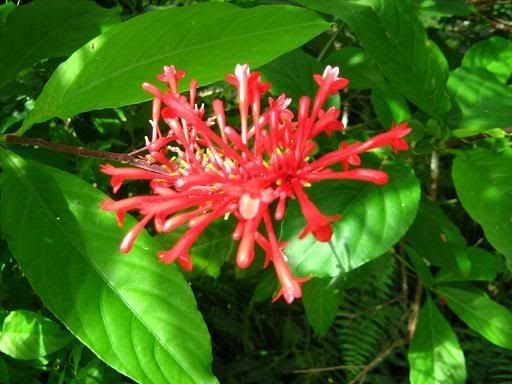 What it lacked in tourist traffic it made up for in mosquitoes. I actually moved my tent on one occasion to get away from them. Still, the surroundings were pretty enough, and all in all it wasn't really a bad place to spend a leisurely afternoon, prior to the real adventure starting the next day.
* * * * * * * * *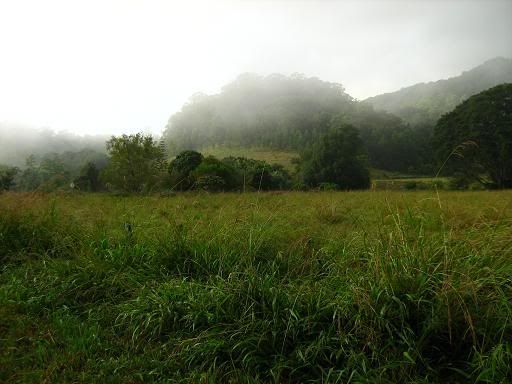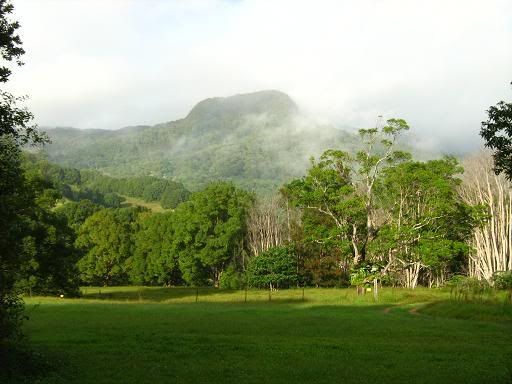 There was a pleasant mist covering the valley on Saturday morning. I set off and made my way toward
Mullumbimby
, mindful of the fact that this day's ride would have to fit in with local shop opening hours -- bearing in mind the fact that I'd be required to stock up on supplies for the next day's epic. I had an interesting chat with someone at
True Wheels Cycles
about some of the local attractions. It seems there's much more to this area than even I had previously realised, and I was looking forward to testing a few things out.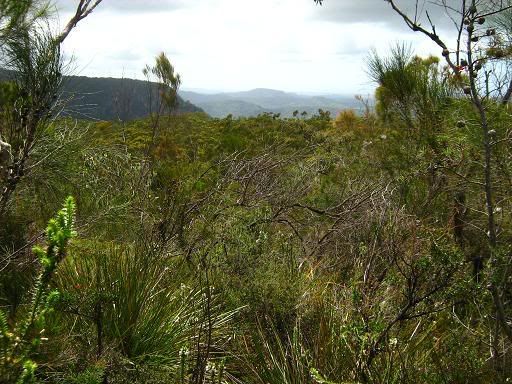 The first thing to explore was the
Koonyum
Range, which had been teasing me for some time. The climb was described as "steep" in some information that I'd looked at previously, but was generally quite manageable for the majority of the time. There was quite a change in vegetation from the
rainforest
on the lower slopes, to the more open, almost alpine scenery at the top of the range. The only downside was the fact that the road didn't go anywhere else, and that most of the views were overgrown. Regardless, it was a worthwhile exercise.
After descending the range quickly I headed out toward
Huonbrook
, this time with a mission, I would check the link with
Doon
Doon
on the other side once and for all. There was a lingering disquiet that I had a chance to set a new all-time speed record on a straight stretch of the
Koonyum
descent, but didn't take it. There will be another chance for that later.
Huonbrook
turned out to be a more interesting ride than I'd anticipated. The dirt road turned to mud under the falling rain, and had some decent pot holes, but those were easily avoidable. I saw the (unsigned) turn off to North Rocks Road which leads to
Minyon
Falls, and the (unsigned) turn off of Oscars Road, leading back to
Doon
Doon
. The latter was notable for the presence of a "dangerous road" sign. Sounds like that one could be a "dry-season only" ride. The "education" for the day was complete, but
Huonbrook
is a worthy ride in and of itself.
I returned to
Mullumbimby
to stock up on supplies for the next day's epic, and pottered around for a while until a local pasta joint opened for "dinner". The ride back to the campsite afterward was a leisurely and very pretty 12km, with the knowledge that the best of the weekend was yet to come.