Border Ranging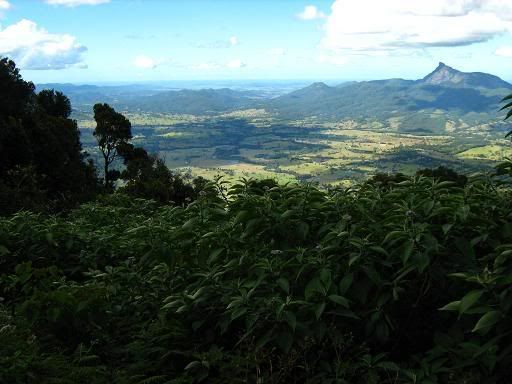 It was only on a spur of the moment that I opted for this tour, the plan was to delay the proposed Crows Nest tour by a week. As it turned out, the Crows Nest tour had to be cancelled (yet again) because of mechanical problems with my bike. I'll make it happen eventually. That wasn't going to stop me completing this ride last weekend, however. I had varying options for travelling over the familiar terrain this side of Murwillumbah, so I opted for the early climb over Tomewin to start the day. I had the company of a local rider I met at the bottom of the climb, and plenty of time to talk touring. I received another recommendation on North Queensland (among other things). I must give that some serious thought.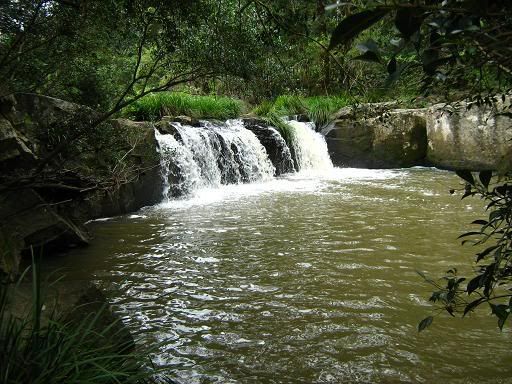 The Tweed Valley opened up after the climb, I parted with my companion at Murwillumbah, and continued south-west, through the lush greenery of the valley, onward toward Kyogle. This is a very pretty ride, but one that I've completed a few times from the other direction in completing tours. Yet it's one that I never tire of. I watched a rain shower move across Mt Burrell and the Border Ranges National Park after lunch, and started the climb of the Nightcap Range.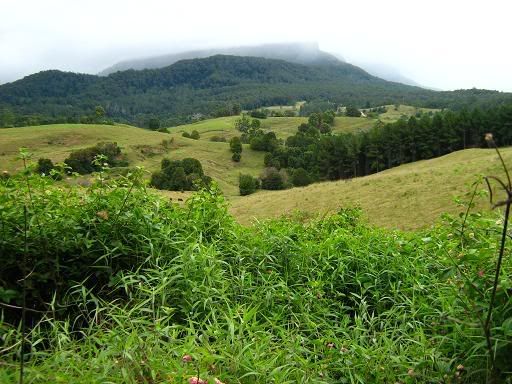 The temperature cooled at the top of the range as the rain arrived. It was light rain, and not enough to make me bother with a jacket, but I did appreciate the drop in temperature. A new backpackers' has opened at Wadeville, behind the local store (Wadeville Woolies). I considered taking a campsite here, but opted against it on the grounds that Kyogle was a better base for attacking the Border Ranges climb from the west.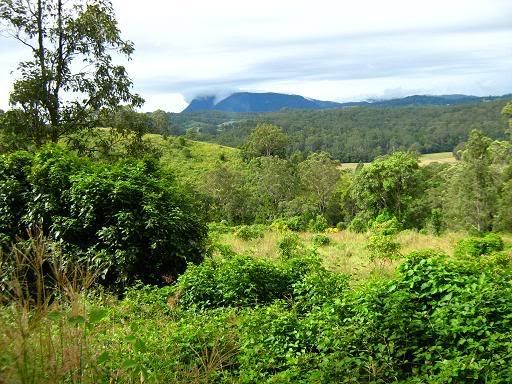 A leech dropped from a tree, but was displaced before it had time to take a bite. Further on I descended into Cawongla, and slogged up the 11% rise out of the village onto the Mackellar Range. It had been over 12 months since I last noted this particular climb, and the gradient took some adjustment. In time it was conquered, and followed by a lazy descent into Kyogle. Here there is a plaque for Ray Smith, commemorated at a local lookout. It seems Ray Smith's only notable claim to fame was that in 1968 he was "accidentally killed". More information would have been nice, but the plaque disclosed nothing else.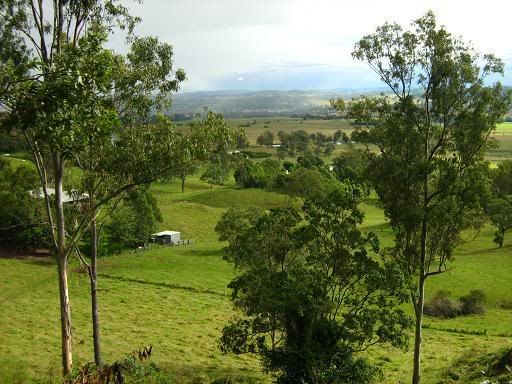 A miracle happened in Kyogle. For the first time ever (as far as I can recall), the local supermarket was actually open. It has been closed every other time I've been in town, and I was beginning to wonder if it had opening hours at all. Although it was still fairly early in the afternoon, already the conversations between drunks in Kyogle were almost entirely composed with four-letter words. I thought it better to retire to my local campground on the northern edge of town where travellers might provide some more intelligent and enlightening conversation.
* * * * * * * *
This was the day of the return to the Border Ranges National Park. It would see a climb of some 1,100 metres, some beautiful rainforests, and a lot of dirt. I rode the first 15km or so out of Kyogle without any excitement. The temperature was warming quickly, but I was planning on picking up some altitude quickly and making this irrelevant. A couple of South Africans on a motorbike asked for directions back to the Gold Coast, then took the long way over the range in any case. At least they didn't stop and argue for an hour the way local bogans do here on the GC.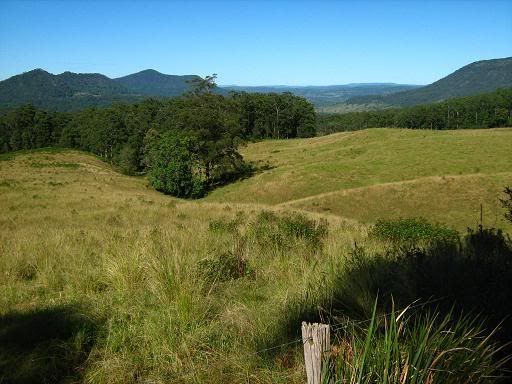 The road turned to dirt, then to mud as the climb kicked in, with one particularly steep section (17%) by a quarry before I entered the National Park. I saw a sign pointing to a side road back to the Lions Tourist Road, and wondered if the South Africans would take the
really
long way home. The climb kicked up to around 7% -- not normally a problem, but the muddy track presented some difficulties. This was where those long rides with Martin made the difference. I reached a creek crossing after a sharp descent, and headed off on foot in search of Selva Falls.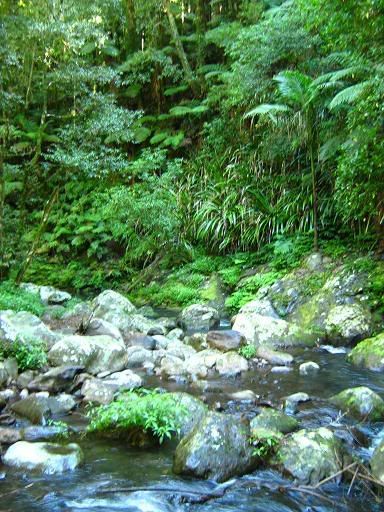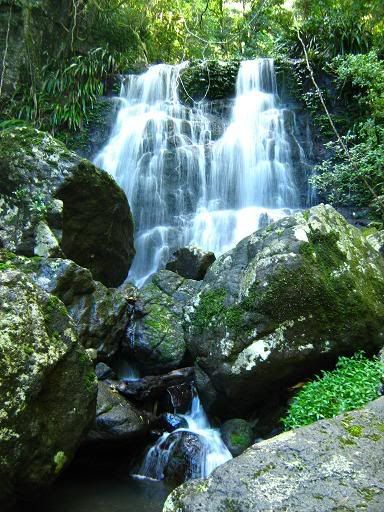 My bushwalking skills had improved immensely since my last visit to this region in 2001, and the track was negotiated easily despite the wet, slippery conditions. I seemed to outrun the leeches too. I think experiences like this are what living is all about, a beautiful rainforest setting, a rough, overgrown walking track that requires intense concentration, a combination of factors that leave many of the things in the "real world" behind. Yet for all that, there are still people who stay in the carpark without doing the walk. Incredible!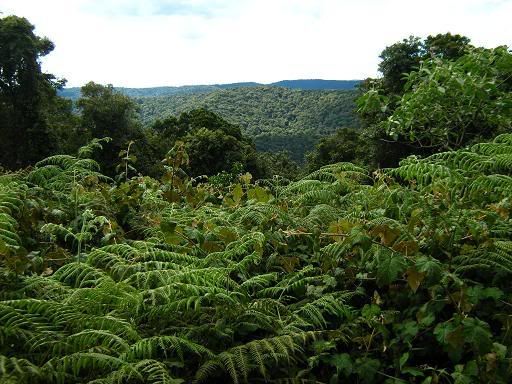 Now it was time to get back on the bike and return to climbing. I had descended to around 720 metres for this walk, so I had to climb again, up to the northern end of the park, and the Lost World wilderness. This area shares a boundary with Lamington National Park immediately on the other side of the Queensland border, and there is, by all accounts, a rough walking track linking the two. Now that would be an adventure. Yet the view "over" the Lost World is strangely disappointing, almost as if it fails to do justice to the spectacular, wild areas that surely lie within.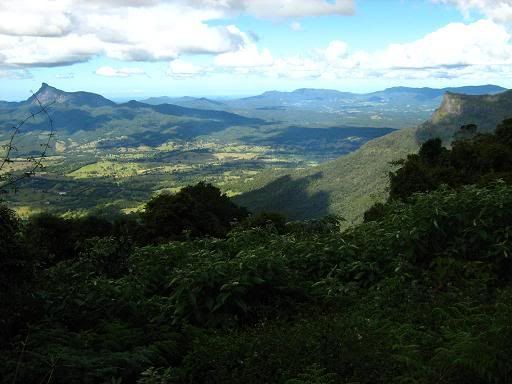 And so I continued, over rolling hills on the dirt road toward the eastern side of the escarpment. I now felt gratitude that I had a lighting system capable of finishing this ride in darkness should it be required -- I wanted time to really enjoy this one. There seemed to be a strange scent to the forest here, it reminded me of some of the moisturisers I've used to relieve sunburn after rides past. Perhaps some of their ingredients are sourced from rainforests, I'll never know. The Tweed Valley lookout proved that the "pinnacle" was, in fact, attached to the plateau. An optical illusion on a previous Tweed Valley ride had suggested this wasn't the case.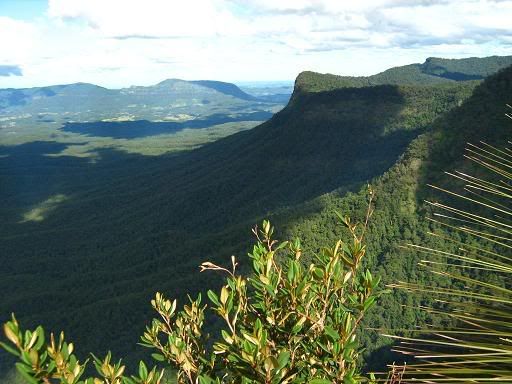 After proving that the "pinnacle" (around 200 metres lower than the mountain's highest point), I was now under a moral obligation to climb it and take in the view. It was, indeed, spectacular, as were all the other views from this side of the escarpment, stretching for hundreds of kilometres. It really is a great way to get a different perspective of some of the areas I regularly travel that give me so much pleasure. And yet, even now, this day wasn't finished.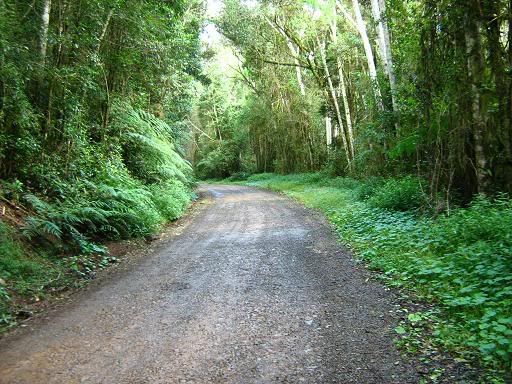 My legs had some complaints about the final climb to The Bar Mountain over the mud, which was still rather slippery, but the scenery provided plenty of inspiration, and left plenty of oxygen in the air. The Bar Mountain itself ultimately proved a disappointment. Walking tracks branched off from a picnic ground here, but I could find no mention of the Collins Creek Falls that I'd read about elsewhere. That will have to wait for another day, but there was still one final twist in this tale. If the local graffiti "artist" at the picnic ground ever reads this, s/he would be advised to learn how to spell the words before trying to write them -- what exactly are "hippeys"?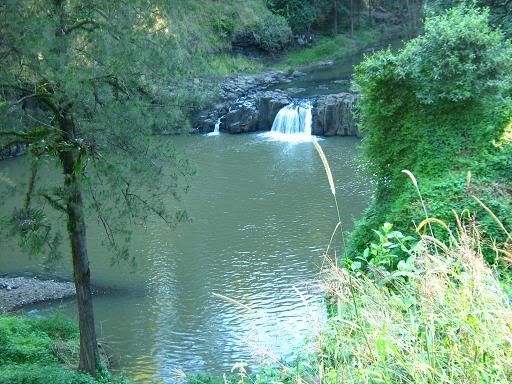 I descended, nay, plummeted down the mountain at a gradient-inspired speed that really was much too fast, losing a pair of sunglasses in the process, but somehow surviving, then I completely ignored the signs directing me to Kyogle and headed off down another route. If a map I had seen at the Sphinx Rock cafe the previous day was correct, I could find another waterfall. It all fell into place beautifully, and after a beautiful, deserted ride by a creek, I discovered an unsigned waterfall, small but pretty and totally uncluttered. It provided a great finish to a memorable day.
I returned to the main road near Cawongla, rode over that 11% climb again, and returned to Kyogle with over 2,200 metres of climbing in around 104km. It was a taxing but extremely rewarding day, and one that I may yet make an annual fixture on my calendar. Northern NSW truly offers some of the best cycling in Australia. Incidentally, that takeaway joint in Kyogle's main street that advertises pasta doesn't actually sell it. Given that it's been about two years since they last did, they should probably consider removing the sign.
* * * * * * * *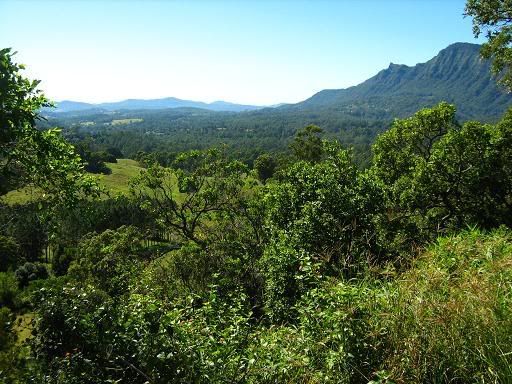 Now all that was left was the final ride back to the Gold Coast to complete the weekend. I've done this many times over, and yet those two initial climbs out of Kyogle remain a challenge. Either that, or the previous day's ride took more out of me than I was prepared to admit. I got over the climbs and descended my way into the Tweed Valley, before negotiating the rolling hills toward Murwillumbah.
There are all sorts of little surprises in the Tweed Valley, and not all of them are natural features. A rather large property near Uki had a big "No Nightcap Dam" sign at their front gate, and a tee-pee in their back yard. There was quite a pile of other stuff there too, including a couple of caravans and various junk accumulated over an apparently long time. A couple of motorbike riders wanted to have a chat as I rode along. It was nice to have a chat, but it's hard to speak at a volume loud enough to drown out their motor and save enough breath to keep pedalling. Maybe next time I'll pull over.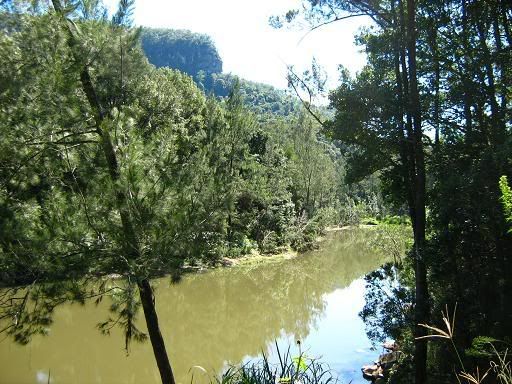 After Uki the northerly wind picked up, which increased the temperature and slowed my progress. Fortunately, I had the option of returning home via Urliup, which threaded a needle through more rainforest and eliminated both the heat and the rainforest. After negotiating Bilambil and the last 25km of suburbia, it was done. Another memorable cycling weekend was completed. As noted before, this weekend's Crows Nest tour is delayed, probably until next month now, but there will be other fish to fry in coming weekends. I also have a 400k to prepare for, probably on the weekend following the Crows Nest tour (assuming it goes ahead
this
time). Bring it on.