Is that *really* necessary?
Have a look at this sign and see if you can find anything redundant.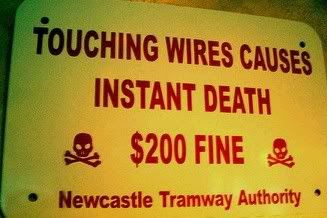 I know this country has gone litigation crazy (well, what did you expect us to do after America did it?), but I think the $200 fine is a little bit pointless. Unless, of course, they figure anyone stupid enough to touch the wires doesn't deserve an expensive funeral. I can't argue with that particular piece of logic.
Last night I rode to the shops on my second bike, and actually had some thoughts about what I should do with it. This is the Green Machine that has bailed me out on a few commutes when my main bike has been out of condition (and will do so again this Friday after the crank episode). Actually, it was my main bike for about four years, and covered a lot of km including two tours around South East Queensland, as well as however many commutes to and from University I had during those impoverished years.
The dilemma is this. I could spend a few dollars to turn it into a full-time commuter -- new tyres would be the first thing, probably a pannier rack, and there might be others, I think the brakes are going to go soon. However, I sunk over $200 into it last year to get it back to this level, and I'm really not sure whether I'd end up getting value for money if I sunk another wad of cash into it. Knowing me I'll probably just keep going as it is for as long as it lasts anyway.
However, everytime I take one of those shopping trips, I sometimes wonder whether I should restore it to it's former glory. Perhaps I will next time something breaks. Perhaps.