How to build your own adventure...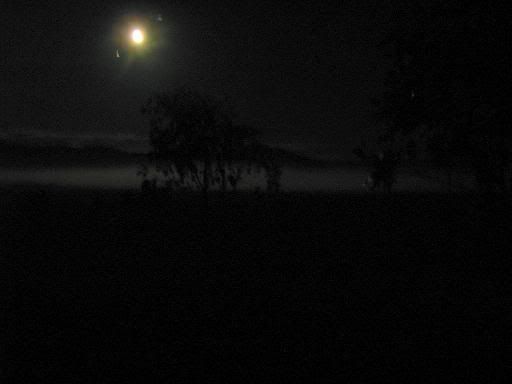 I was going to write up last weekend's adventure in one post, but a simple 118km ride to a campsite by the banks of Christmas Creek deserves it's own entry. The ride itself started later than anticipated as I had to resolve an overcharging issue from my bank -- that was the easy part. The initial ride through suburbia didn't present any problems, and even with a full touring load I pushed it aside quickly. Shortly after
Nerang
, at the locality of
Clagiraba
, a sudden heavy rain shower made things interesting.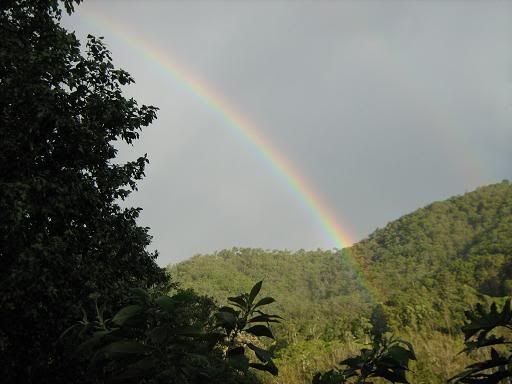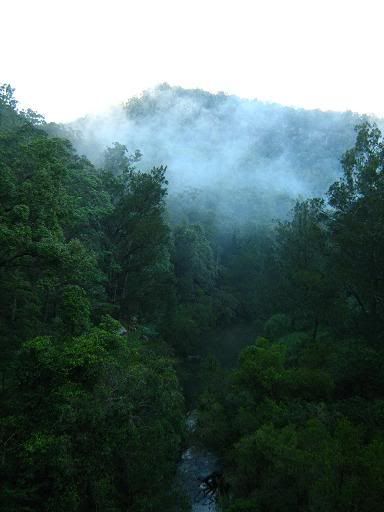 The shower passed, leaving only a rainbow to mark where it had been, but further along the Gorge Road (which is actually a very, very pretty ride), there were other sights to see. Traffic was heavier than I'm used to on this road, but it posed no problems that I couldn't deal with. The infamous climb at
Witheren
, 5km from
Canungra
, rose into the mist like a ramp to heaven, before descending back toward the army base. This was turning into an amazing ride.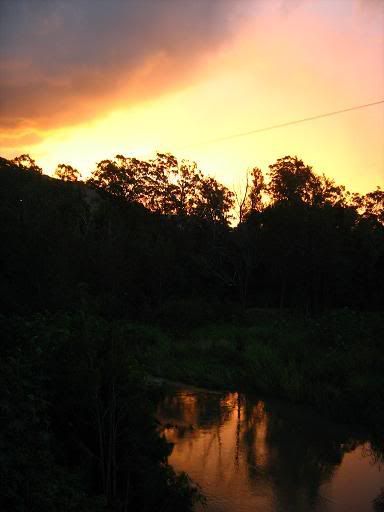 After
Canungra
, things got even more interesting. First of all, a major thunderstorm appeared on the horizon in the sunset, then blew over. The lightning was clearly visible to the south, and the thunder sounded close, it must have been within 2km, but all I felt from it was a minute or two of light drizzle. The plan had been to detour to
Biddaddaba
creek, and follow a back road into the Kerry Valley, hence cutting out
Beaudesert
. This wasn't possible as the "road" turned into a muddy, impassable track, which was blocked by a gate. I later found that I could have passed through legally, but it would have involved walking 5km through the mud -- and I wasn't interested.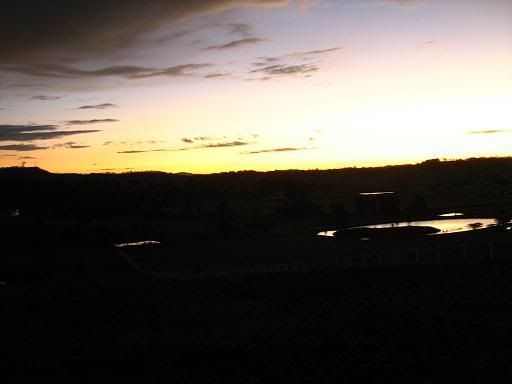 The sunset that had outlasted the storm had now well and truly passed as I backtracked 7.5km, before continuing on to
Beaudesert
in dropping temperatures. This time I came prepared, and managed to keep myself warm. The moonlight accompanied me as I continued southward from
Beaudesert
, 15km on the old Mt
Lindesay
Highway, before turning off toward the "Lost World", and the evening's destination. The early part of this stretch has absolutely nothing to see, and I was reduced to counting off the kilometres to entertain myself.
Fortunately, things improved. The scenery in the moonlight was quite astounding as the road started to climb in the last 7km or so. The night hadn't cooled in quite the way I expected, but it was starting to get late now, and I was looking forward to a warm sleeping bag at the end. As it turned out, I would have a warm campfire with no effort of my own. There was only one other person at the campground that evening (who, by a staggering coincidence, was also named Chris). It was a comfortable way to end what had been a memorable ride.