Songs with a spiritual link to bike touring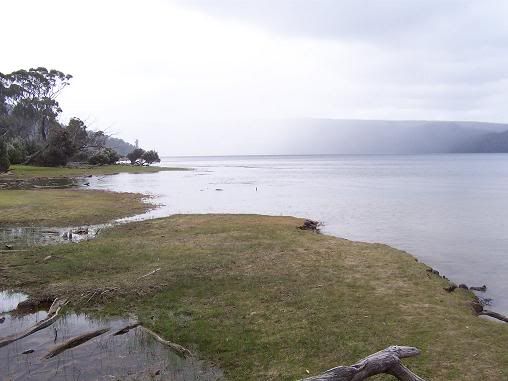 I made the following post in reply to a
thread
on this topic at
bikeforums
.net. For whatever reason, I thought it worthy of a blog post.
For me the answer usually depends on which CD I had on high rotation immediately before/after the tour in question. Yet there are a few individual tracks that stand out.On my first tour across northern New South Wales in Australia it was "Weir" from Killing Heidi. There seemed to be something about breaking free and taking a risk that I got from that song, perfectly suited to a first tour. 18 months later, when I was riding across the high plateau near Queen Mary Falls in Queensland, the song was "History" from the Verve. It always takes me back to that ride, as does "Storm Clouds" from the same CD -- largely because that day ended with a sudden downpour.
"Pink Bullets" from The Shins reminds me of those tranquil, overcast days on Tasmania's East Coast -- especially
Triabunna
and Maria Island. In fact, most of the tracks on that album ("Chute's Too Narrow") take me back to some part of Tasmania. "We Are A Brutal Kind" came up on the West Coast, and when one takes a look at some of the damage to the natural environment around
Queenstown
, it's easy to understand. I actually missed seeing them play in Brisbane because I was flying to Hobart to start the tour on the same weekend.
Have a listen to "Building Bridges, Digging Caves" from The Boat People for a song that perfectly encapsulates riding along the west coast of New
Zealand's
South Island, or at least it does in my mind. Then there was the Glaswegian band Travis who's big hit was "Why Does It Always Rain On Me?". Imagine hearing that in a Scottish pub near the end of a month-long tour during which you've been rained on almost every day (true story). Some of the songs on their latest album also come to mind when I think back on that tour -- particularly "Battleships" and "Selfish Jean" (no, I don't know why). There's also that song from the Manic Street Preachers called "Your Love Alone Is Not Enough". I first heard that on the flight from Australia to the UK, and listened to it several times, so that song now seems to be permanently associated with that trip. It was also appropriate as I was feeling a little unlucky in love at the time, but that's another story.
And finally (at last I hear you say), there were two different Manic Street Preachers albums that hark back to my two tours in Victoria, Australia. In Western Victoria it was songs like Epicentre (when I was riding away from the coast across the plains and rolling hills toward the centre), Freedom Of Speech Won't Feed My Children, Let Robeson Sing and The Year Of Purification (I could name half a dozen other songs from Know Your Enemy if I really wanted to). For some reason, "Outside of Me" from Killing Heidi came up on the Great Ocean road. I'm almost certain that was just a matter of which CD I was listening to at the time.
In 2004, in Eastern Victoria, there was one particular Manics track -- "Solitude", that seemed to express a solo tour perfectly ("Solitude sometimes is"), and also "Cardiff Afterlife" from the same album. That tour also came as I was discovering Sarah
Blasko
, and tracks like Sweet November (the tour was in November), Cinders (one of my all time favourite songs) and Perfect Now. Perfect Now seems appropriate because for me it suggests falling in love with something/someone, but somehow knowing that you can't stay there, and knowing that the view you have of it at that moment is idealised and the reality could never match up with it.
I'm sure that several others will leap to mind shortly after I press the "publish post" button. In the meantime, any tourers who read this might like to add some of their own to the comments section.