Experimentation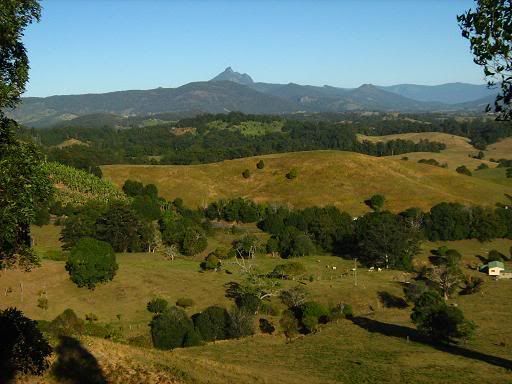 Last Saturday I made a spur-of-the moment decision to string a couple of "normal" rides together in northern
NSW
, culminating in a reverse ride around the old Tweed Valley Circuit. I was hoping this would give me a 200km day. Before I had finished 5, I had realised my camera was still sitting at home. Oh well, it was too late to go and get it now.
The route I had decided on encompassed the climb over Reserve Creek road, followed by
Cudgera
Creek into
Burringbar
, before doubling back to
Burringbar
and Stokers Siding to link up with the old Tweed Valley circuit in reverse. It's nice to note that March is upon us, meaning that the heat waits a little longer to become unbearable each day, and I was able to mop up the first 80km to
Burringbar
without sweating to death. It was after climbing over the
Burringbar
range, and cutting through Stokers Siding toward
Uki
that the ride would get interesting.
First of all, the climb up that side of the valley was actually more difficult than I had anticipated. Not mind-
buggeringly
difficult in the Porters Pass vein, but just quite a bit longer than I'd thought. This isn't necessarily a bad thing, however, as it involves passing through the prettiest section of the route at a slightly slower pace. There was also a decent volume of shade around, which is crucial in this climate. I crested the summit somewhere near
Mebbin
National Park, and commenced the long, gradual descent toward
Tyalgum
. It was here I realised that I had been doing this ride in the wrong direction all along, the views on the way back were stunning.
Tyalgum
seemed to be quite a bit warmer than everywhere else in the Tweed Valley, and one of the locals confirmed that this seems to be the norm out here. Just when I was beginning to like the place! As it was, I was glad to get out of there today, and commence the two climbs before the descent all the way back to
Chillingham
. All that was left now as a climb over
Tomewin
and to coast home. Unfortunately, a few wind gusts in the
canefields
around
Murwillumbah
wanted to delay things a little, I had to push through at a measly 21km/h, and had no momentum for the climb.
Yet once I started the climb, everything seemed to feel good again. I guess there's nothing like winching up a long climb to recharge one's energy. The final ride home through suburbia was then mopped up without anything remarkable happening. In the end I was extremely satisfied with the day's ride, even if the final tally of 195km fell a little short of the distance goal. There will be plenty more riding where that came from in coming weekends.