The headwind 200
It's becoming a familiar pattern of late, a southern ride into NSW commencing with a headwind, then finishing with a headwind after a southerly wind swings around to the north. I can't recall a day with a consistent wind for well over a month. It was the same story last Saturday. While the wind was never strong, it seemed to be just enough to be noticeable for the entire day. This ride opened with a climbs over Bilambil and Hogans rainforest, before settling into a relatively flat run west toward Chillingham. The only thing of note was a slightly more convoluted run taking in Tweed Heads, the place where the the dead are buried above the ground.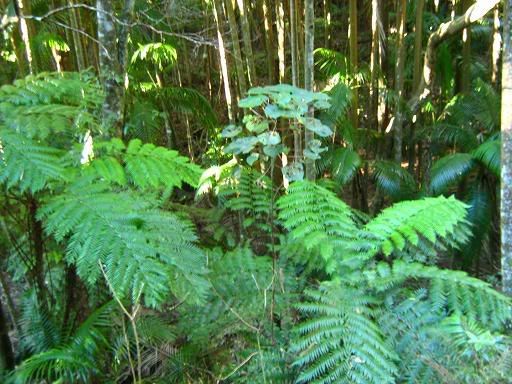 Hogans rainforest was a nice way to commence the ride. After Chillingham things got a little hillier on the way to Tyalgum. On one of the descents here, another of the riders finished in Murwillumbah hospital after apparently misjudging a decent and landing hard. Evidently the swelling after the impact was preventing the medical staff from coming up with a conclusive X-ray. This is a shame, because Alan was having a good season, and was lining up a crack at the Great Southern Randonee in October. It probably won't happen now.
I continued from Tyalgum back toward Murwillumbah, taking probably the only tailwind of the day for the 20km stretch here through the gorge. Somewhere is the turn off for Wollumbin forest road, which promises more spectacular riding. For the life of me, however, I can never seem to find it. After this it was a southern detour, taking in Uki, Stokers Siding, Burringbar and finally the checkpoint at Mooball. At this point I was aware of what had been a headwind, but the hills to date had kept me relatively sheltered. Nonetheless, I was looking forward to a tailwind after swinging around the southern end of the Tweed Coast.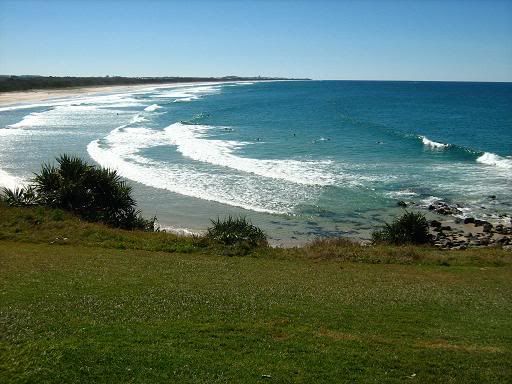 The tailwind never eventuated. It was clear after I turned at Wooyung that it would be headwind to finish, and now with a long, flat stretch right up to Tomewin. I basically just decided to grind it out for however long it took. This route takes another strange route to Murwillumbah, taking in the "new" highway, then the old Pacific Highway. It reminded me that freeway cycling is probably about the safest, but most boring form of cycling there is. It's also interesting to note just how efficiently people manage to use freeways as rubbish dumps. It seems odd given the amount of time people apparently spend driving on these things, that they would also see fit to use it in this fashion. Rather like a magpie shitting in it's own nest.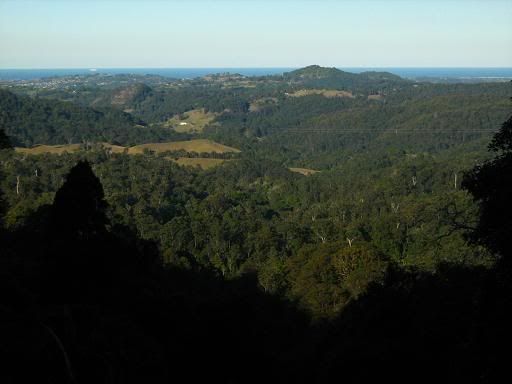 The route detoured around Murwillumbah on Cane road, notorious for it's perpetual headwind, but decided on an irrational tailwind for some reason. I took advantage of it for the 4km or so it was there, then went back to griding out the headwind before starting the climb of Tomewin. I always seem to dread this climb at the end of a long day, but there really is not reason to. I have the gearing to cope with the 2km 11% stretch in the middle, and it's consistency makes it easier than taking the "two small climbs" option of Urliup then Bilambil. It also offers great views. I decended the ride, then hammered the final stretch through Currumbin valley to salvage what I considered a respectable time.
I was astonished just how much this ride tired me out. Maybe I'm just not as fit as I should be right now, or maybe I just overdid things on Thursday night's "training" ride into Tallebudgera Valley. Whatever it was, the final ride back home from the Currumbin finish took a lot longer than usual. On the whole, however, I was happy with the day. Another day of glorious scenery in near-perfect weather. Now if the wind could just make it's mind up...