Mission not accomplished
Sunday's mission was to find Hell's Hole in Mt Jerusalem National Park. It seems this is going to be harder to track down than I expected. Evidently people I've spoken who have supposedly been there cant' seem to decide whether it's actually a waterfall or a sink hole. Perhaps both are there. I've also heard stories of caves with rock paintings on Mt Chowan in that park, I really need to spend a weekend camping and exploring there. Sunday's epic started early into a strong southerly wind that came out of nowhere. I half-hid from it by heading through Urliup on the journey south, but it was gone by the time I reached Murwillumbah.
I headed south over the climbs of Reserve Creek and Cudgera Creek, taking in the pretty but largely unremarkable climbs. There was a surprising amount of traffic on Cudera Creek Road, probably more than I woud later see on the old Pacific Highway after Burringbar. The southern excursion continued through Billinudgel and Main Arm, before starting the southern climb to reach the National Park. I last climbed this approach on Easter Monday with a full touring load. It didn't feel any easier this time around either.
At the first of the two summits I turned left onto Middle Ridge road, and started climbing again, more steeply this time. Eventually the climb peaked at around 370 metres, and I turned off on the Sand Ridge Firetrail, which I had been told would lead to Hell's Hole. At the end of this trail, there were tracks branching off to the left and right. The left fork was all downhill, eventually leading to an old log bridge and a creek. I didn't see any sign of a waterfall here, so I returned to the top.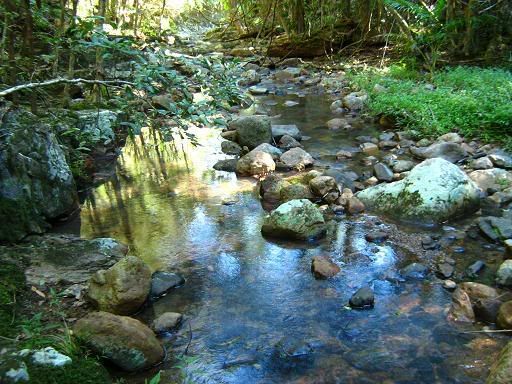 I then took the right fork, meeting up with a family of hippies on the way. This was where I heard of the possibility that there may be a sink hole rather than a waterfall. I also found some potentially delightful campsites in the area. As it was, this track led to another section of the same creek I found earlier, and continued on in the rainforest for a short while, but ultimately didn't lead to anything that was either a waterfall or sink hole. I did explore another side track, but it basically just continued to climb, and as it was now late in the day and I had another 90km to ride home, I decided to save that one for another time.
The ride home was very pleasant indeed, as the late afternoon sun caught the forest of Mt Jerusalem National Park (but not Mt Jerusalem itself) at just the right angle. The descent back into Uki was rutted and loose, not enough to cause me serious problems, but enough for me to totally pwn a 4wd on the way down. For the final ride back to the coast I decided to climb over Tomewin in preparation for doing the same thing at the back end of 200km this Saturday. My legs had some complaints about that, but they did the job and I got on with life.
All in all it was a ride that offered more questions than answers, leaving me to find time in a busy schedule over the coming weeks to explore this area more fully. I have a 200k Audax ride next week, followed by a long bushwalk at Lamington National Park the following weekend. Just when I'll make time to complete this project is uncertain, but I'll have to make it happen sooner or later.